Greetings!
Today we're gonna attempt to show you how we made the Pottery Barn-style mirror we used on our mantel.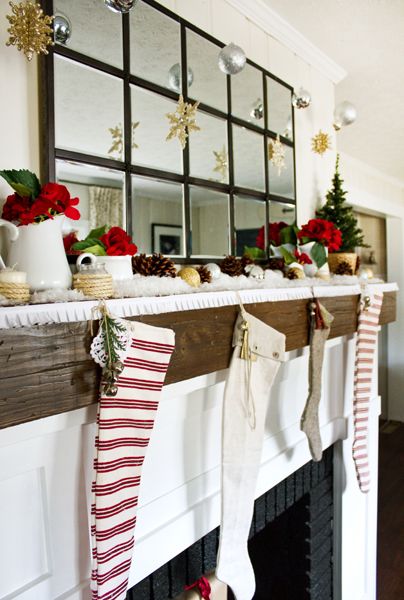 We recorded a short video about it (which you'll find at the bottom of this post) but before you watch it, I'm gonna walk you through the process using photos & drawings.
The first thing you'll need to decide is approximately how big you want your mirror to be. Once you know that, you can shop for your mirror tiles.  We got ours at Hobby Lobby, and they measure 8″x8″. They were regularly $3.99 a piece, but we scored all 15 of ours during a 40% off sale. They're located in the candle section of store because they're normally used to make tabletop centerpieces.
The next thing you'll need to decide is what kind of moulding you want to use around the edges, and in between each of your mirrors. We used some plain, 3/4″ wide, wood moulding. The bottom side of it is completely flat, and the top side of it has slightly rounded edges. We bought four, 8′ lengths of it, and that was just the right amount for our mirror.
Once you have your moulding, and your mirror tiles, you'll need to do some math. (Did I just hear you groan?) To determine the exact width of your mirror, you take the combined width of each mirror tile and each piece of moulding. Sorta like this…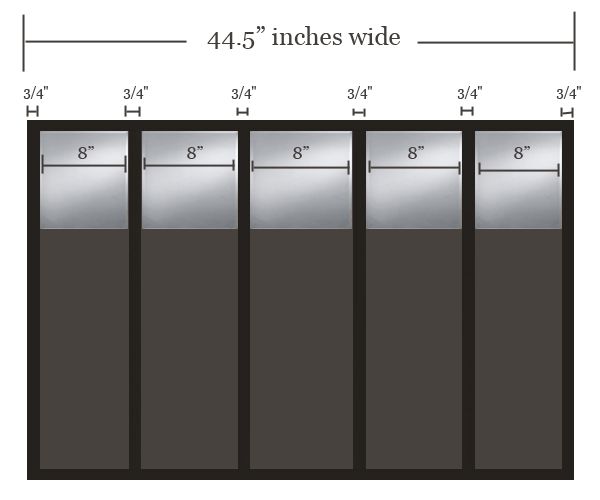 Do the same thing to determine the height.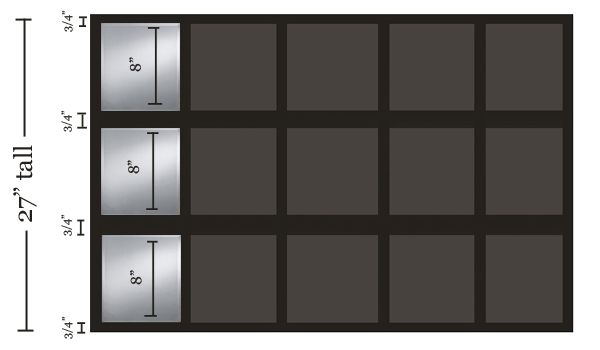 Once you've determined the exact overall size of your mirror, you can decide what type of wood you'd like to use as the back of it.  We chose particle board because it was the cheapest option. You can find 2'x4′ pieces of particle board (or any other type of plywood for that matter) at almost any home improvement store.
Since our mirror needed to measure 27″ high, we had to attach an additional piece of particle board to the top of it to make it the right height. Like this…
(PS- For extra stability, we squeezed a line of Liquid Nails between the two pieces of particle board before we added the bracket.)
Once that additional piece was securely attached, we used our circular saw to cut our "newly-sized rectangle" down to be the right size width-wise. (44.5″)
So that we could have the option of hanging the mirror vertically, the next thing we did (and this is a totally optional step, by the way) was add two 1″x4″ pieces of wood to the back side of it. We attached them first with Liquid Nails, and then with 1-1/2″ long wood screws.  We did this step at this particular time because I thought it would be easier to add the 1″x4″s, the picture hangers,  and the wire before we attached the mirrors to the front side.
Next, I sprayed all four pieces of the moulding we bought with Rust-o-leum's "oil-rubbed bronze" spray paint…
Then Kevin mitered the ends of the ones for the edges of our mirror, and I glued them down (with wood glue) and sprayed them with more spray paint…
I actually sprayed the entire front side of it with spray paint, but I stopped taking photos after I snapped that last one, so I don't have a picture of it.
Here's a drawing instead…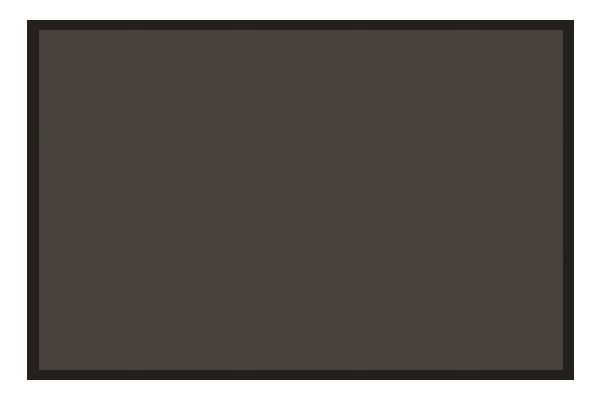 That last step is an important step, because if your measurements aren't exactly right, you'll be able to see raw particle board or plywood in the small gaps between the mirrors and the moulding.  Your "mis-measurements" will sort of disappear if everything is all painted oil-rubbed bronze.
After that, we cut and attached the vertical pieces of moulding. Like this…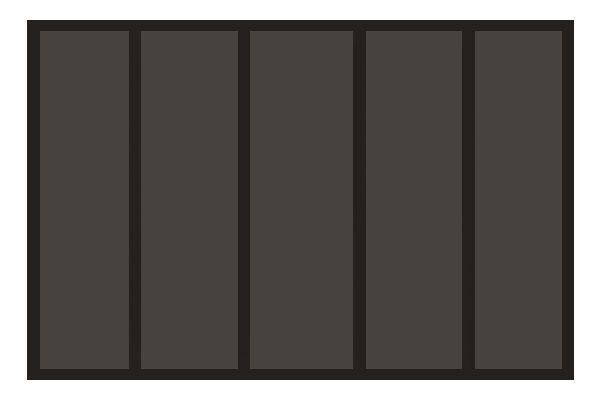 Then we cut and attached the short, horizontal pieces of moulding. Like this…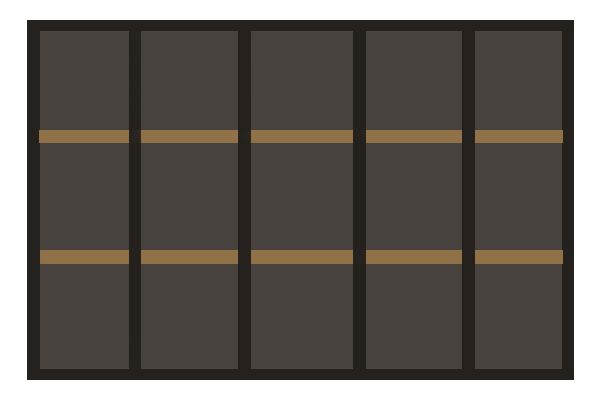 (I colored them tan so you could see which ones I was talking about.)
Helpful hint: Use one of your mirror tiles as a guide as you glue your ALL of your pieces of moulding into place.  That way you can make sure each mirror tile is gonna fit once the wood glue is dry.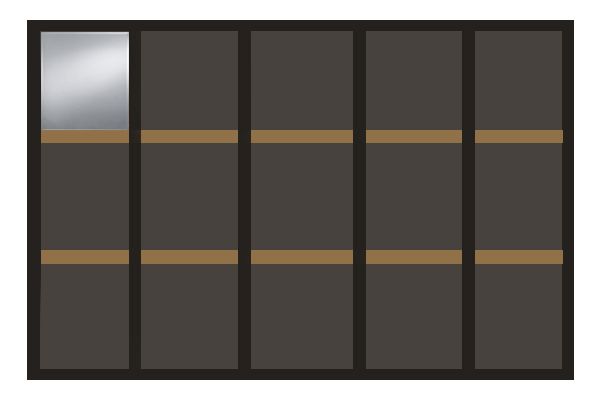 (Just hold a mirror tile inside each "square" as you go to make sure it's gonna fit before you glue the moulding into place.)
After all the moulding is attached, give the whole thing another quick coat of spray paint, so it looks like this…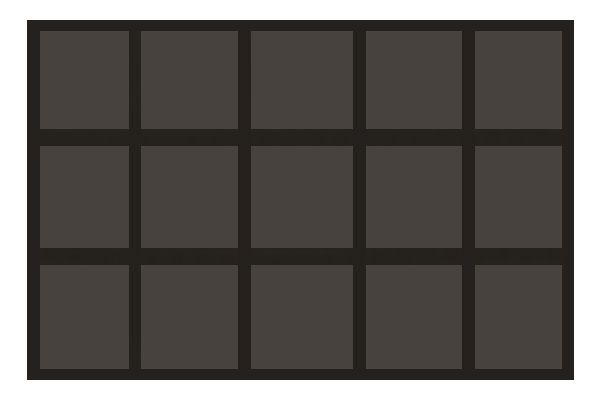 After the spray paint is dry, use wood glue and a "cut tack" (ours came from Lowes) to attach a plastic mirror rosette to each "cross-section". Like this…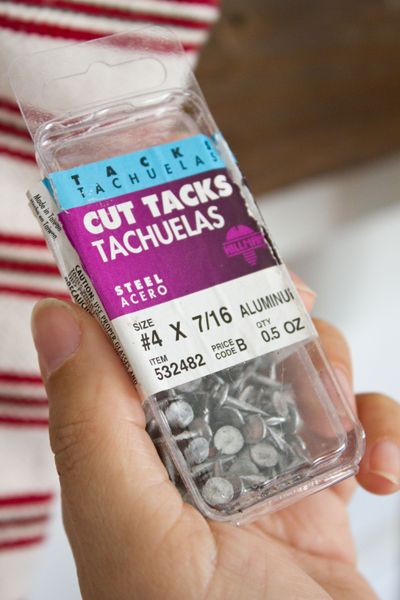 Give everything one last coat of spray paint when you've got them all attached…
(Our rosette)
Pretty close to the Pottery Barn ones, eh?
(Pottery Barn's "Eagan Mirror" rosettes)
After that, all you have to do is attach your mirror tiles with some mirror adhesive and voila! You're done!
I recorded a little video which sort of shows what I described in the photos and drawings above…
(You can watch it on YouTube too.)
And last but not least, we're thinkin' we'll eventually add some trim to all four sides of our mirror. Not only to make them look more finished, but also to cover the gap between the wall and the mirror, created by the 1″x4″s on the back side.  Like this…
But that project will have to wait for a while…we've got some floors to refinish first!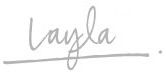 ——————————————————————————————————–
Join us on Facebook or Twitter!
————————————————————————————-
Need help arranging your furniture?
Need design help?
Check out my e-book!