Want to incorporate a sliding door somewhere in your house? Me too! Freaked out by the price of barn door hardware? Me too! But check it out, I received an email from a sweet gal named Brier this week, and she and her hubby figured out an easy way to get the look for less. Check it out…
"Hi Layla, my name is Brier and I follow you on Pinterest. I noticed that you pinned a sliding barn door photo. I really love that look and wanted one for our hallway, but barn door hardware is expensive, man! I tried to justify spending twice what we paid for the door itself on the hardware, but that didn't fly. Luckily for us, my husband is a genius! Ours doesn't quite have the "barn door" look, but I think it's pretty and it was a whole lot easier than ripping out a wall to put in a pocket door.
Here's how he did it:
First, he got a piece of double track (the kind that's attached to the top of mirrored sliding closet doors) and separated it in half- so instead of two tracks, there was only one track. (I don't actually know if you can buy a one-track…um, track…but, if so, that would be easier).
Next, he spray-painted the track flat black, and mounted it to the bottom of a 2″ x 6″ piece of wood that he distressed and stained to match the door. After that, he mounted the 2×6 to the wall above the door frame so the door would stick out far enough from the wall to get past the door frame molding. Then, he attached the "cars" (the rollers that fit in the track) to the top edge of the door, and slid it into the track.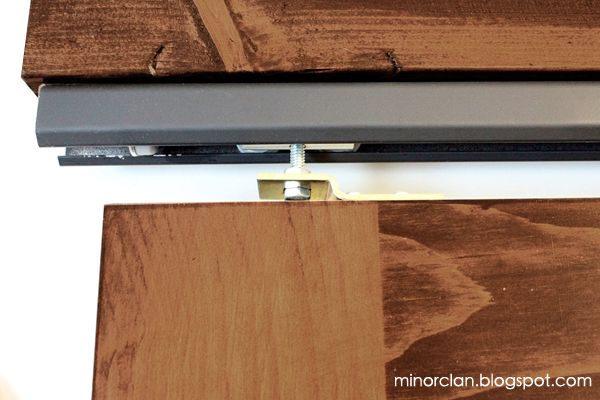 To prevent the door from swinging out into the room, he mounted some little rubber "stops" to a couple of chunks of wood that are screwed down into the floor…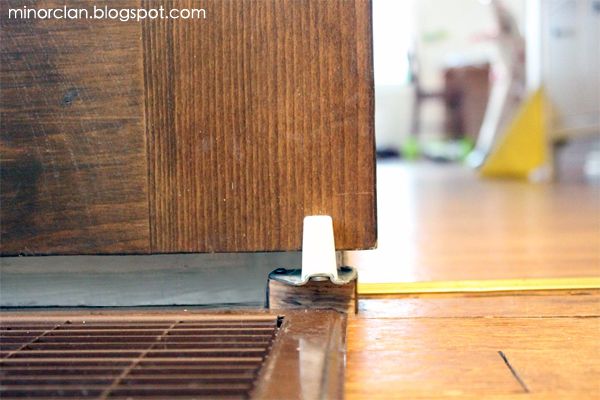 There's one on the opposite side of the door opening too…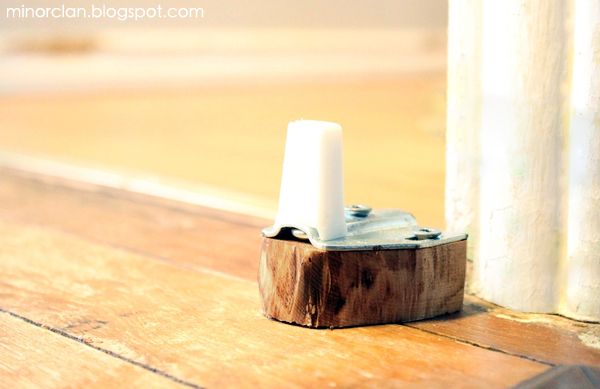 Pretty cool idea, huh?
Thanks for sharing your project with us Brier. We'll definitely be trying it out here at TLC when we get around to working on our master bathroom door project!