While I finalize the design plan for our master bedroom, Kevin is putting the finishing touches on our latest dining room reno project.
We didn't really mean for it to turn into such a big project.
It just sorta….happened.

The original plan was to simply remove the drywall from the ceiling, expose and paint the wood ceiling hidden underneath the drywall, and hang a new light fixture.
So Kevin broke out the hammer and tack strip remover thingy and went to town on the ceiling one day a couple of weeks ago…
Oops.
Wrong video.
Here it is…
…and when we finished painting the ceiling and installing the crown molding, we replaced the light that's donned our dining room ceiling for the past three years…
…with one that's a little more…us!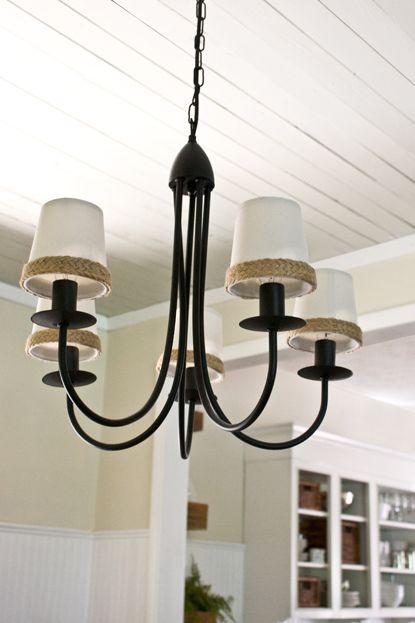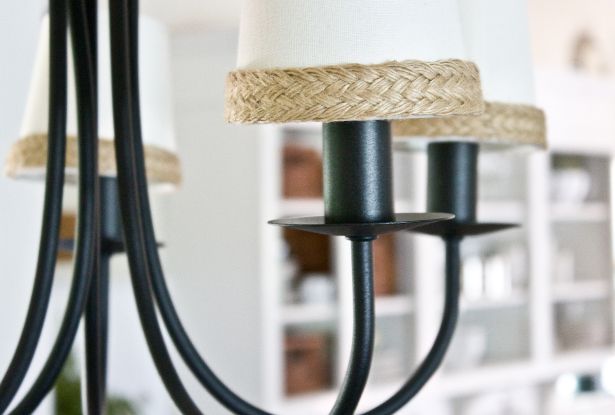 It only cost about $75 bucks to make, and it was super easy to put together.
Here are the links to the products I used:
– Shades
We also had our electrician friend install a couple of wall washer lights on the ceiling above our new "wonder wall".
(You know, the one with the hidden doorway in it.)
More about that project soon!

PS…The paint color on the dining room ceiling is "Sea Salt" available at Sherwin Williams.
————————————————————————————-
Need design help?
Check out my e-book!