Since Thanksgiving is right around the corner, I thought I'd share a creamy cranberry salad recipe we had fun making in Katie's kitchen. It's super simple and oh-so-delicious!
First, chop up 3 cups of fresh or frozen cranberries, and 1 medium-sized apple…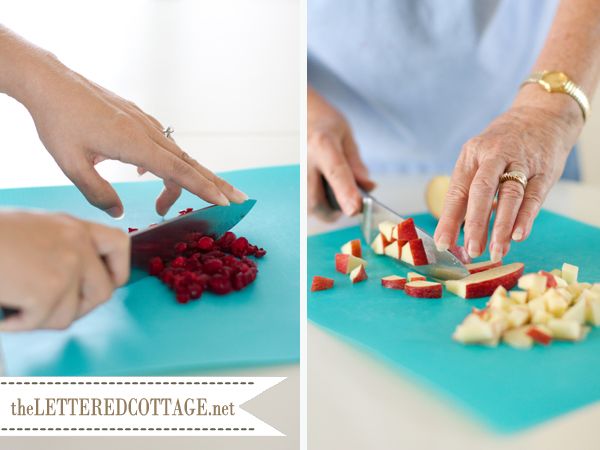 Put them in a large bowl and then add 20 ounces of crushed pineapple (drained) and 2 cups of miniature marshmallows…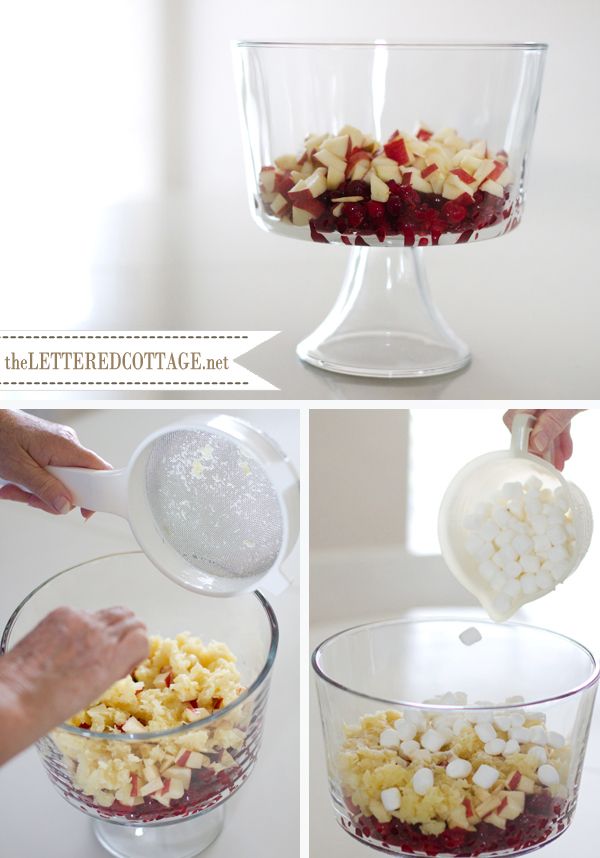 Next, mix in 1/2 cup of sugar (or Splenda to equal 1/2 cup of sugar) and 1 cup of coconut…
Last but not least, mix in 1/4 cup of (chopped) pecans or walnuts, then cover and store in the refrigerator over night. Before serving, fold in 8 ounces of Cool Whip.
If you'd like to print out or save this recipe, just click on the buttons below:
Ingredients
3 c. fresh or frozen cranberries, thawed and chopped
1 can (20 oz) crushed pineapple, drained
2 c. mini marshmallows
1 apple, chopped
1/2 c. sugar
1 c. coconut (optional)
1 carton (8 oz) Cool Whip
1/2 c. chopped pecans or walnuts
Instructions
In a large bowl, combine the cranberries, pineapple, apple, marshmallows, coconut and sugar. Cover and refrigerate overnight. Before serving, fold in Cool Whip and pecans or walnuts.
https://theletteredcottage.net/cranberry-salad/
Next week, Kev's looking forward to sharing a recipe that's been in the Palmer family since he was a little boy. (And I'm looking forward to eating it!)