Hello, friends! Did you have a nice weekend?
I finished the (500-page) book I was reading (I'm not going to tell you the name of it because it wasn't good- boo!) and we tried out our new hardboiled egg cooker (That was a success- yay!) We also did a little DIY project and I thought I'd share a few photos of it here today. I've had this hanging scale/clock for a couple of years, but I never could decide where to put it. Then one day I walked past the big storage cabinet sitting in our guest room and thought, "Hey! There's a spot!"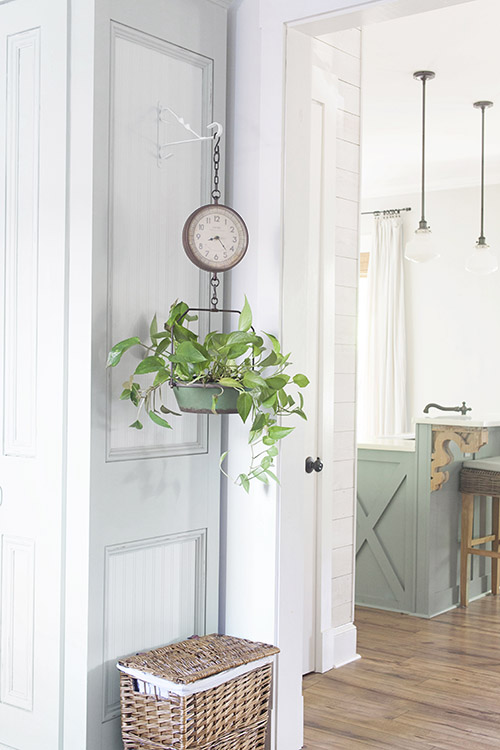 I lined the metal pot with a black trash bag to make sure it wouldn't leak, and I've always had good luck with pothos in planters that don't have drainage, so I'm hoping this one does just fine here. I got the bracket on Amazon. Here's a link if you're on the hunt for something similar: Garden Bracket
It was originally black, but I painted it the same color as the cabinet so that the scale/clock/planter could be the star of the show AND so that it looked less like a random bracket sticking off the side of the cabinet and more like the two pieces are one. The (Gray Lake) color unifies them and I'm so glad I decided to paint it. The whole thing makes me happy whenever I see it!
That little cutie does too. 🙂
Layla