Every once in a while Kev and I get a wild hair and decide to take a day off.

He
would like to do this a lot more than
she
does.
She
is obsessed with her work and would probably forget to go outside for weeks on end if it weren't for him.
He
, on the other hand, thinks it's important for her to stop and smell the roses every once in a while. Or in this case, the butcher block.
So Tuesday morning we jumped in the car and headed to Atlanta to see about getting a new counter top for the cabinets on the right side of the kitchen. You remember the cabinets on the right side of the kitchen, right?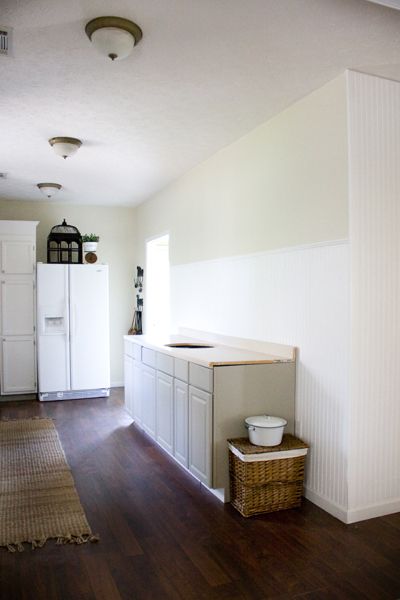 They used to be in the guest bathroom, and we've been staring at that hole (where the bathroom sink used to be) for several months now. Tuesday morning, we finally decided it was "out with hole, in with the new"!
————————————————————————————-
It was a beautiful three hour drive to Ikea in Atlanta. The sun was shining, we found a great radio station to jam out to and since it was a Tuesday there weren't too many cars on the interstate.
Somewhere along the way, we stopped at a truck stop for a little food and fuel.
I was really craving chocolate chip cookies, so I got a small bag of Chips Ahoy. Mmmmm!
Within seconds of popping cookie #1 into my mouth I realized there was something terribly wrong. You see, not only did it taste extremely stale, the consistency can best be described as that of a biodegradable packing peanut. It turned from cookie, to dust, to mush in 3 seconds flat. It was horrible and traumatizing, and I swallowed it. (shudder)
So if you're traveling somewhere today and you stop at a truck stop for a little treat, make sure you check the expiration dates on those snack packs. If it says 15NOV09, the cookies inside are no longer crunchy.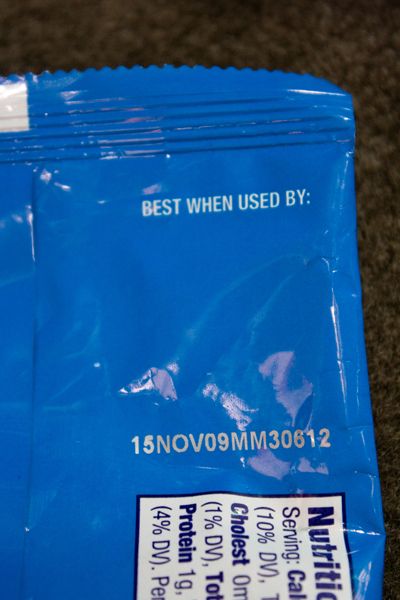 We arrived at Ikea around one o'clock. Aside from the stale-cookie-mush, we hadn't eaten for a good three hours, so of course we were famished. (What's up with getting older and being hungry every three hours???)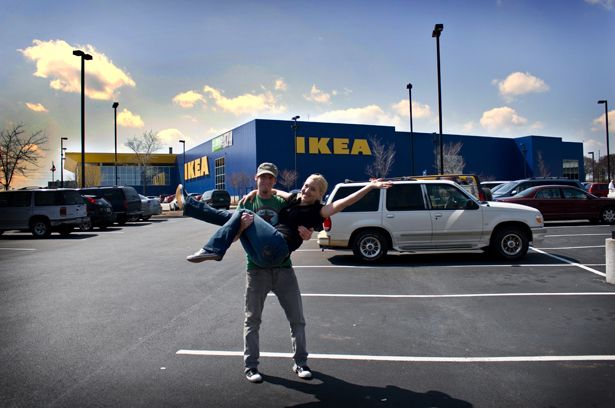 If you've been to Ikea, you know about their insanely awesome Swedish meatballs. That's what I got…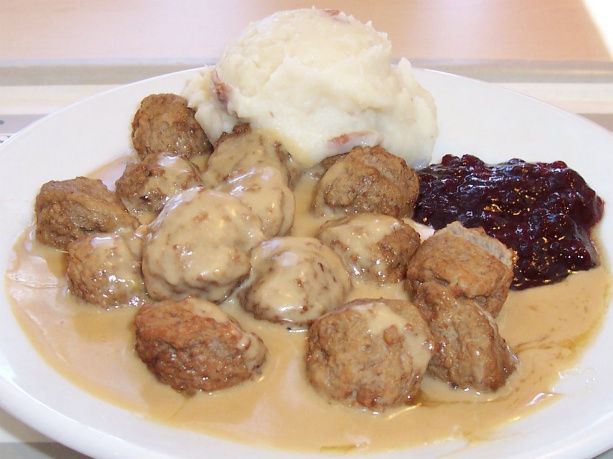 Kevin got the chicken tenders. He's a big chicken man.
Wait. That came out wrong.
Both of our meals were num yummy, but we were so anxious to get the counter top, we ate super fast and made our way to the marketplace within seconds of scarfing down our food.
Normally, I would've done a little homework before driving three hours to spend $59 on a counter top, $30 on gas and $10 on lunch- but since the whole trip was pretty spontaneous, I didn't even think about hopping on Ikea's website to make sure they had the counter top we wanted in stock.
So you can imagine the look on our faces as the sales associate said, "No, that one's out of stock. We should have some more in next week."
I wanted to cry. Not like a full-blown bawl or anything like that. Just a little "Do-you-know-how-much-work-I-could've-gotten-done-in-seven-hours-if-I-had-known-
there-were-none-in-stock?" type of cry. I asked the helpful sales associate if there were any other butcher block counter tops available. "Yes", she said, "we also have one called "Numerar".
"Really?" (me, suddenly not feeling so bad about making the trip)
"Yes, it's $169" (helpful sales associate)
"Oh, wow. That's quite a big difference in price." (me, feeling bad again)
While the helpful associate explained the difference between the two counter tops Kevin and I engaged in a little mind reading through a series of various facial expressions...
My first expression said,
What do you want to do?
His expression replied,
I don't know, what do you wanna do?
My next one said,
We drove all the way here…
His said,
It's like 110 dollars different in price.
Mine said,
I know, but I don't want to have to drive back next week.
Then suddenly, we both jumped to,
Is she still talking?
Which, fortunately, led to,
Whew, she is, but we better make a decision. I think she can sort of tell we're talking telepathically and not even listening to her.
So Kevin gave me a quick,
Okay, let's just get it.
And I shot him a happy,
Okay. I love you. Over and out.
And we bid the helpful sales associate adieu, and headed toward the check out counter to pay for our chunkier-than-expected (in more ways than one) butcher block counter top.
Getting it into the car was almost as fun as paying the extra $110 for it…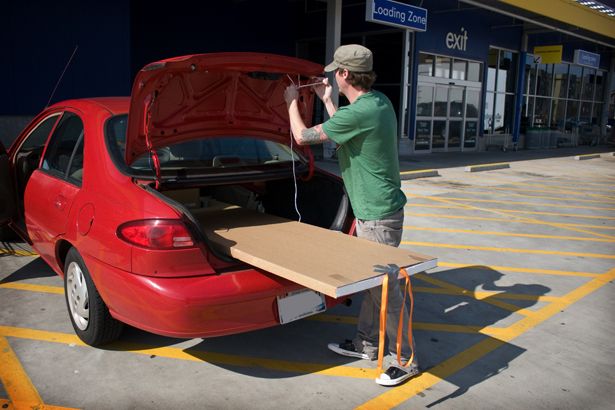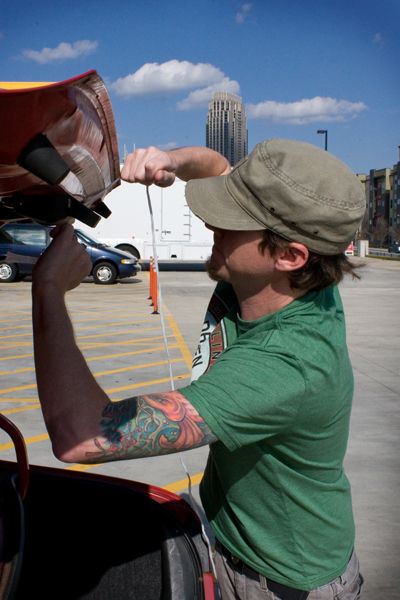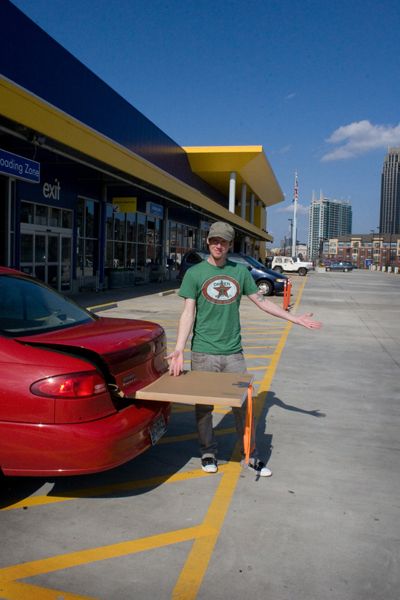 But Kevin finally got the trunk tied down, and we felt pretty confident that everything was secure. Driving home is never as fun as driving there, so we were sort of wishing we could just click our heels together three times, and be magically transported back home…
…but black Chucks don't seem to work the same way ruby slippers do.

We got home around 6:30, and spent the rest of the night watching "Twilight: New Moon". (Loved it! Totally hooked. Can't wait 'til the new one comes out in June!)
————————————————————————————-
We unpacked the counter top today, and although we haven't sealed it yet, this is what an unsealed "Numerar" counter top looks like on top of salvaged cabinetry, painted "Mourning Dove" by Martha Stewart…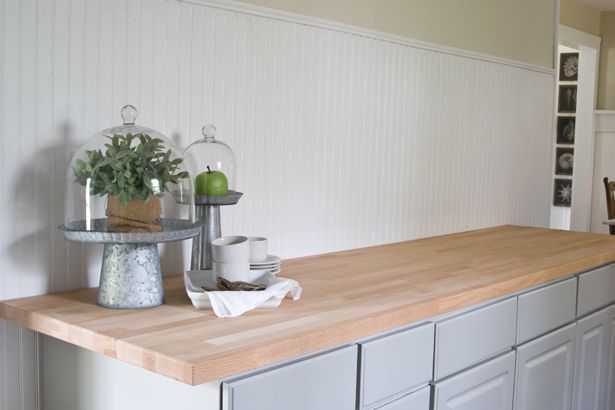 It's so awesome having all that extra counter/cabinet space. And I'm hoping to wrangle some more space for things on the wall above it too. The possibilities are endless there, and I really want to make a big, bold design statement. It would be such a shame not to. All that open space is just begging for something dramatic, don't you think?
Speaking of dramatic, we also got a couple of things for the dining room while we were at Ikea…here's a sneak peek of one of them…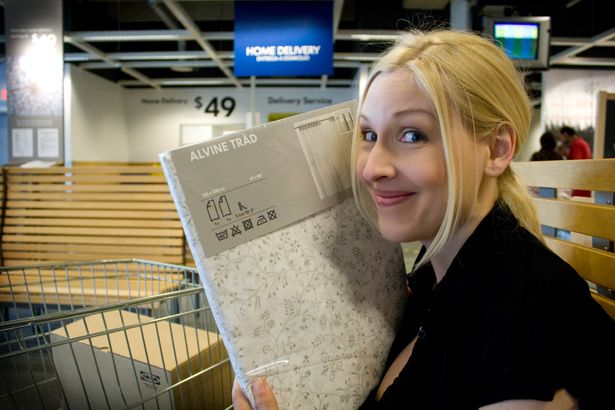 Lots more renovation and decoration adventures to come!
'Til next time,
PS- Click on the logo below to read my first article on HGTV.com!
————————————————————————————-
Need help arranging your furniture?
Got a design dilemma?
Check out my e-book!
Get My Free E-book: 15 Common Decorating Mistakes And How You Can Avoid Them
Enter your email to download my free e-book instantly! 🙂