Howdy, friends!
Since we're in the middle of working on Steevenson's room and he is WILD about his new bunk beds…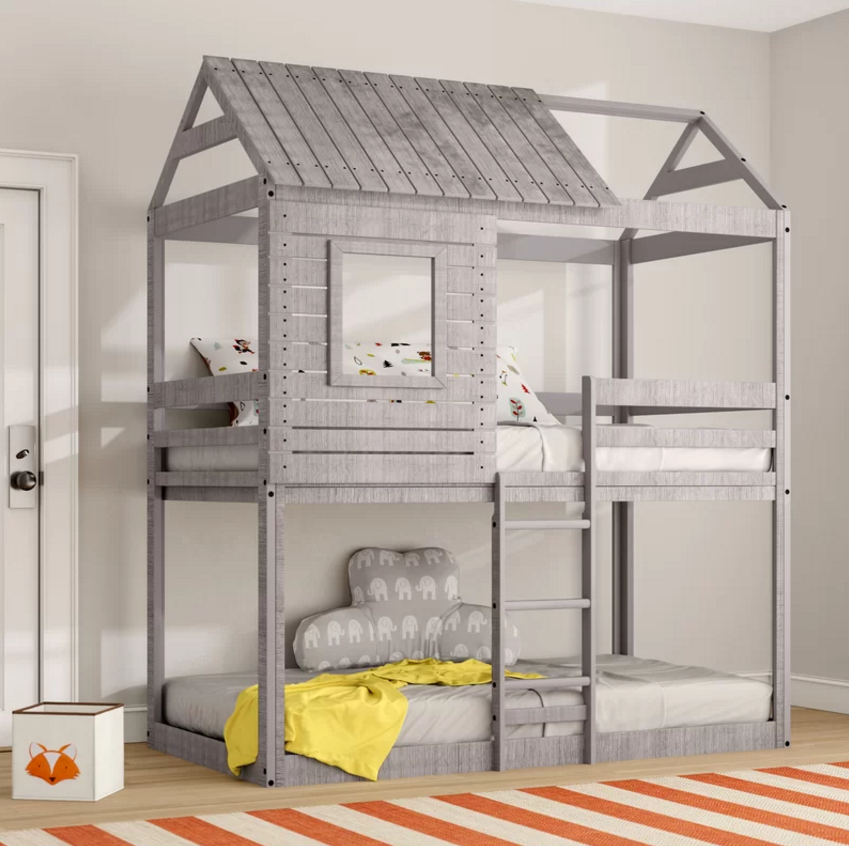 …I thought I'd share a list of ten more beds I swooned over while searching for the one we ended up choosing.
I love the style and color of this one. I also think that it would be a great option for smaller kids who aren't quite ready to climb up a taller ladder but still want a super fun bed!
3. Light Taupe/Gray House Bed:
Is that cute, or what? Another great option for little kids…and mamas who love cabana stripes and board & batten. 😉
That one would work for boys or girls!
Those babies even come apart to form two separate beds!
Again, these beds come apart so you can also use them as two separate twin beds. To create each bed, you just use one headboard from the bottom bunk and one footboard from the top bunk. Here's a photo of what they look like as two twins:
You *know* I love the color of the roof on that one. I also like how kids can get onto the bed from the end and that the ladder doesn't block the area in front.
8. Jeep Bunk Beds:
I *almost* got that one for Steevenson. It also comes in this awesome green color:
9. Gray Loft Bed with Storage:
Such a great option if you're short on storage space.
I liked this one for obvious reasons (hello, cottage-style cutie!) but another thing that I noticed while swooning over it is that, unless the sides are interchangeable, the head of the bed is at the opposite end from almost all of the others. Just something to consider if your bed has to face a certain direction.
11. Tree House Loft Bed:
That one also comes in a bunk bed option and I will totally be drawing inspiration from that photo when I decorate Steevenson's room around Christmastime next year!
Happy weekend!
Layla
Get My Free E-book: 15 Common Decorating Mistakes And How You Can Avoid Them
Enter your email to download my free e-book instantly! 🙂