We started pulling things into Sweet P's room this week, and y'all, we are having so much FUN with this space!! I've never decorated a kids room from top to bottom like this, so forgive me if I obsess about each and every step as we go along. 😀
First up, Layer #1: Floor and window treatments.
I blogged about the window shades on the upper half of each window a couple of weeks ago, but basically, we chose those particular shades because we wanted to be able to pull them up and completely out of the way so that we could see as much of the sky as possible in there. We went with bi-fold, plantation-style shutters (from Home Depot) on the bottom half of each window, not only to make the lower part of the window safer for our little guy, but also to inject a bit of cottage charm into the room, too.
The Roadside Attraction carpet squares came courtesy of the friendly folks at Flor:

And y'all, I think I smiled the entire time I laid them into place. I cannot wait to see Sweet P toddling around on those babies! I know they're just carpet squares, but I have  never seen a photo of our boy standing on anything soft. It's all tile, and concrete, and gravel down there…
The thought of his sweet (and currently probably very tough!) little feet experiencing carpet (maybe) for the first time in his first ever bedroom…well…let's just say it's pretty wild to think about when you're on your hands & knees sticking carpet squares together. 🙂
Which, by the way, is how you keep them from sliding around.
They come with adhesive "dots", and you just use them, sticky side up, to hold all the corners and edges together. The dots are extremely sticky, but if you ever need to replace a carpet square or two, you can pull them up and do that, which is awesome.
Here are a couple more photos I snapped yesterday…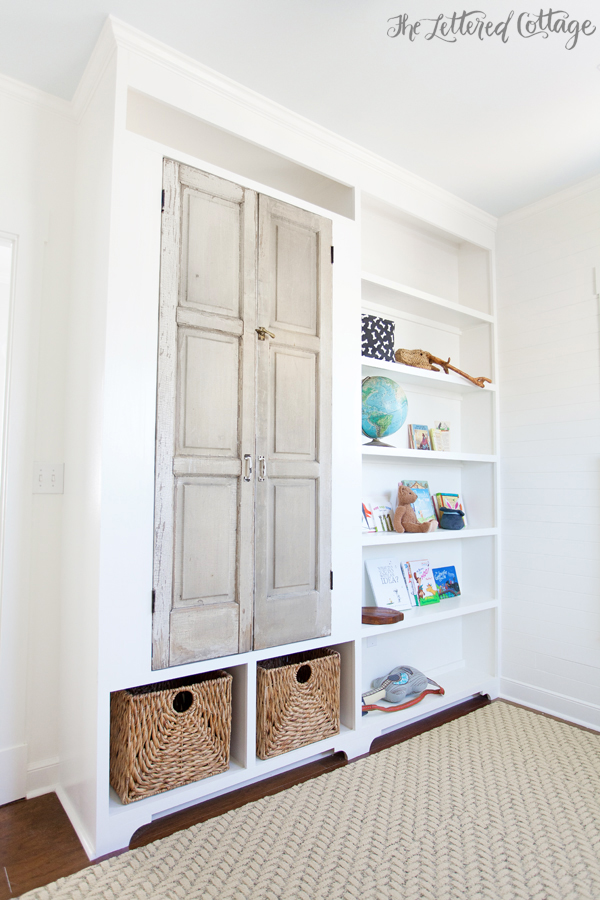 The big baskets came from HomeGoods, and I'm looking forward to working on that bookcase soon! 😀
And speaking of photos…get a load of this one:
I was SO glad that I had our camera with me when he did that! Looks like he's just as anxious for Sweet P to come home as we are! That'll definitely finds it's way into a frame soon. 🙂
And while we're on photos, this seems like a good time to mention that I used to have to call Kevin into the room to take pictures for me because I didn't really know how to use our DSLR camera. Kevin wasn't home when I snapped that photo of Max though, so I want to give a big, hearty shout-out to his DSLR (and Photoshop and Lightroom) training classes at ShootFlyShoot.com today! They're running a 2 Year Anniversary Sale this weekend (from today til Monday the 31st, at 10pm CST) so if you're interested in learning about those kinds of things, you should definitely check them out. Yes, I am the wife of one of the teachers (LOL!), but as a visual learner that gets easily overwhelmed and distracted, I can say with confidence that I whole-heartedly believe that their classes are some of the absolute best on the web. I'm serious. Check out some of their other testimonials (written by folks that are not married to one of the teachers, LOL!). The classes are taught through videos, so you can actually see what's going on, and that was a HUGE help to me.
Anywho- just wanted to add that to my post today because their classes have given me so much more confidence behind the camera, which has really made taking pictures so much more fun! #AndILoveMyTeacher 🙂
Happy weekend!