Hello and happy Monday!
I worked on a little Camp Wandawega-inspired project for Sweet P's room last week, so I thought I'd blog about that project today. Remember the cuckoo clocks in Charlie's nursery?
Well, I've wanted to find one ever since I saw them, and I was finally able to scoop one up on Etsy a few weeks ago. It was broken, so I got it for half the price of what working ones usually go for. (Score! because I didn't really want it to make noise anyway. This is a form over function kind of fascination.) 🙂
I painted it with some of my Rosemary Gallery paint, and I just love the way it turned out!
I spruced up the black and white parts with some black craft paint and a white paint pen, and I hot glued the door open so that we can see Mr. Birdy all the time!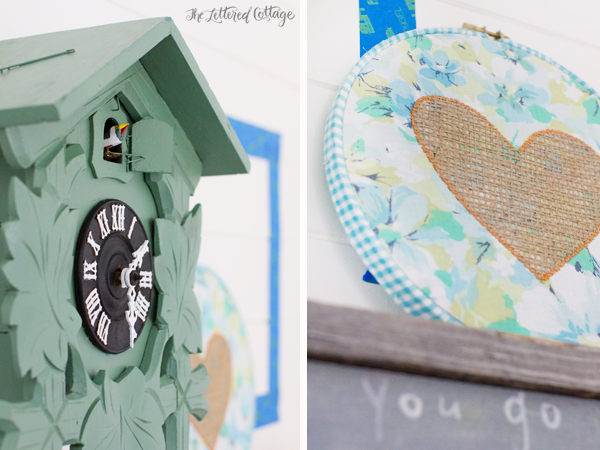 As for the rest of the art collection- it's coming together, slowly but surely.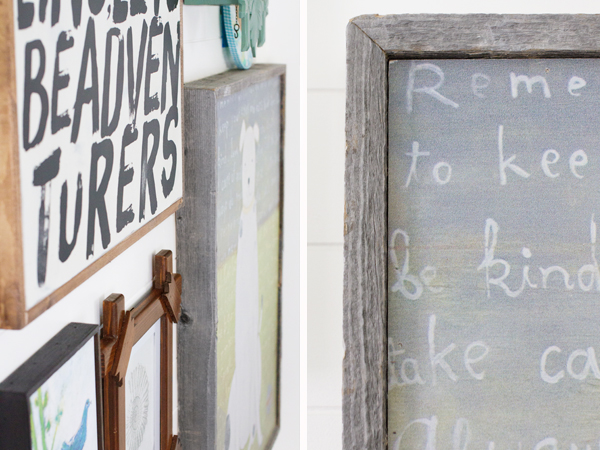 Whenever I plan one of these groupings, I start by measuring the wall space I have to play with. In this case, I knew I didn't want anything to go higher then the top of the window or door frames, or much lower than the top of the footboard of the bed. I also wanted to leave an equal amount of open wall space on each side of the grouping.
Once I had that measurement, I laid the pieces I already had on the floor and positioned (and re-positioned) them within measurements I had taken of the wall space. I started with the dog art (Shop Ten 25) and the "Oh darling, let's be adventurers" art (House of Belonging). Then I laid down the vintage frame that's hanging to the left of the dog art (I found it for $3 at a flea market). Once I had those pieces arranged, I started thinking about the amount of space that was left around them. In my mind, I saw two little square frames to the left of the vintage frame, two of something above the dog art, and maybe one of something below the vintage frame. I hung up what I had and used painters tape to mark off where I was thinking about hanging everything else.
The friendly folks at Layla Grayce sent Sweet P the bird and "always" art…
…and I hung the cuckoo clock after those pieces went up because it felt like it should go high and near the center. Having the bulkiest thing in the center felt right visual weight-wise, and having it out of reach felt right toddler-wise. 😉
After that, I started to feel like I needed some soft/round things to break up all the hard lines, so I think I'm going to use the heart hoop art Megan (Sparrow Mercantile) sent to the right of the cuckoo clock, and think I might hang another (slightly bigger) hoop where the tape square is below the vintage frame.
After that, I'm thinking I'll look for a couple of hooks so I can hang that wire basket (that's sitting on the floor in the photo above) on the wall below the dog art. Brian the Carpenter was kind enough to sand down all the edges of it, so they're nice and smooth and safe.
And speaking of safety, since we're adopting a toddler, I tried to use mostly wooden items that could be nailed directly to the wall in this grouping. Only the frame with the seashell art (The Handmade Home) has glass in it, but we can always remove that if it seems like a good idea once he's home. Which reminds me- one day, when I'm allowed to post his picture here, I'd love to put a photo of the three of us in that frame. It's a small space (9'x10′), but there's lot of places for his artwork and photos on the other side of the room, too!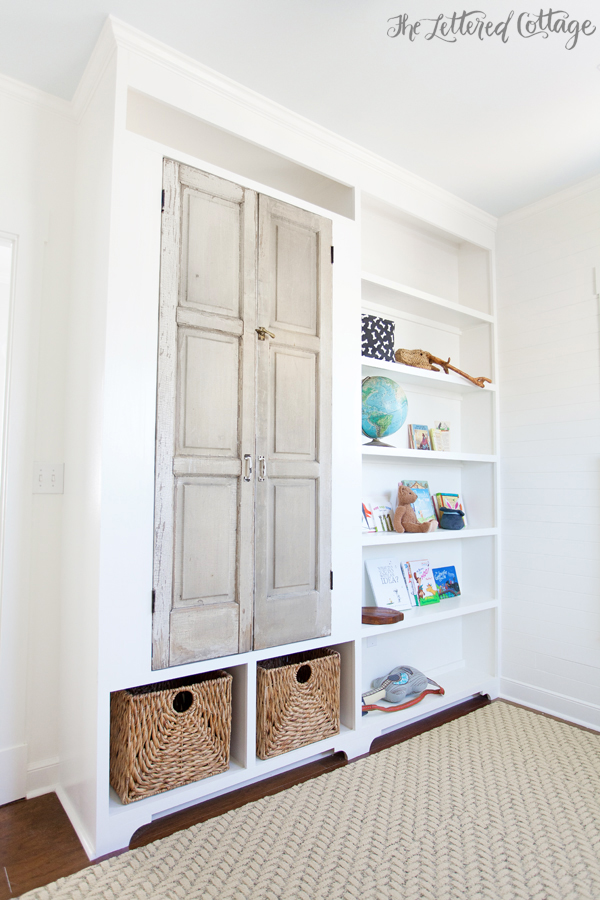 And speaking of our sonny boy, we're still waiting to hear about when we can go to Haiti and bond with him for 2 weeks. Our paperwork was submitted on November 25th, 2013, and it's been 6 months of no movement for us since then.
Hoping this will be our week! 🙂

PS- For up-to-the-minute adoption updates, join me on Instagram!