Since my heart literally skips a beat each time a new shelter mag appears in my mailbox, I decided to have some fun and display the master bedroom photos we shot at Screened Inn "magazine style" in this post.
(My blog is my playground, and passion pushes my swing!)

But before you look at the "pages" I put together, let's check out the "before" photos once again, shall we?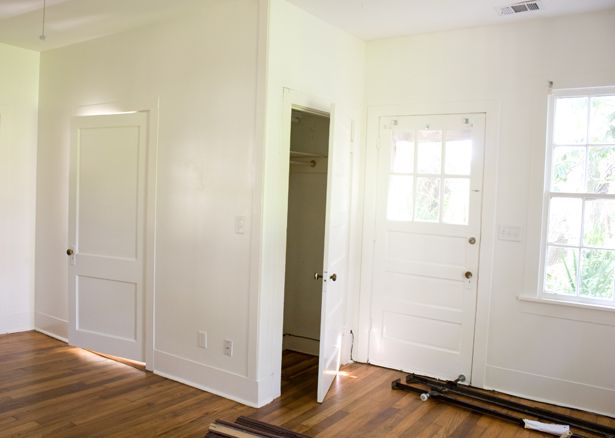 We had a totally blank slate to work with, and the walls had just been coated with Benjamin Moore's "Moonlight White" a few days before we got there.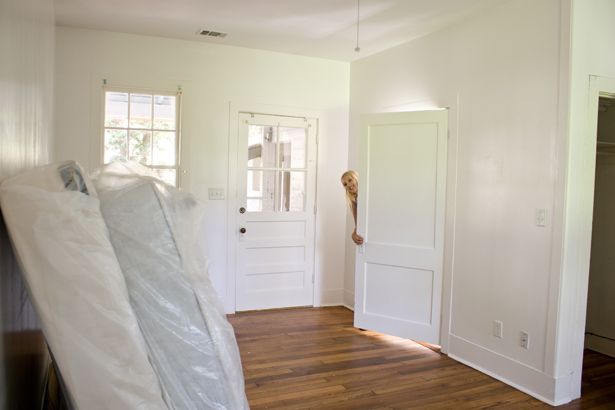 Since the goal of this project was to "pull together a pretty place on a penny", and because Diane already had tons and tons of great furniture and bedding for us to work with when we got to the house, we really didn't have to purchase that many additional items for this room.
All we added was a small jar & flower, two red & white striped pillow covers, two white chenille euro shams, some bath towels, a bath mat and a whole buncha' vinyl wall words.
We found everything else (furniture, bedding, lamps, desk, chair, settee, etc.), along with loads of other stuff, sitting in the living room the first day we arrived. (Diane owns a few different cottages on the island- hence, all the great stuff she had just lying around!)
Here's what we came up with…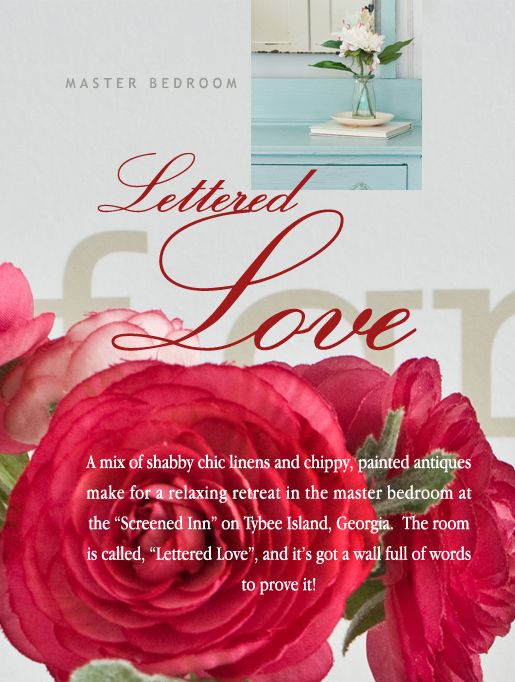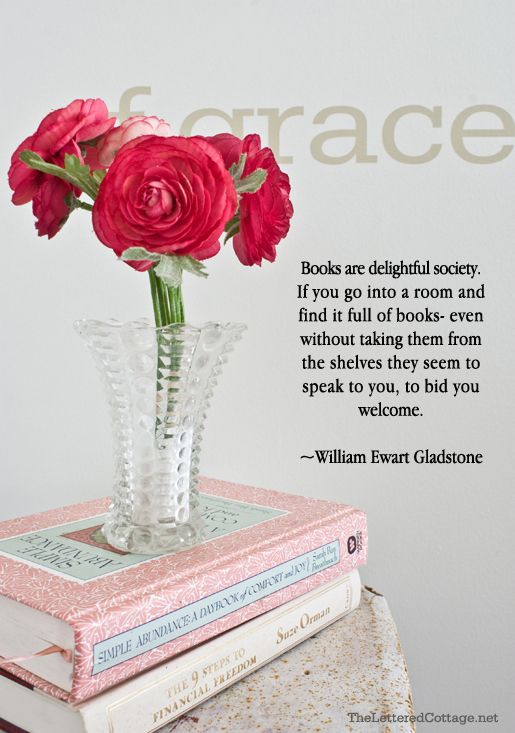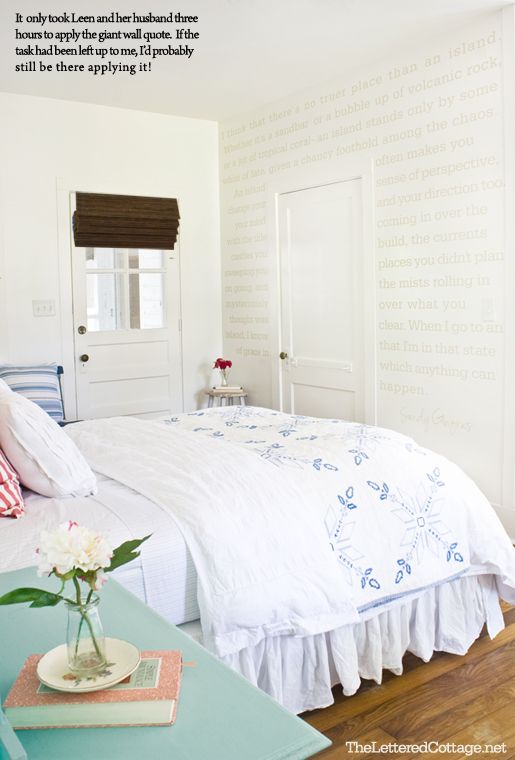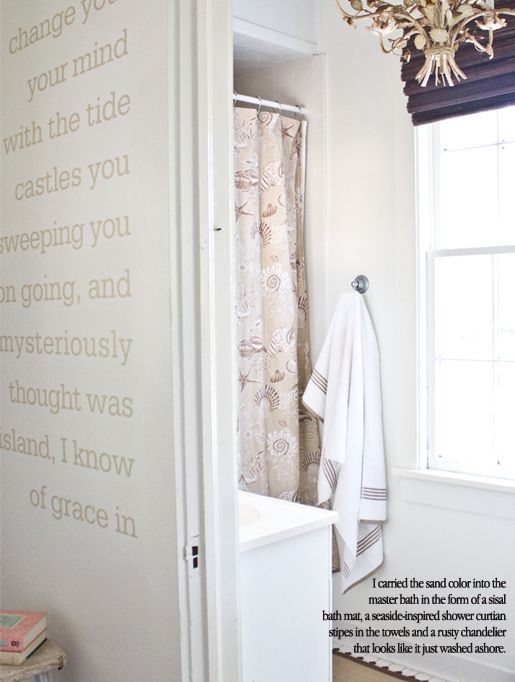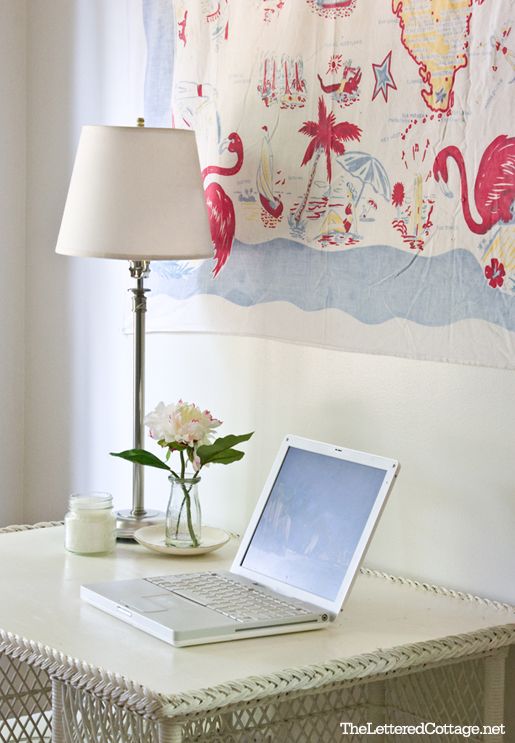 And there ya have it!
One extra-sweet, shabby chic, master suite!

Some of my favorite things we incorporated into the room are
– the stacked doors as an extra-tall headboard
– the rusty chandelier in the bathroom
– the quilt draped across the end of the bed that we borrowed from my friend Jane
– the red & white striped pillow covers "Seamstress Sally" made
(I'm such a sucker for a stripe!)
– the vintage tablecloth as wall art
(Funny story- The day before our open house we realized we didn't have a large piece of art for the wall above the desk. Thanks to one heckuva cool tablecloth Diane had left on the kitchen counter the day before, we were able to create a unique wall-hanging that just happened to match the room beautifully too!)
– the vinyl wall words
(Courtesy of LeenTheGraphicsQueen.com. Click here to read about her experience on Tybee!)
The big quote on the wall reads:

"I think that there is no truer place than an island.
Whether it's a sandbar or a bubble-up of volcanic rock or a jut of tropical coral,
an island stands only by some whim of fate, given a chancy foothold among the chaos. An island often makes you change your sense of perspective, your mind and your direction too. With the tide coming in over the castles you build, the currents sweeping you places you didn't plan on going, the mists rolling in mysteriously over what you thought was clear.
When I go to an island, I know that I'm in that state of grace in which anything can happen."

Hope you enjoyed the tour of the master bedroom.
I'll be back soon with photos of the kitchen and middle bath!
————————————————————————————-
Need help arranging your furniture?
Need design help?
Check out my e-book!