Every time I pass one of those great big pre-assembled doll house kits at Hobby Lobby I think about how wild it is that (insert ever-changing mortgage company name here) gave us a great big pre-assembled grown-up house to play with just because we promised to pay for it. Do you ever think about wacky stuff like that?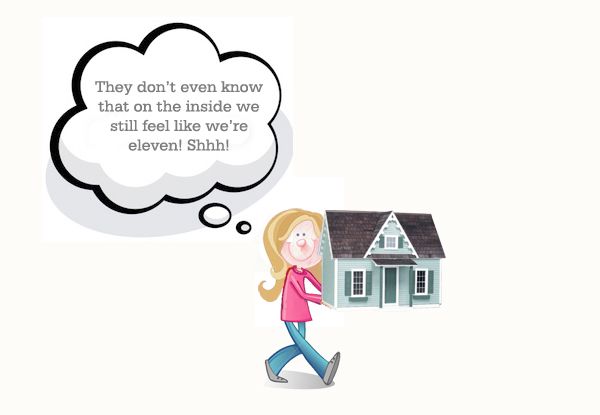 And speaking of playing with your "big kid" house, I've really enjoyed arranging and re-arranging things in our living room over the past few years. One of my favorite little pieces is a quote I printed out and framed that sits in one of the cubbies in our entertainment center. It reads, "A good laugh is like sunshine in the house". Isn't that the truth?
And speaking of cool quotes, we decided to hang our new White Boy Dog art on the wall to the left of our front door.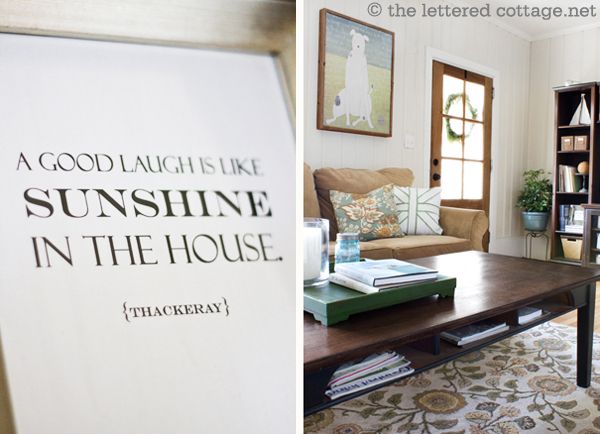 It reads, "Remember when you go into the world to keep your eyes and ears wide open. And be kind. Love one another and take care of each other. Tell the truth. Always do your best. Listen to the big people and the little people. Explore new paths and have fun! Get lots of rest. Eat good food so you may grow to be big and strong. Mind your manners and think before you speak. Remember to protect little things. Know that you are loved like crazy. Give thanks for all of your blessings. Above all else, Love, and you will do wonderful things in this world!"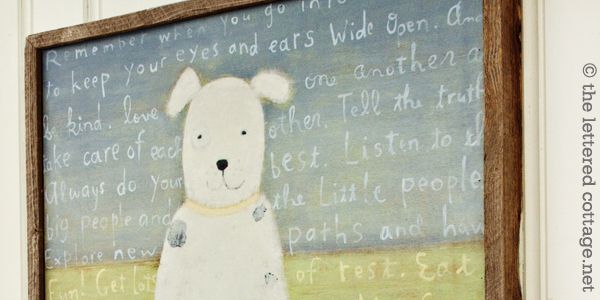 (Available through our fabulous sidebar sponsor Abbe, at Shop Ten 25. Note: we stained our frame brown.)
And speaking of new additions, we picked up a gorgeous green plant at Home Depot yesterday and I love the freshness it adds to that corner of the room…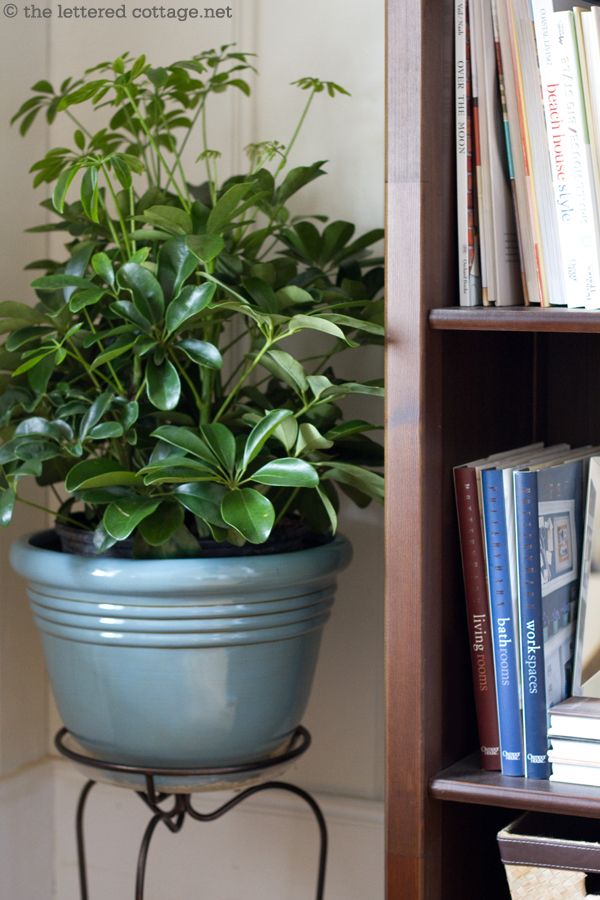 (Note to Mom: I haven't gotten around to re-potting it yet, but I will today!)
We haven't really had much of a winter (yet) here in Alabama, but seeing that sucker sitting there kind of has me excited about spring already!
And speaking of spring, here's another fun quote we've got sitting in another one of the cubbies in our entertainment unit…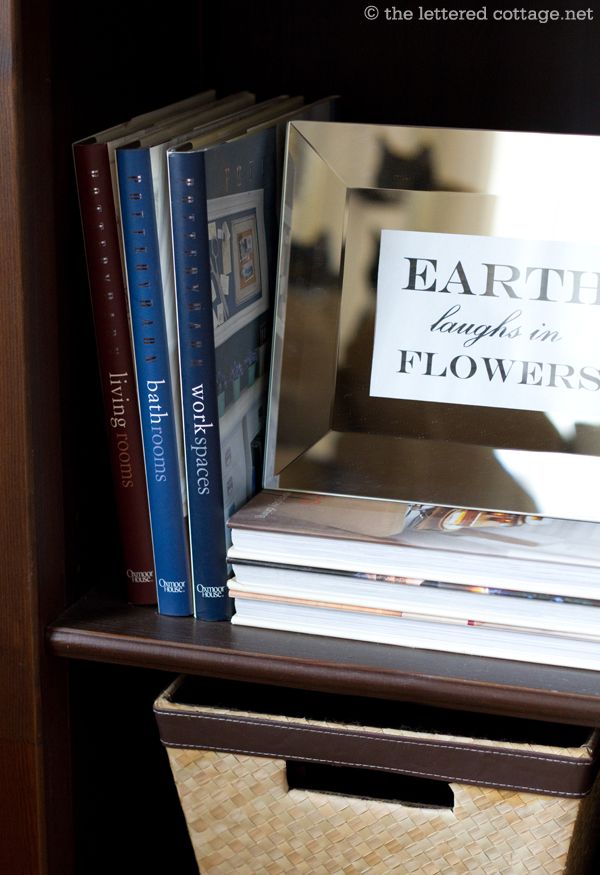 (Can you see Kit-Cat's reflection in the mirrored frame?)
And speaking of the entertainment unit, here are a few more shots of some of my favorite "moments" inside some of the other cubbies…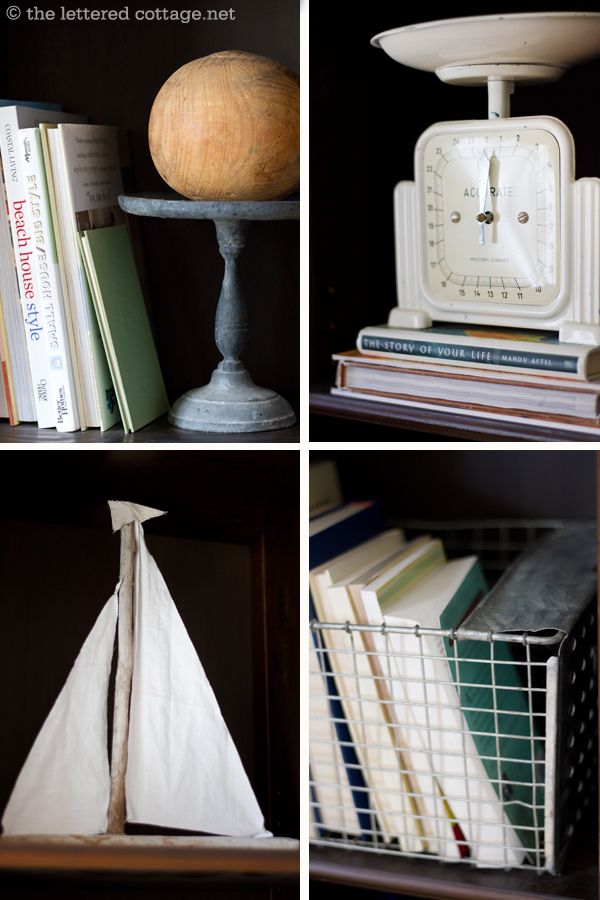 And speaking of favorite little moments in the living room, I'm quite fond of this one, too…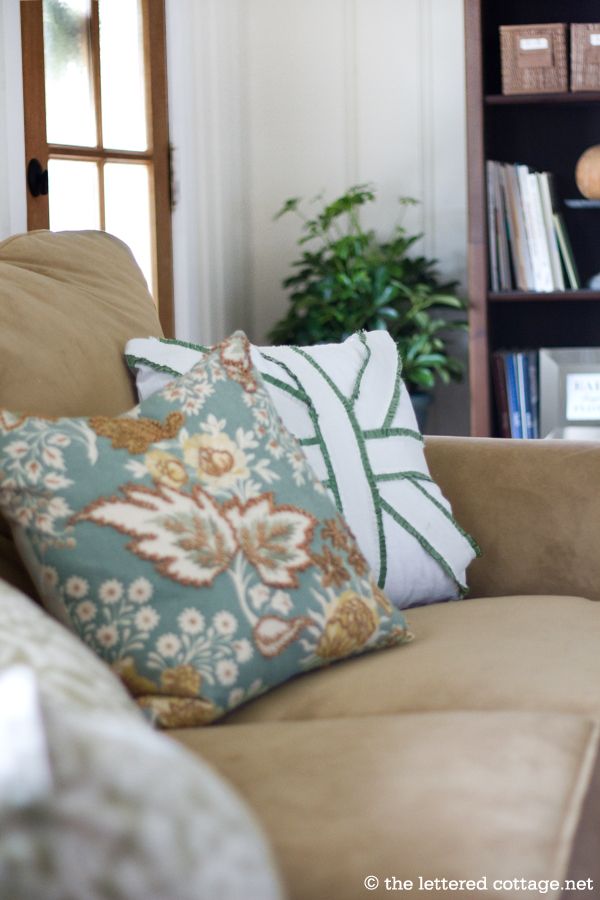 (blue pillow: Pottery Barn (discontinued), green & white pillow : Stacie Ann on Etsy)
…I think I'll go curl up in it right NOW.

PS- Here's some info about some of the other "stuff" in the photos in this post: 'Markor' entertainment unit – Ikea (discontinued); green tray – Pottery Barn (in store only); crocks (antiques from my Grandma Beth!), Accurate scale (vintage, thanks Mom!), wooden ball (flea market), iron pedestal (flea market), locker basket (flea market), metal box and rattan baskets (Ikea); sofa – Total Liquidation, Montgomery, Alabama; coffee table – J & G Flea Market, Prattville, Alabama; area rug – Pottery Barn (discontinued); driftwood sailboat – WhiteFlowerFarmhouse.com; wall color: Natural Choice, by Sherwin Williams.
And the winners of the One Little Word Workshops are…

Congrats, Te're and Sarah! I'll be in touch with you shortly!