I love "let's decorate the Christmas tree" night…
Almost as much as I love wearing my pajamas ALL DAY.

Yep.  The tree is officially up.
We had a $5 live one last year, but on January 4th of this year, we waltzed outta Michaels with an artificial one for just $24.96 (marked down from $179.99! Yessssss!)
We don't have a whole lot of fancy-schmancy ornaments, last year we used inexpensive, homemade gift boxes). I wanted to do something different this year, so me and Mr. Max cut apart three faux Poinsettia bunches to use as "ornaments"…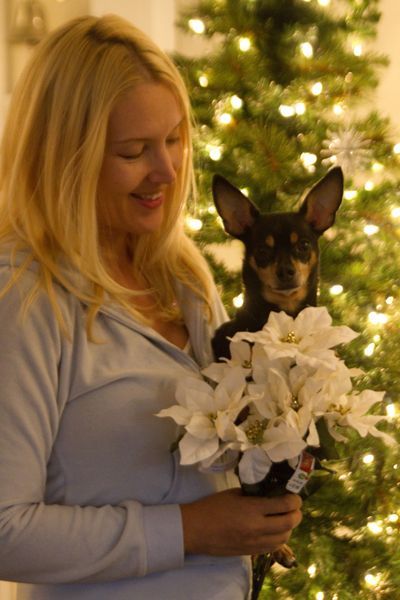 Well, I was actually in charge of all things "cut". Mr. Max was in charge of all things cute!
The Poinsettia bunches were on sale at Michaels for $1.99, and would you believe I got about 20 "ornaments" outta those suckers?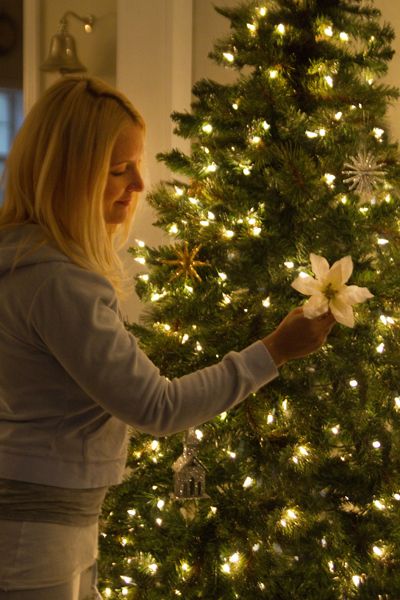 Next, I filled up the rest of the tree with a couple handfuls of $1 ornaments from Wal-mart…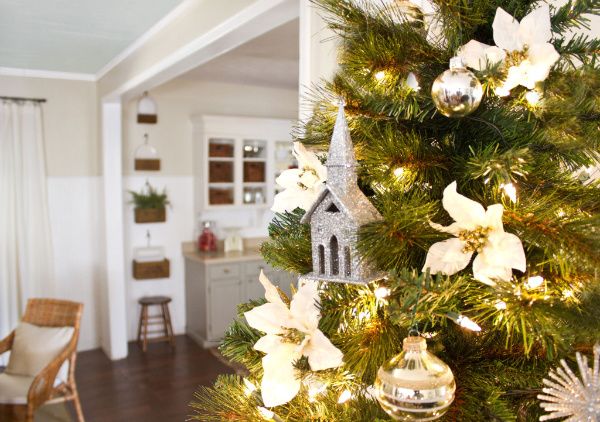 After that, I used some more 8 lb. fishing line, and a few white, flat-headed thumb tacks to hang some glittery ornaments from the ceiling above the tree…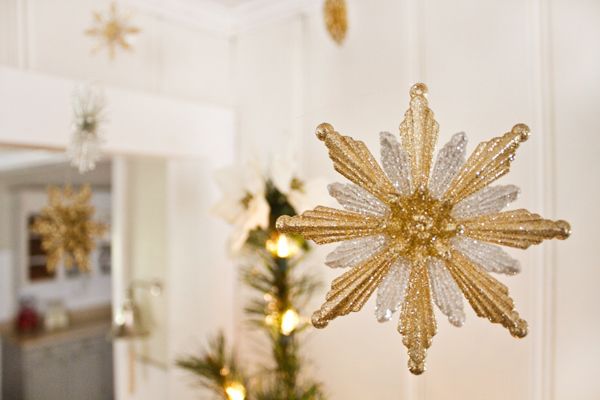 It's hard to tell in this photo, but they really do look neat in person. (Especially at night!)
(random thought: I can't wait to lay/sit on the floor beneath the tree with our little one(der) and make wishes on all those swirly-twirly, sparkly Christmas stars dangling up above!)
Random stuff:
Plaid throw blanket- Target, $9.99 on Black Friday
Narcissus plant on coffee table- Publix, $6.99
White pillow cover- Pottery Barn, $19 (discontined)
Magazine basket- flea market, $3
Christmas stockings- WhiteFlowerFarmhouse.com
—————————————————————————————–
Over in the dining room, I stuck some red, faux poinsettias into one of my white ceramic pitchers to use as a centerpiece.  I hung some of my white pencil starfish from the chandelier, and I used a couple of pieces of red-n-white gingham fabric from Hobby Lobby (less than $5) as table runners…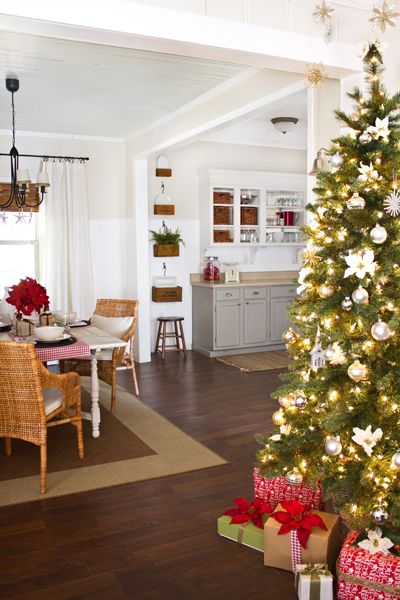 I'd like to have some folks over for a holiday dinner or two, so I think I'm gonna add a few low-dough/no-dough cottage-style Christmas touches to the "Wonder Wall" this weekend.
Maybe if I can pull it off, I'll write a "Winter Wonder Wall" post next week!

Merry Christmas my friend!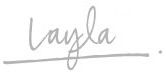 PS- To check out our Christmas Vignette, and our Christmas Mantel, click on the photos below!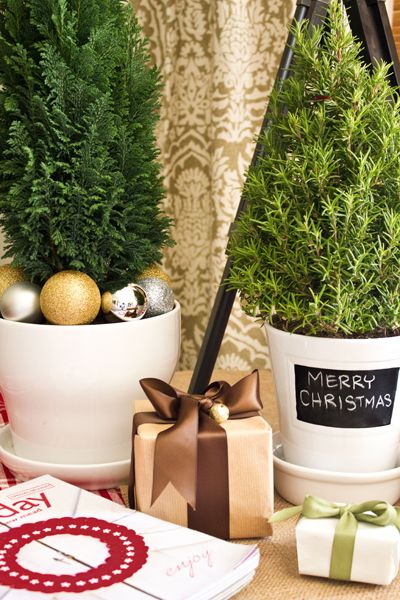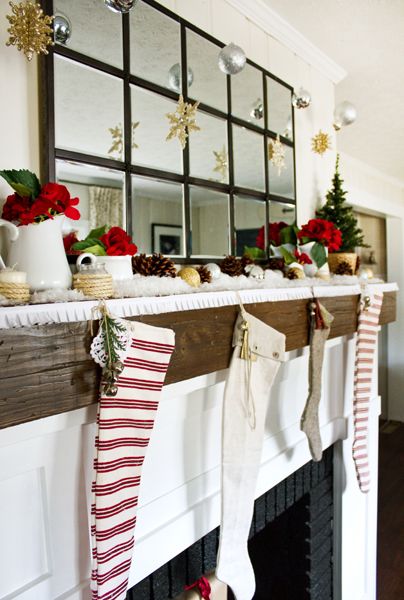 ——————————————————————————————————–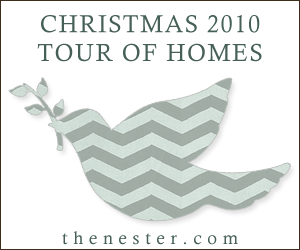 ——————————————————————————————————–
Join us on Facebook or Twitter!
————————————————————————————-
Need help arranging your furniture?
Need design help?
Check out my e-book!