Well, we still haven't gotten around to building the barn door we talked about back in this post, but we did manage to make the bed at least once this month give our bed a quick spring/summer makeover this month!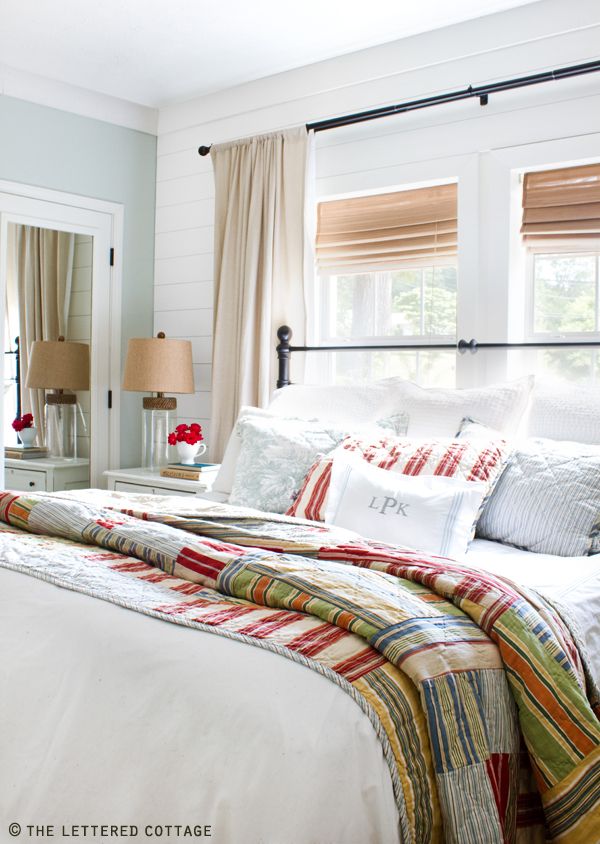 We just swapped out the toile quilt and shams it was previously sportin' for the quilt and shams my Mom hooked us up with for our birthday's last year.
(In case any inquiring minds want to know- the striped quilt and shams are from Pottery Barn's "Clearlake" collection, which is now discontinued, but I have seen pieces on eBay from time to time. The white and porcelain blue striped duvet and boudoir pillow cover are from PB's Grand Embroidered collection, and you can find info about those pieces, here.)
And although we may be far from finished in this room, it seems to be slowly-but-surely ship shapin' up. (Yay!) Among other things, we're on the hunt for a ceiling light, a large rug, and a piece of furniture to use at the foot of the bed. Maybe a bench, like this…?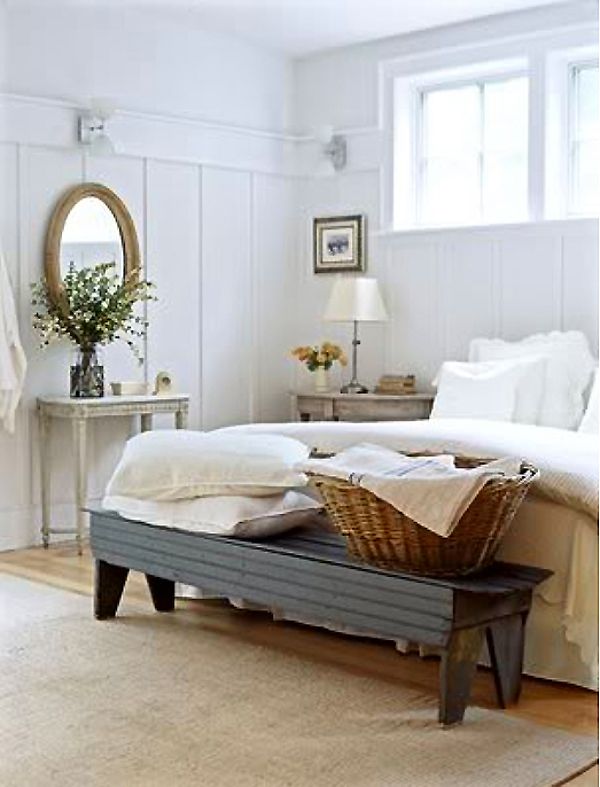 Looks easy enough to make, eh?
And, of course, we look forward to tackling the barn door project one of these days too.



In related master bedroom/barn door news, check out the barn door headboard Diana built!

She blogs at Our Vintage Home Love, and you can read all about her barn door project here.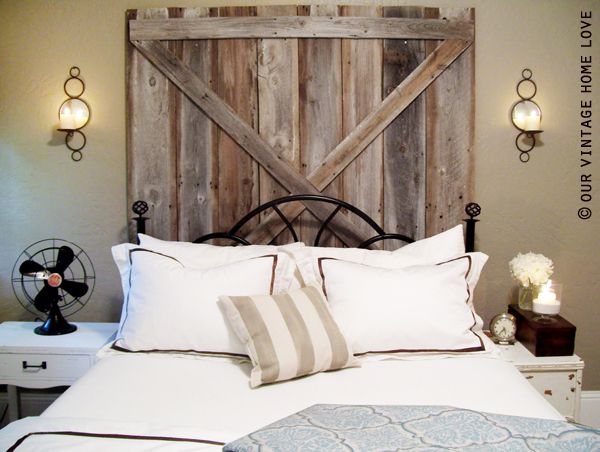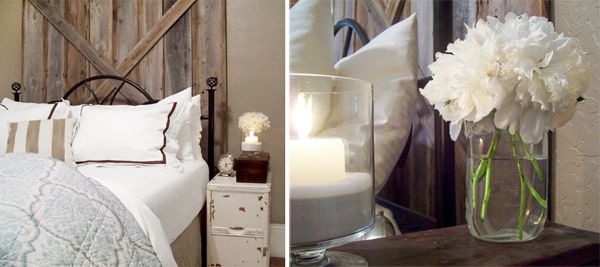 What a great backdrop for their low metal headboard, huh? Diana and her hard-working husband have 4 precious kids, and in addition to taking care of her family, she's all about creating a beautiful, inviting home on a tiny budget. She loves turning cast-away items into something special for their home…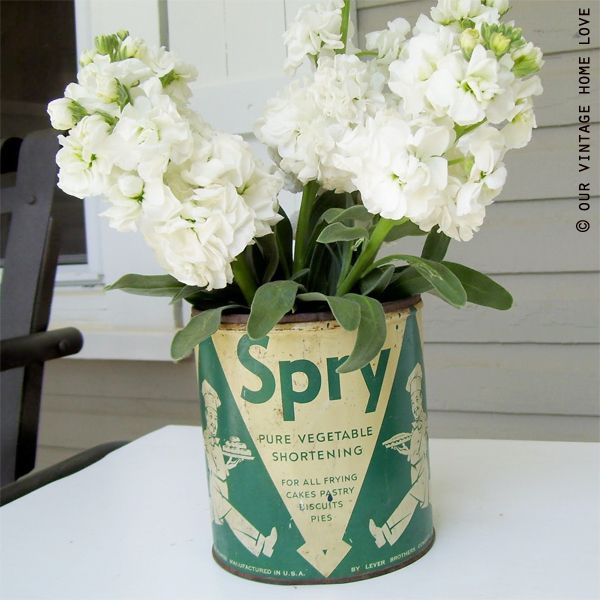 She's only been blogging since March, so if you have a chance, swing by her blog and say hello!
———————————————————————————————–
Another blogger I wanted to introduce you to today is Heidi, from Home by Heidi.
Heidi is a stay at home Mom with a flair for interior design and a passion for DIY projects. On her blog, she shares decorating tips, tricks and inspiration, and she says her mission is "to make the ordinary EXTRAORDINARY"! Check out her beautiful bedroom…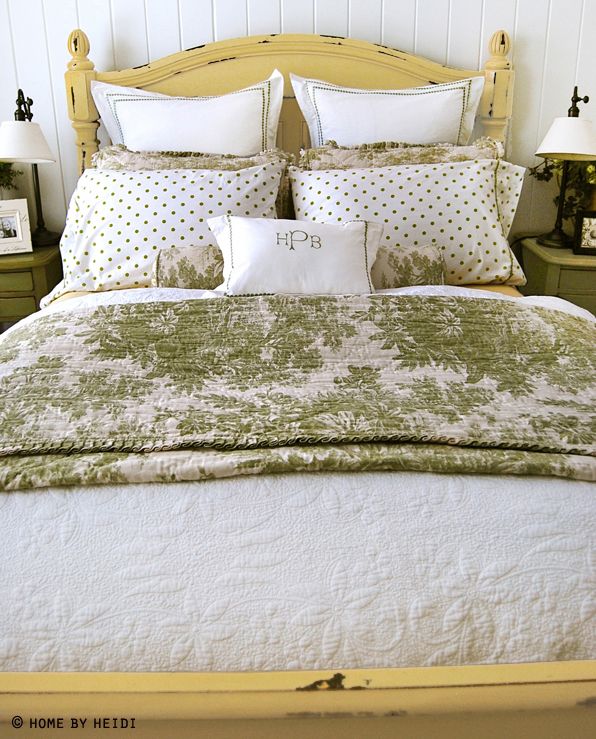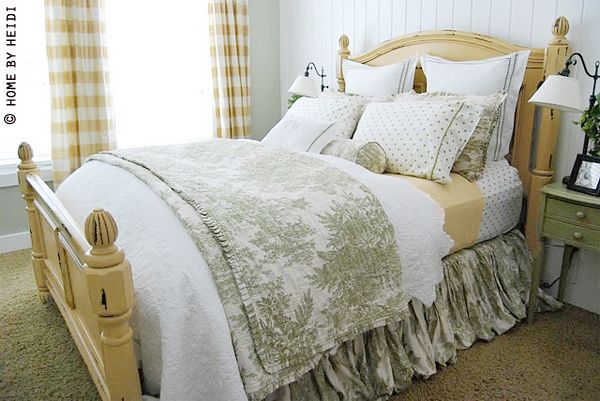 The How To Make The Perfect Bed post she published recently was awesome!
Now if I could just talk her into helping me and Kev make ours every day! I love slipping into a freshly made bed at night, but making it every morning just doesn't seem to happen. That's okay with Max though. He prefers the messy look…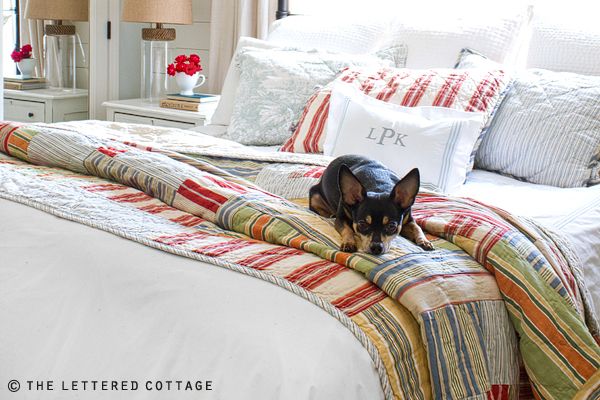 ——————————————————————————————————–
Join us on Twitter or Facebook!
————————————————————————————-
Need help arranging your furniture?
Check out my e-book!