It's summer mantel time- yay!
We had a ball putting together our adventure/sea-themed display this year…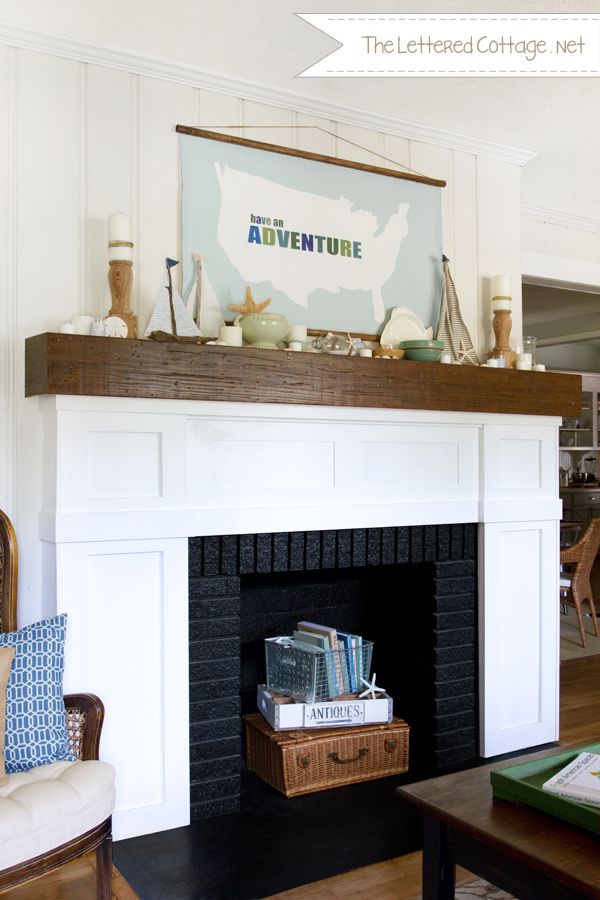 As always, our goal was to create something fresh & fun to enjoy for the season, using free, inexpensive, or handmade items, and things we already had around the house.
We spent about $8 on the "have an ADVENTURE" art…
It's just made up of two wood dowels, some leftover wood stain, an old piece of dropcloth material, some twine, and a couple beads of hot glue. The phrase decal came from Leen The Graphics Queen.
In a nutshell, we just cut out a (good) section of dropcloth (from one of our old dropcloths) that would fit above our mantel.
We decided to work on the side without any paint marks on it, then we ironed it smooth, primed it, pencil drew a United States shape on it, and painted it with Moonlight White and Southern Breeze paint. A little hot glue and a couple of wood dowels later…boom! Art with heart!
We also made the little sailboat on the left side of the mantel…
It's made out of wood from our backyard, a piece of scrapbook paper from Hobby Lobby, and two little triangles of denim from one of my old pairs of jeans. We just drilled a hole in the middle of the big chunk of wood and filled it with hot glue. While the glue was still wet, we stuck the twig down in it and waited for it to dry. The paper sails and denim flag are also held in place with hot glue.
Everything else was stuff we had around the house. Flea market finds, glass containers, candles, craft sand, driftwood sailboats, and seashells…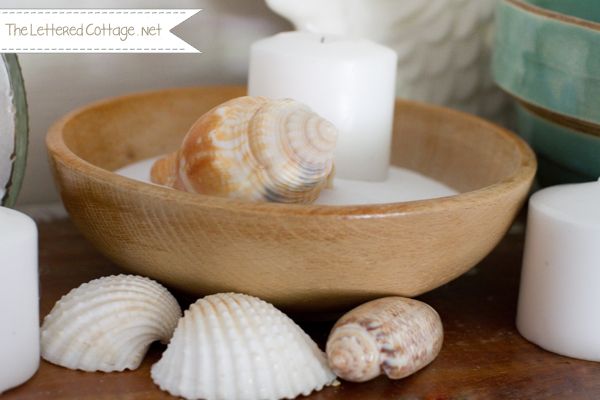 (white and ticking stripe sailboat: White Flower Farmhouse)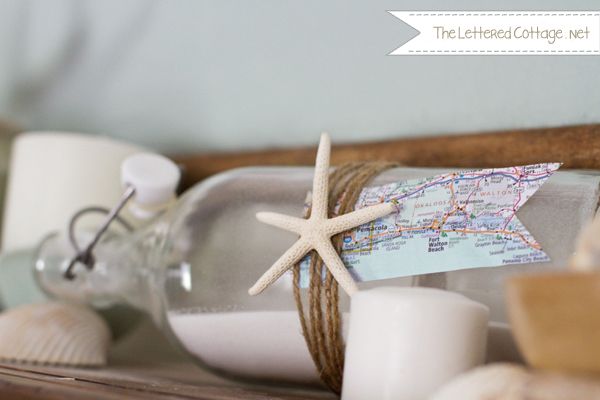 We got the bottle at Ikea last year. I just poured in some craft sand (Hobby Lobby), and embellished it with a small white pencil starfish, some twine, and a piece of an old Atlas we had in our car. (We love that part of Florida! I've got family in Pensacola, and we honeymooned in Seaside.)
I also wrapped a couple of our votive candle holders with pieces of our old map…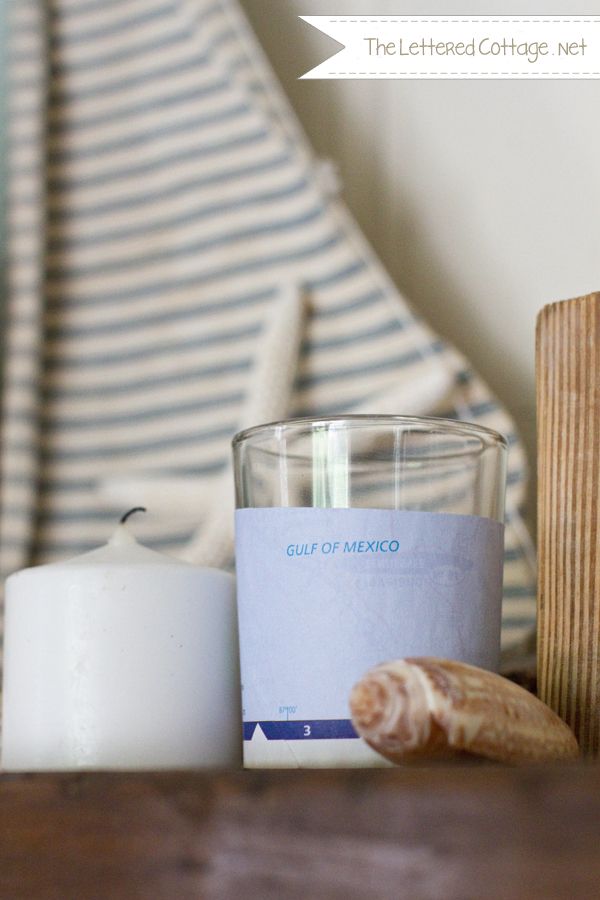 I got a whole set of the fish plates at a flea market last year, and just couldn't resist propping one up there, too…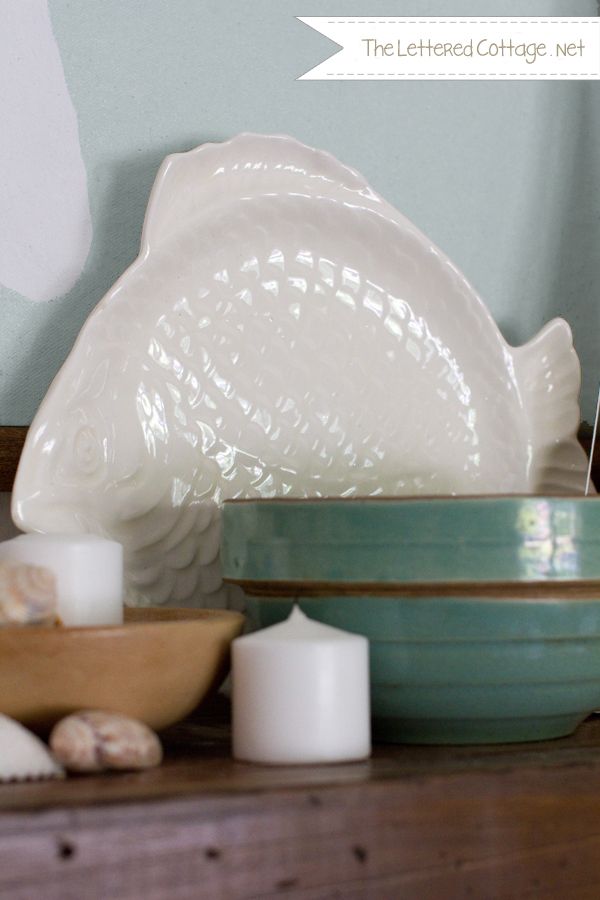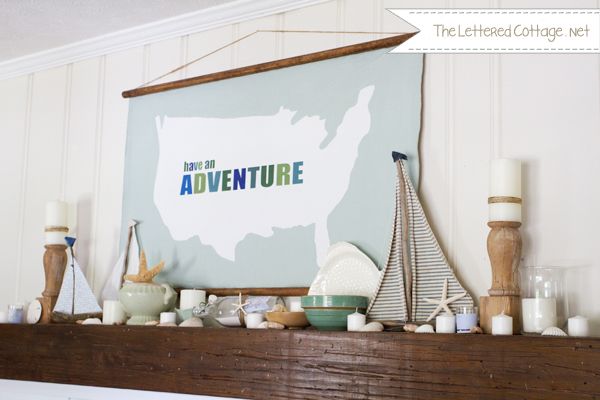 And last but not least, I filled our (non-working) firebox with some more goodies we had around the house. A vintage locker basket filled with books, a wicker picnic basket, and a soda crate…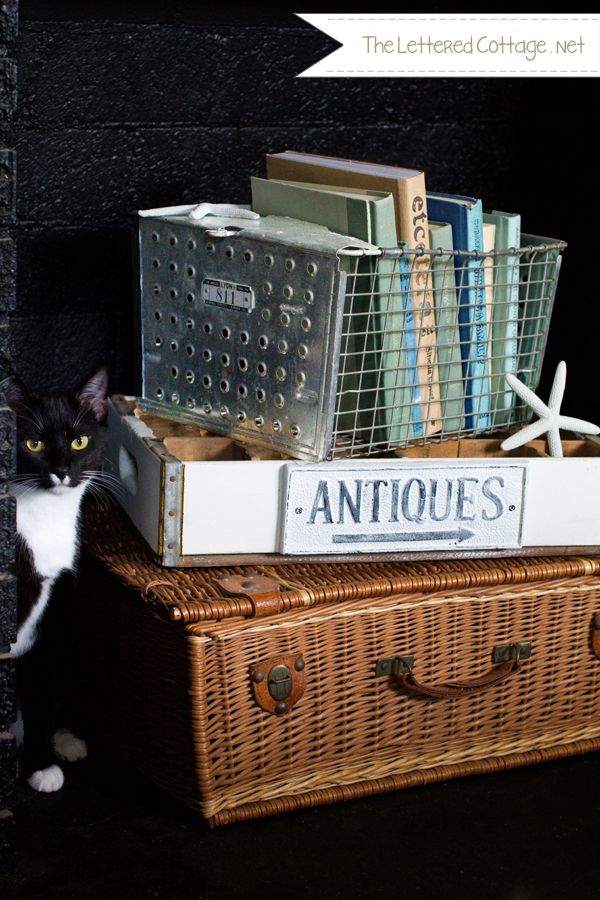 My favorite "goodie" is the one on the far left though. He makes decorating so much more fun!

PS- If you blogged about a Summer-themed display, or you're looking for some more Summer-y inspiration, I hope you'll swing by this coming Monday for our Summer Fun link party!