Merry Christmas Eve!
Kevin and I photographed a charming, southern-style guest cottage recently, and I am so excited to share the photos with you today! It's called the Chapel Hill Loft, and it belongs to our new friends, Dale and Rita. You remember Dale and Rita's house, right? It's the one that had the super cute, Fall-themed front steps this year…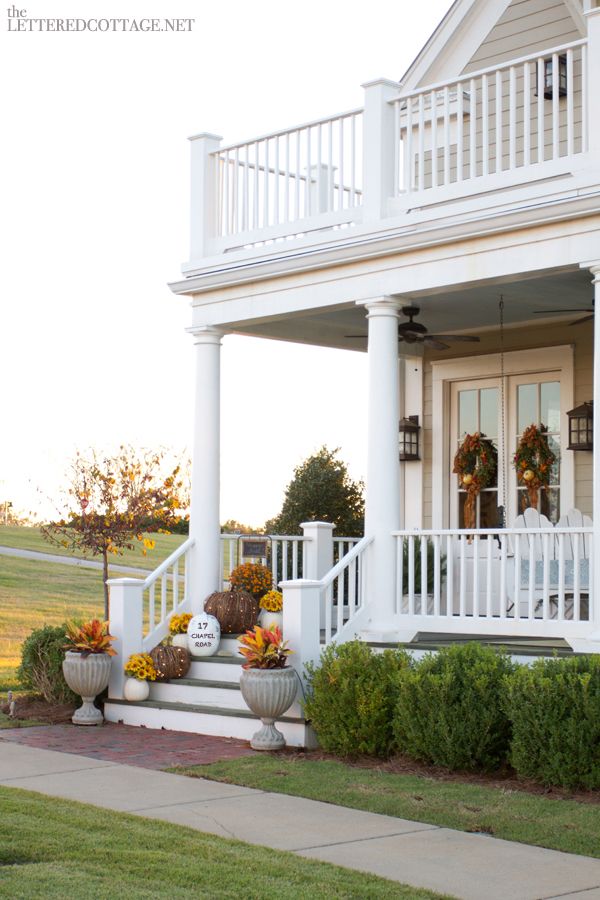 Their house is one of my absolute favorites, and it sits in one of the neatest parts of the neighborhood:
The loft is located above their garage, which is attached to their house by a breezeway:
When you walk in the door at the top of those stairs, you're greeted by the living room, dining room and kitchen: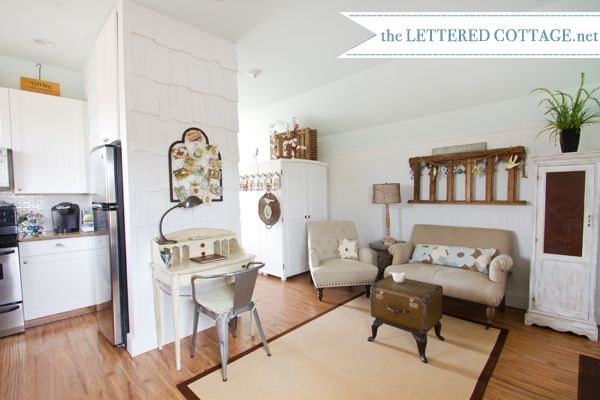 Here's a closer look at the kitchen: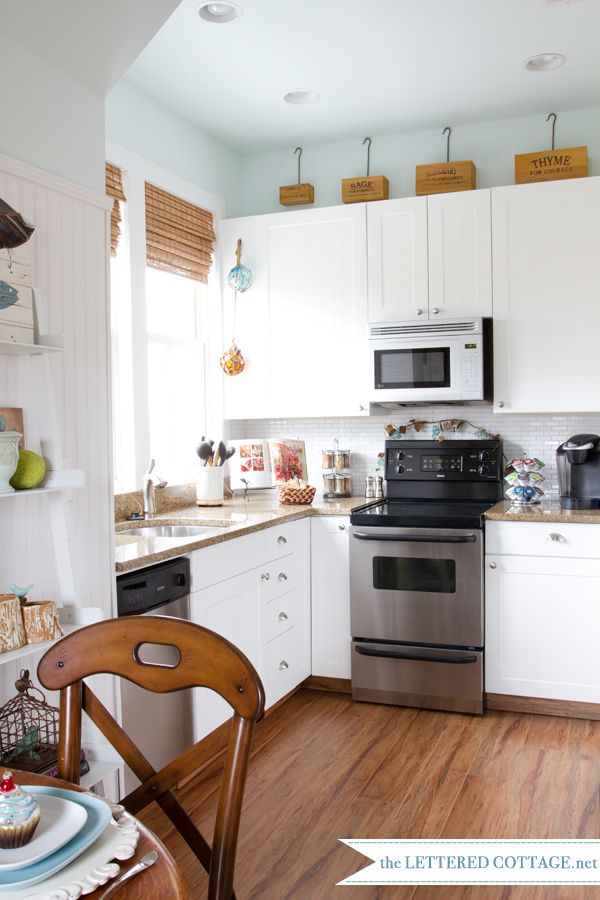 And here's a shot of the dining area: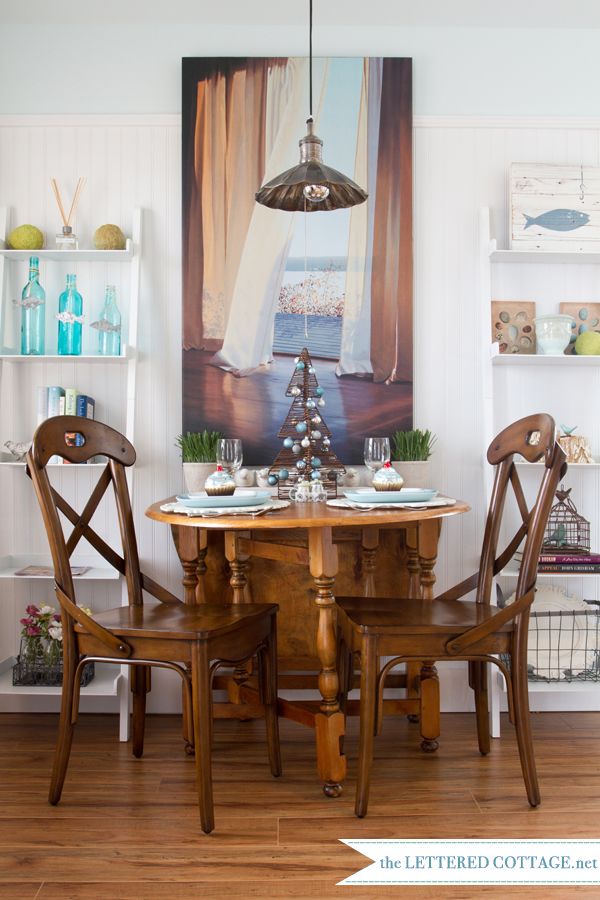 There are so many fun little touches everywhere you look: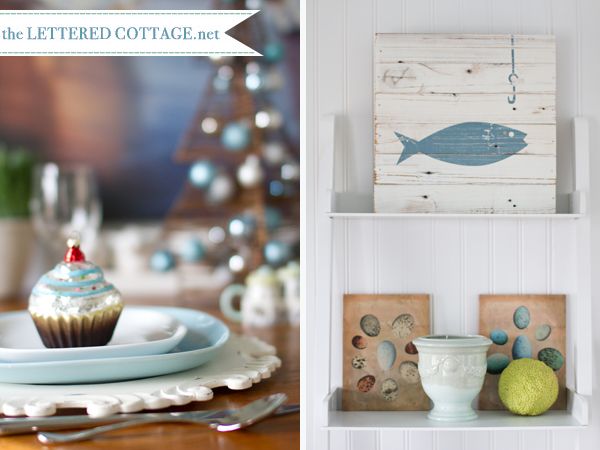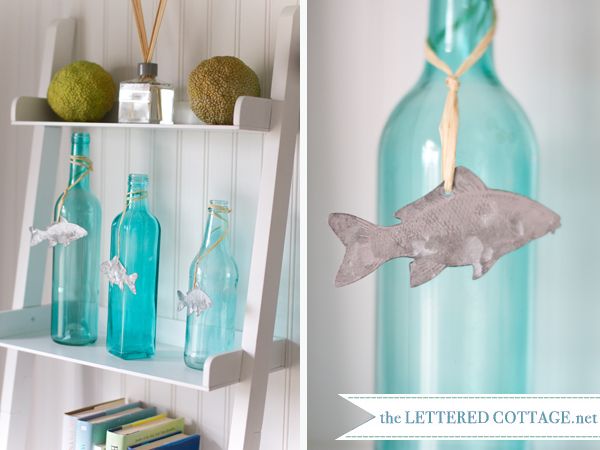 The exterior siding they used on these interior walls adds so much character, don't you think?
It's hard to tell from that photo, but that shingle-clad "box" houses the refrigerator and the (stackable) washer and dryer. Pretty clever space planning, eh?
Dale and Rita displayed a collection of vintage Christmas cards above the desk area in the living room:
I love vintage cards. Such a sweet and inexpensive way to add personality and color to a space.
Here's a closer shot of the living room: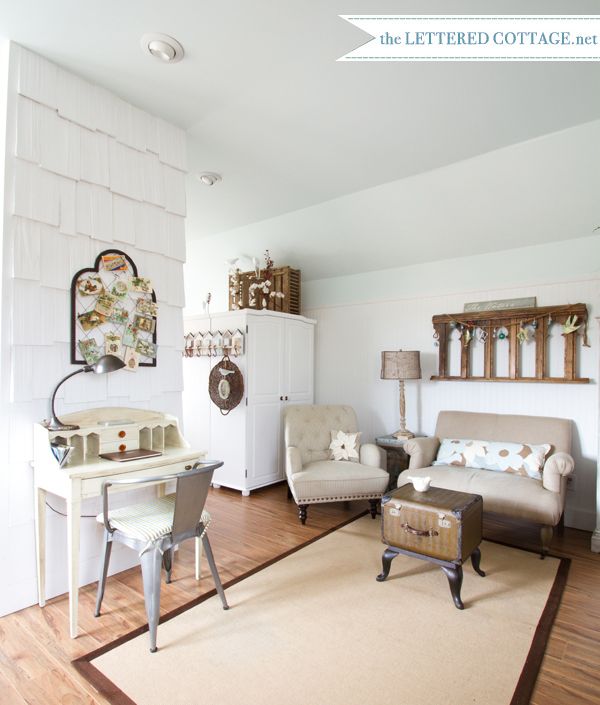 There are lots of little lovelies in there, too: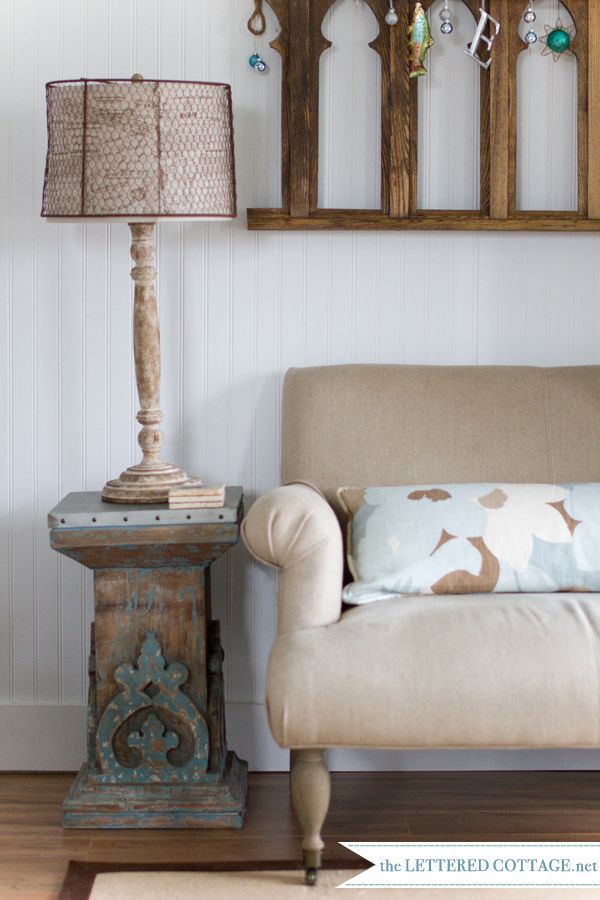 And just past the living room, sits the bedroom: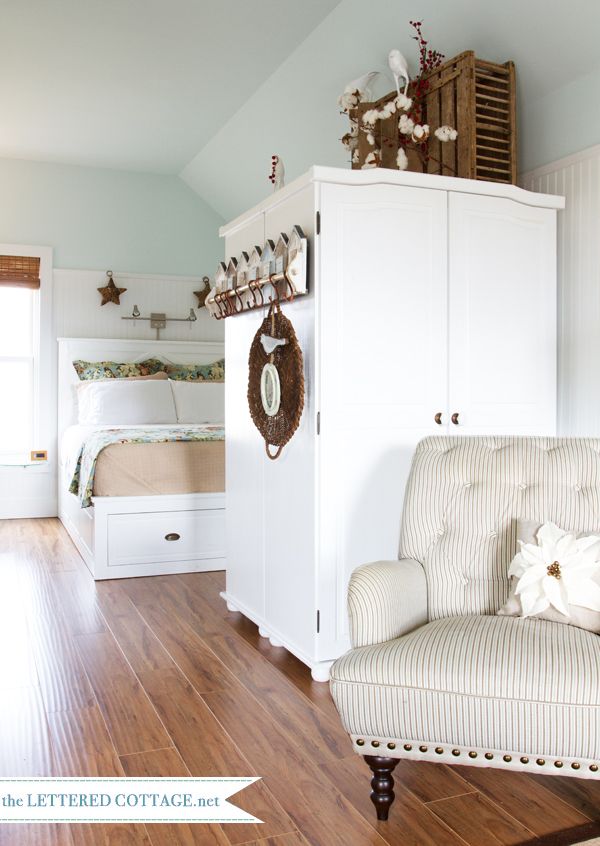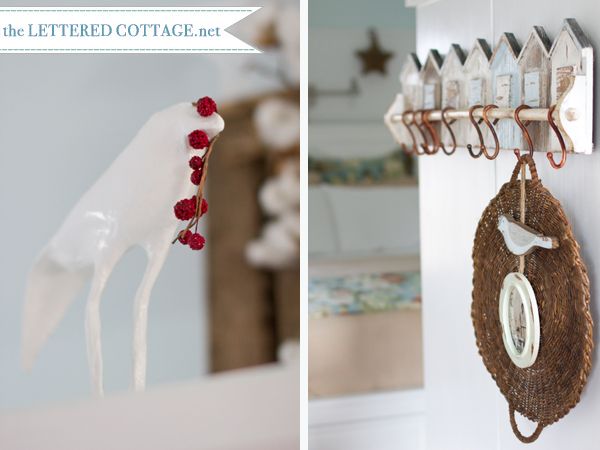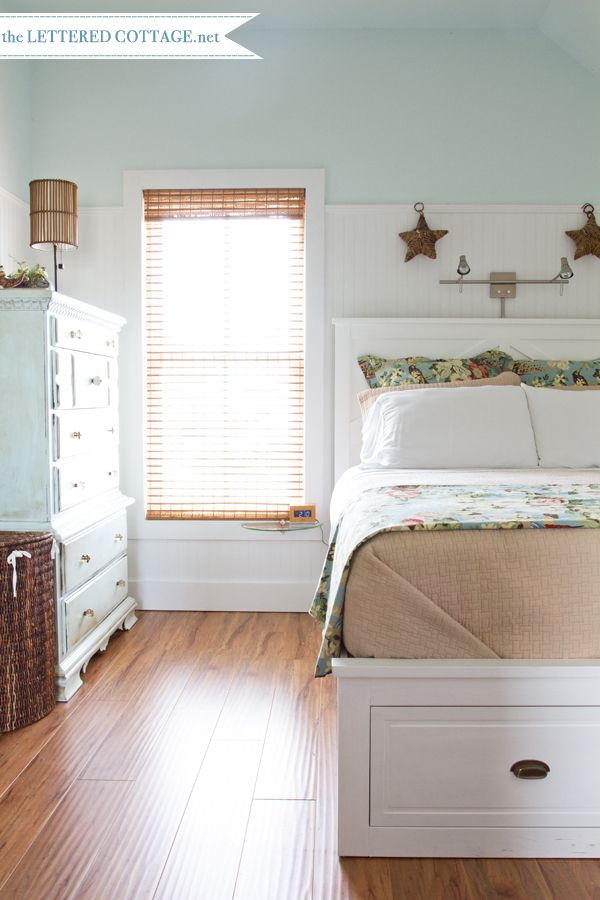 That door in the photo above opens to the bathroom: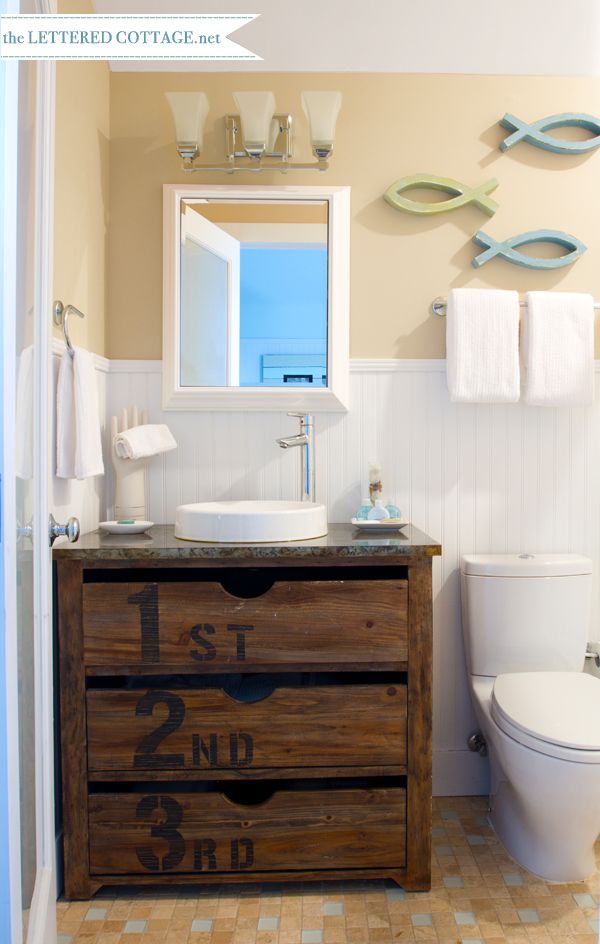 I love that chest of drawers-turned-vanity Dale put together!
The loft is listed on VRBO.com and HomeAway.com, so if you're looking for a cozy place to crash in south central Alabama- click on those links for more information about it.
The rates are $105/night during the off season, and $120/night from Memorial Day through Labor Day. There's a 2 night minimum, and it's already booked from now until April 6, 2013- but I asked Dale if our readers might be able to get a discount during the rest of the year (because they rock, of course!) and he said sure! So if you decide to swing on down, over, or up for a visit next year- just type or mention TLC2013 during the booking process to take advantage of a 10% discount. Ooh- and let us know if you're coming for a visit, we'd love to say hello! (PS- this isn't a sponsored post, and we aren't going to receive any type of compensation from bookings that come from our blog. We just think it's a really cool place to stay!)
Last but not least, here is a list of some of the room resources:
– Wall color: Benjamin Moore "Crystal Blue"
– Flooring: Engineered laminate by Eternity floors. It has a hand-scraped looking finish, and the color is called Rustic Olive
– Dining chairs: Pier 1 Imports
– Dishes: Ikea
– Church railing over sofa and drop leaf table in the dining area: Trisha's Treasures. Homewood, Alabama
– Side table, table lamp and settee in living room, and bathroom vanity: Aidan Gray
– Armchair: Pier 1 Imports
– Dale made the coffee table out of parts he bought at Resurrect in Opelika, Alabama.
-Freestanding pantry next to the front door: Hobby Lobby. Dale painted it white and had a friend add the punched leather panel to the top of it.
-Two armoires separating the living room from the bedroom: eBay. Dale bought them as unfinished kits, and put them together/painted them.
-Bed: JCPenney
-Bird bedding: Pottery Barn
-Tan quilt: TJ Maxx
-Striped frames on wall next to bed: The Handmade Home
– Metal desk chair, lamp (on top of the chest of drawers in bedroom), and laundry hamper: World Market
Merry Christmas, y'all!