Our e-friends, Dan Zadra & Kobi Yamada, released a book called "2" a while back…
…and since Kev and I are celebrating our 8th wedding anniversary today, I thought it would be fun to blog about something lovey-dovey that Dan and Kobi included in their book. It's called the six-word love story.
Here are some examples they included in the book:
And (because I was completely fascinated by the idea) here are a couple more neat ones I found while surfing around online (waaaay past my bedtime) last night…
Unbeknownst to my darling hubby (who was fast asleep at our normal bedtime), I spent much of the evening creating as many six-word love stories as I could think of. I plan on driving him borderline crazy with them sharing them with him throughout the day today. The hopeless romantic in me hopes it doesn't make his brain hurt he finds the whole thing as fascinating and absolutely addicting as I do.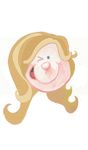 I'm saving the mushy ones I came up with for Kev, but I thought my fellow house-fixer-uppers would get a kick out of this one that popped into my head at 5:35 am this morning (I immediately rolled over and texted it to myself so I wouldn't forget it- ha!):
"Wild houses couldn't drag me away."
This afternoon we're going out for a meal and a movie, but if you feel like sharing your six-word love story in the comments section here today, I would absolutely LOVE to read through them with my mister tonight!