Happy Monday, y'all!
I worked on THE most fun presto change-o for a client named Lisa Jo Baker this weekend and just *had* just share it today! But first, do you know Lisa Jo? She's a really fun gal and the author of these fantastic books: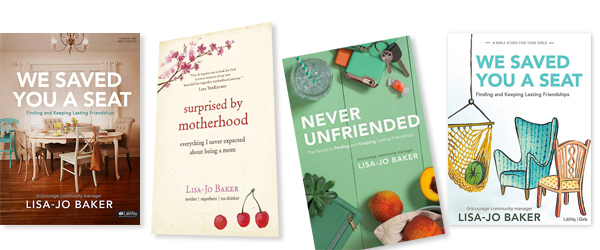 Here are links to each if you'd like to read more about them:
We Saved You a Seat – Bible Study Book: Finding and Keeping Lasting Friendships
Surprised by Motherhood: Everything I Never Expected about Being a Mom
Never Unfriended: The Secret to Finding & Keeping Lasting Friendships
We Saved You a Seat – Teen Girls' Bible Study: Finding and Keeping Lasting Friendships
I've had a blast getting to know Lisa Jo through Instagram, so dreaming up ideas with her was an absolute treat! The space she wanted me to help her with is the little outbuilding to the right of her house in the photo below:
They're going to replace the garage door with french doors and make it into a "she shed" where Lisa Jo can write. It will also serve as a guest bedroom when they have overnight visitors.
Here's a closer look at the garage door that will be replaced with french doors to bring in more natural light and create more of a view during the day:
Here's a peek inside the shed, and the photo Lisa wanted me to presto change-o:
She said she…
loves Magnolia Market style
loves grays and whites and blacks and woods
wants a wall of storage for books and such, opposite the french doors
wants her desk to sit in front of the storage wall so that she can face the french doors
wants a sleeper sofa for the occasional guest(s) who spend the night
wants to install some kind of wood flooring on top of the concrete
eventually wants to connect it to the turret part of the house
…and here's what I had fun pasting together in Photoshop!
Move your cursor back and forth over the photo below if you're on a desktop or laptop computer and would like to see the interactive version:
Of course Lisa Jo could swap out any of the colors, patterns or furnishings with ones that she might like better, or that would function exactly how she needs them to function. These are all just kind of "place holders" to give her an idea of how the room could be set up, and what that Magnolia Market kind of style would look like in there. (I actually think of it as Lettered Cottage style though too!) 😉
We exchanged Voxer messages about it several times since Saturday, and I told her I'd probably start with the ceiling, then do the walls and then move onto the flooring. After that, they'll probably want to get some kind of heating/cooling element installed down by the floor, on the wall to the left of her desk, so it's a little more out of view.
After that, let the decorating begin! Here are links to some of the things I invited her to check out as she's shopping for all the pieces:



I shared more thoughts about Lisa Jo's space in the stories I recorded on Instagram. If you'd like to watch/listen, just click on this little picture in the Highlights section of my profile: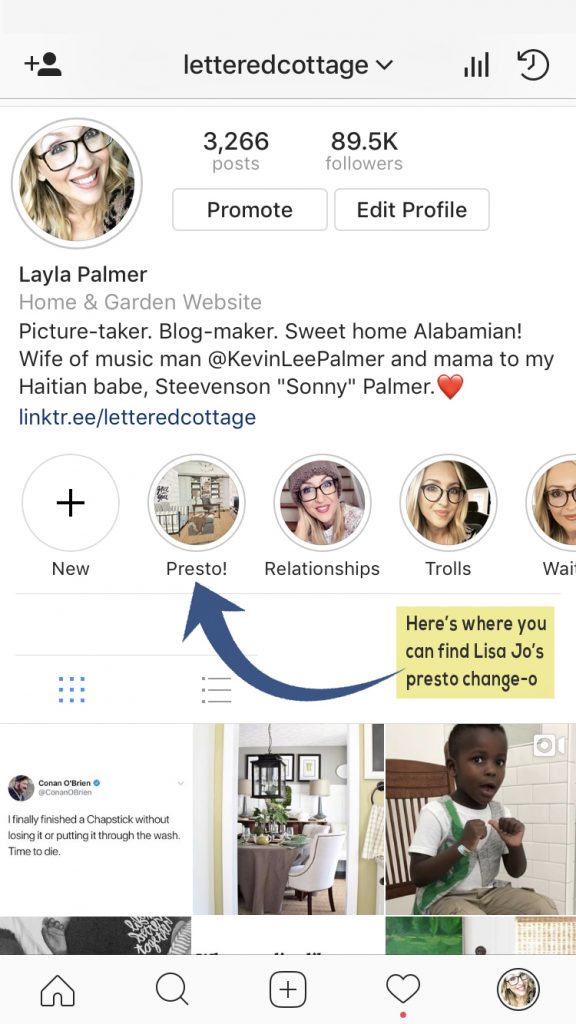 And speaking of Instagram, I shared some stories from Dexter Avenue Baptist church today too. Dr. Martin Luther King Jr. led the congregation there from 1954-1960. I was overcome by emotion standing there looking up at the grand old structure, listening to a recording of Dr. King as he shared his dream. For a while, I bowed my head and closed my eyes so that I could be transported by the sound of his voice coming through the loud speakers. What a incredible experience to stand there, in the same place he likely once stood, and be washed by the sound of people cheering as he passionately shared those powerful words!
I love that his family calls this a "day on" vs. a "day off". A few days ago nephew said, "It's not a day to hang out in the park or pull out the BBQ grill…it's a day to do something to help someone else. That's the proper way to celebrate my uncle and the King holiday".
So here's to celebrating the spirit of Dr. Martin Luther King Jr. by making time to serve someone who could use a little help today. And to sticking with love, because like Dr. King said, "hate is too great a burden to bear".
Layla
PS- If you'd like to learn how to use Photoshop so that you can modify photos of your home, I teach a class for beginners/visual learners here: LetteredCottageCreative.com