Remember when I blogged about Kristen Alber's house?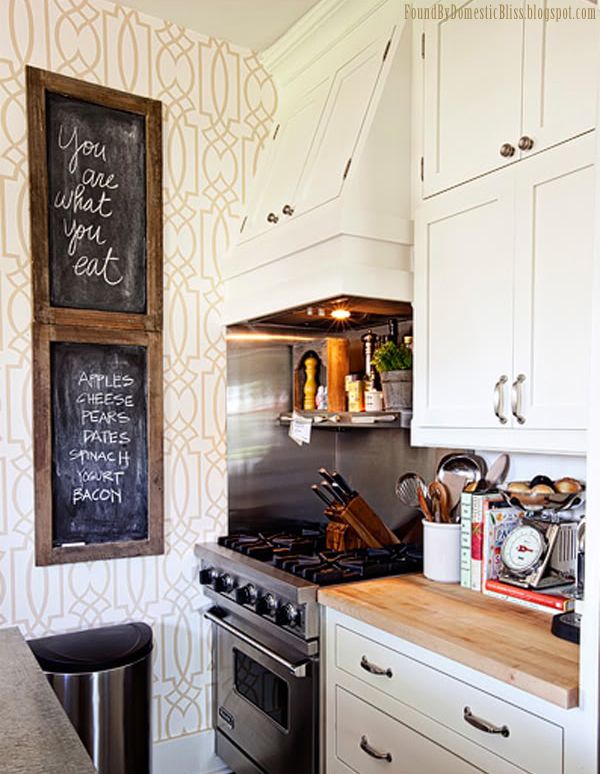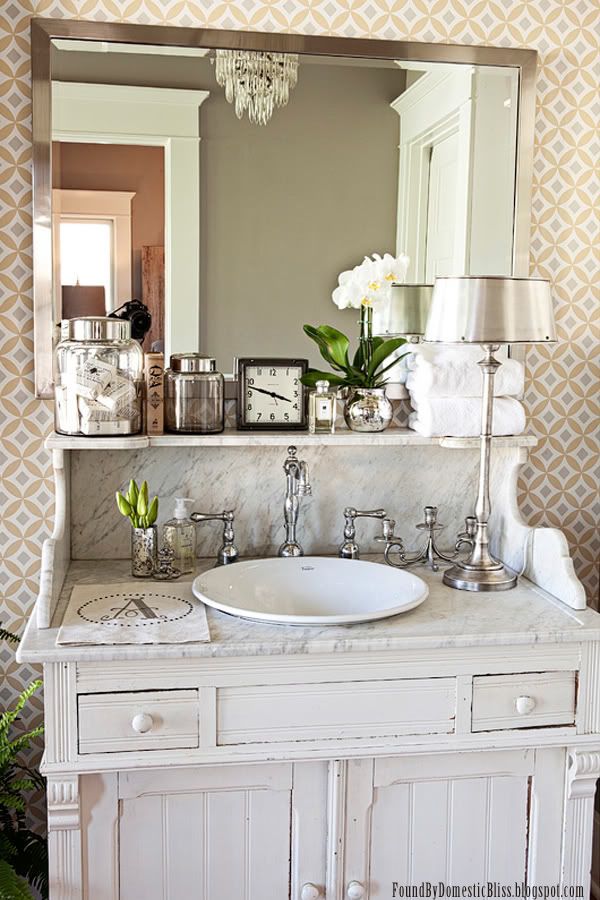 Well, I e-bumped into a friend of hers online not long ago, and I just had to blog about her house, too!
Her name is Dorie, and she and her husband did a heck of a job renovating their 1916 bungalow. Check out the exterior, before…
…and after!
Dorie said, "We bought this dilapidated house that, over the years, everyone had put their "personal" touches on. Including- removing the original staircase and fireplace, covering over a basement, and taking out load bearing walls. Previous homeowners had also tried to make it look more "Victorian" by adding the dormer windows and such, but I KNEW this sweet old house was a bungalow. Sooo, we went down to the archives in the basement of a city building and found an original elevation of our house from 1920. Low and behold- it was a bungalow! This kicked off 2 years of painstakingly finding out where everything originally went and restoring the ol' gal to her former beauty."
Here's the kitchen before…
…and after…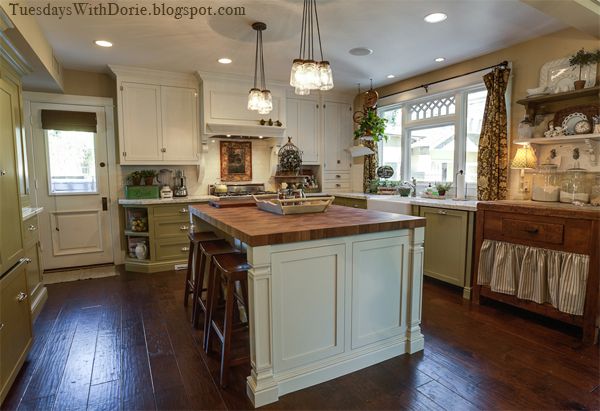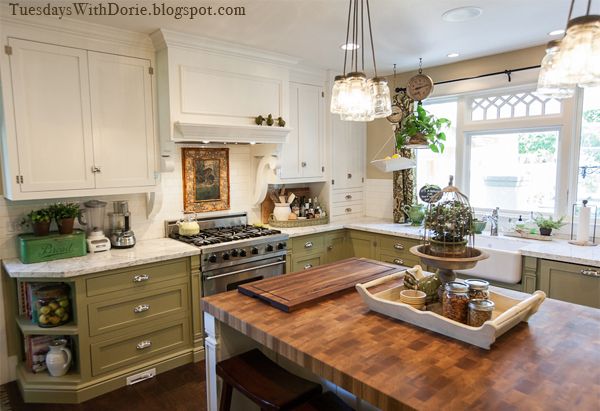 The kitchen cabinets are Denovo Cabinetry and the wood countertop is William Rogers Co. Both companies are owned by Dorie's family. Her hubby heads up the cabinet shop, her daughter heads up the wood top business, and her son is in charge of building the wood tops. How fun is that!? The green paint color on the base cabinets is Bamboo Shoot by Sherwin Williams. The upper cabinets are painted Swiss Coffee (Dorie's favorite white), by Benjamin Moore. The wall color is Benjamin Moore's, Hush. They used carrera marble on the counter tops and white subway tile on the backsplash. The mason jar pendants are from Pottery Barn. The old cabinet with the shelves above it is an antique candy makers cabinet that she found at a (sadly now closed) shop in Phoenix.
Dorie said, "We literally designed our entire kitchen around that thing!"
Here's a look at the family room, before…
….and here it is after!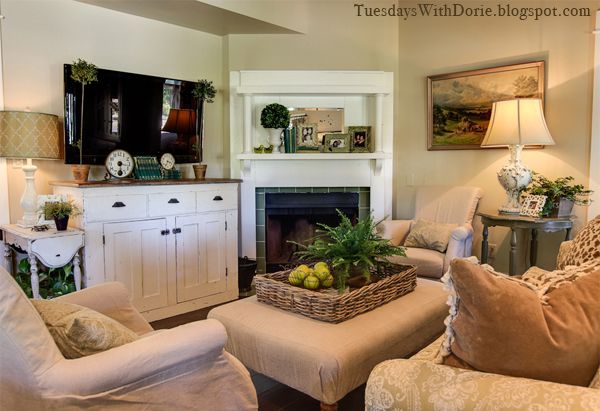 The wall color is Hush by Benjamin Moore, and Dorie said a lot of her favorite pieces of furniture and accessories are from her friend Kristin's store, FOUND. (Lucky for her, it's right around the corner from her house!) All the mantels in the house came from an architectural salvage yard in San Diego, CA. They also picked up some of the old door hardware at the same salvage yard. Dorie said, "I was determined to find parts that were from the right era."
Here's one of the bathrooms before…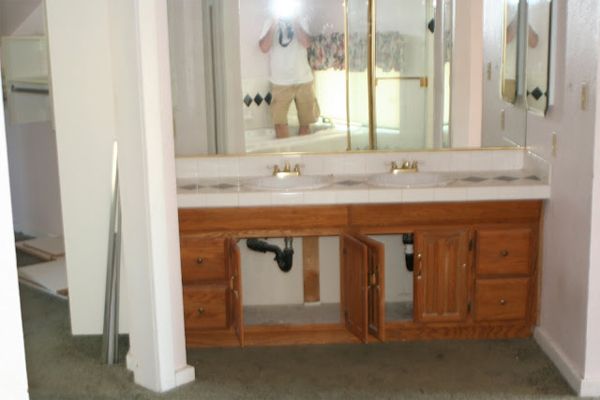 And here's the same bathroom, after…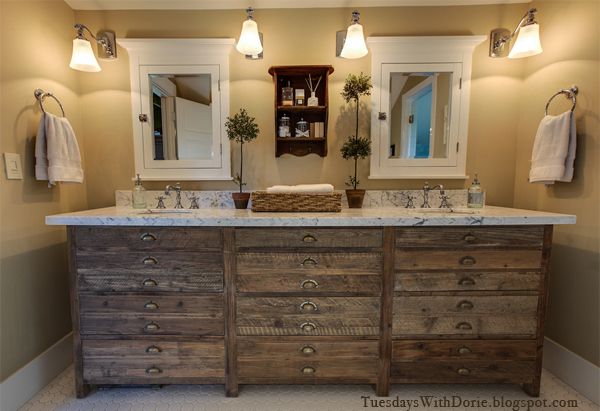 They got vanity at FOUND, and because it wasn't quite deep enough, Dorie's hubby took the original wood top off and added it to the back to make it deeper, then they re-topped the entire piece with carrera marble.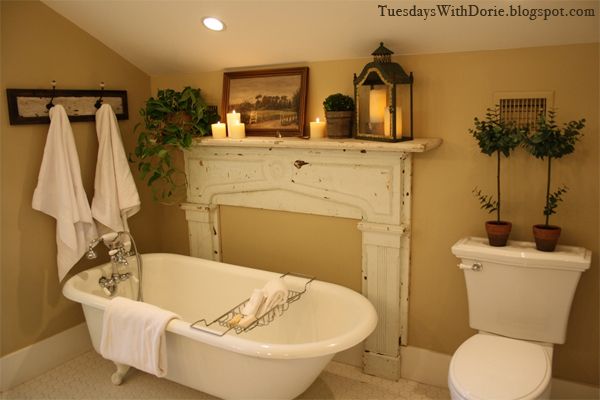 For more pics and posts by Dorie, you can find her blog here: Tuesday's With Dorie. There's a lot of fun stuff happening over there!
I enjoyed reading about their cottage at Dana Point, too. Here's a peek at the kitchen and laundry room there…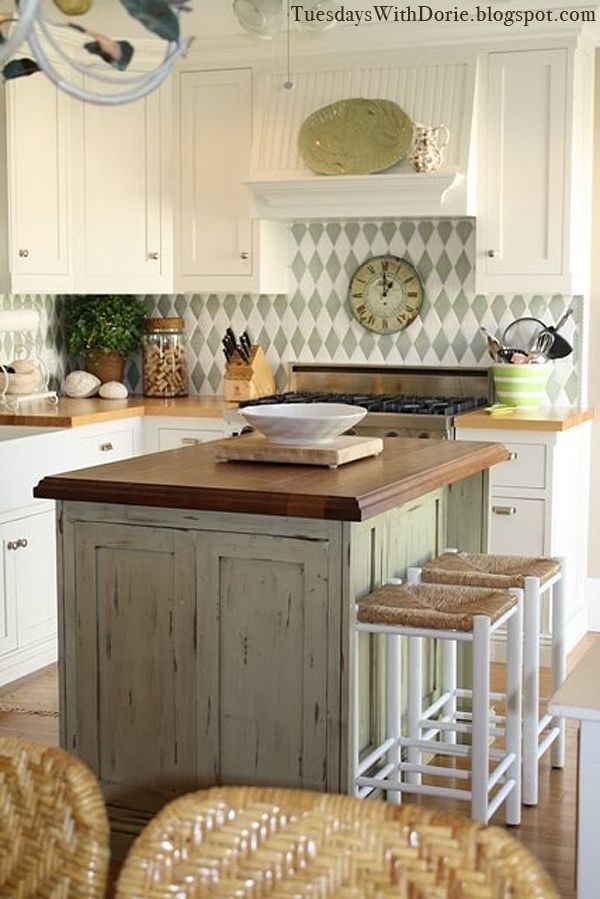 Pretty, pretty!


Get My Free E-book: 15 Common Decorating Mistakes And How You Can Avoid Them
Enter your email to download my free e-book instantly! 🙂