Hey friend!
Thought I'd mix things up and publish three posts today!
I know.
I'm a real wild woman.

Anywho…I receieved this letter from a friendly reader the other day, and I just had to show you her radical re-do!
Check it out…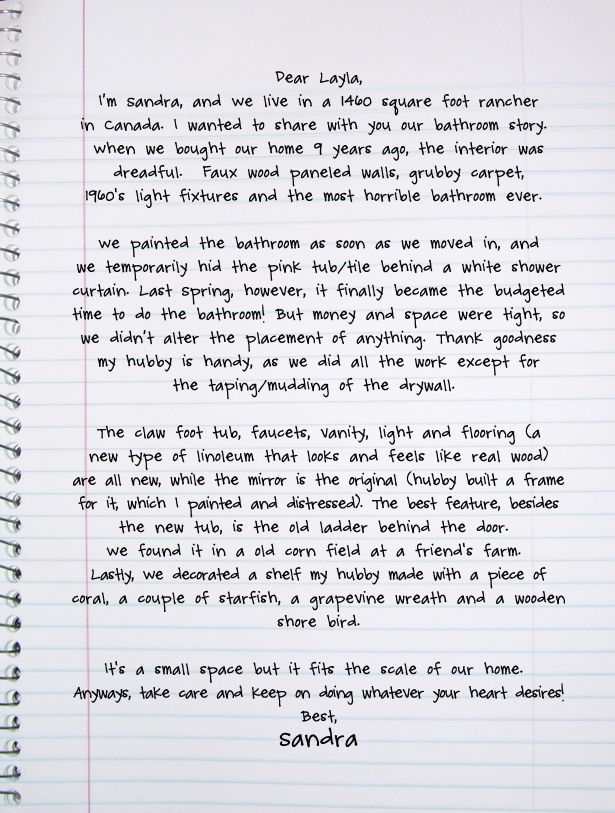 Before…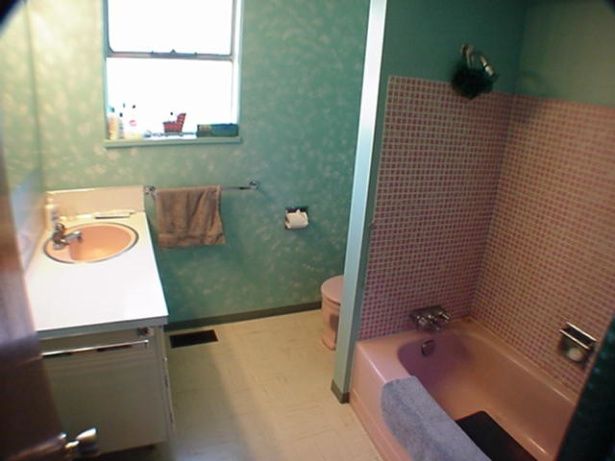 AFTER!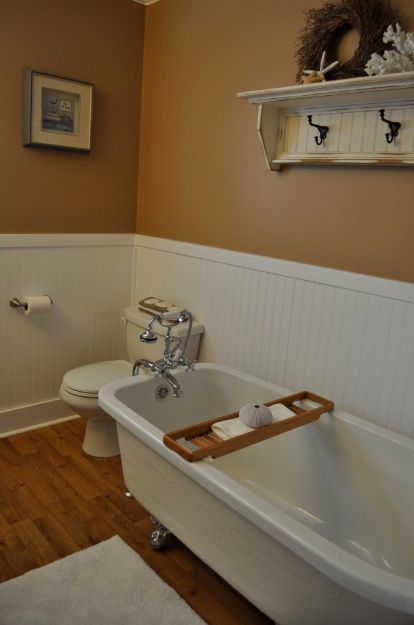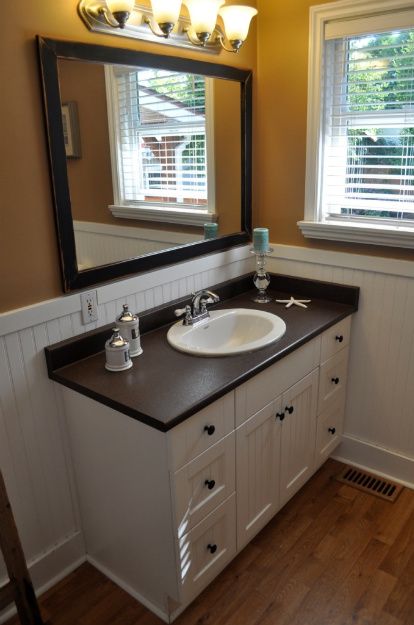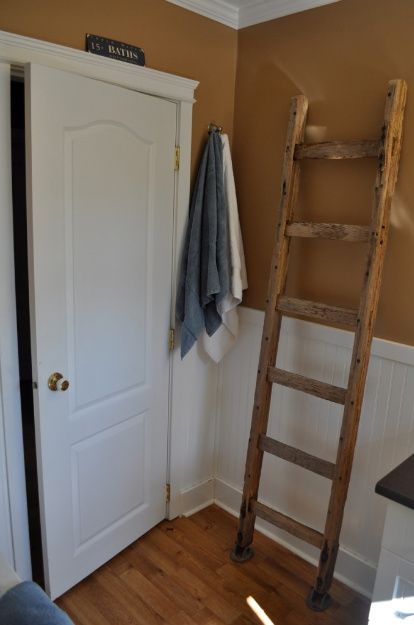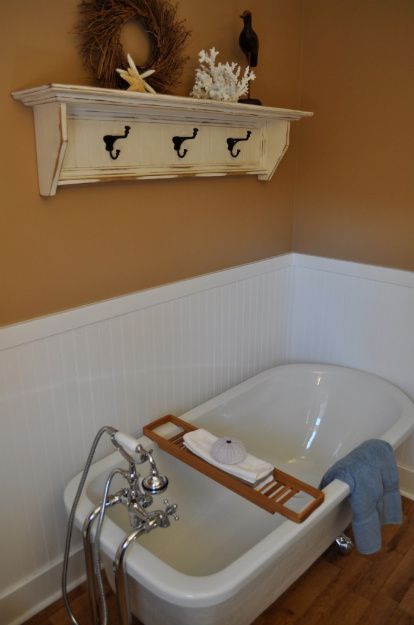 Isn't it great?
Sandra said the white paint they used on the wainscotting and trim is called, "Ultra Pure White" by Behr (available at the Home Depot)- and the wall color is called "Rawhide", by Benjamin Moore.
I asked her about the shelf they made, and she had this to say:
"My hubby built it, and I painted it with simple, white craft paint. I let it dry, sanded the edges, and then I glazed it with a dark walnut coloured wood stain, and wiped it off."
She also gave me her handy-dandy resource list:
Flooring- Silent Step. Style: Antique Oak. Color: Butternut.
They purchased it at United Carpet (www.unitedcarpet.com,) but it can be found in most flooring stores.
Tub- Acrylic soaker tub with chrome feet. Purchased from Acri-Tec (www.acritec.com)
Floor mount tub faucet- Cheviot (www.cheviotproducts.com) Model #5100
Vanity- Euro-Rite Cabinets (www.eurorite.com)
Countertop- Formica. Color: Walnut Quarstone
Wreath- Michaels
Sign above door & wooden bird- Heritage House Interiors (www.heritagehouseinteriors.com)

There are so many great things in this room, but I am especially in LOVE that incredible ladder, and the fact that they went with an inexpensive-yet-durable flooring material that coordinates so perfectly with the wall color above.
And don't even get me started on that TUB.
Hubba hubba!

The only problem I have with Sandra's re-do is that it TOTALLY makes me want to work on our bathrooms now!
But, I'm serious about starting our master bedroom re-do this month, so I guess they'll just have to wait a little longer.
(Maybe.)



PS-
We'd love to see your Before & After pics too, so if you're up for sharing 'em, drop me a line at [email protected]!
————————————————————————————-
Want sneak peeks of our projects before we blog about them?
————————————————————————————-
Need help arranging your furniture?
Need design help?
Check out my e-book!
Get My Free E-book: 15 Common Decorating Mistakes And How You Can Avoid Them
Enter your email to download my free e-book instantly! 🙂