I've been sleeping in my cousin Aubrey's room since we got to Minnesota on Sunday night. My aunt and uncle did a little redecorating when their she went off to college last year and it's been such a treat to snuggle into this antique bed (they found on Craigslist) every night…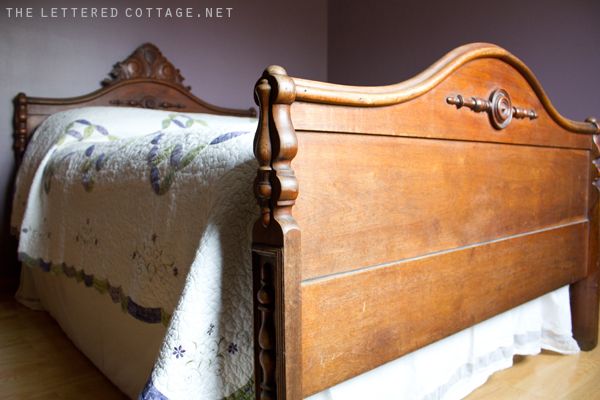 Unfortunately, Mom and I have to say goodbye to everyone soon, but we're going to spend a couple of nights at Camp Wandawega on our way back to Alabama, so I'm pretty excited about that.
This will be our first visit to the camp, and I can't wait to take it all in! I'm sure I'll have a hard time putting my camera down while we're there, and I look very forward to writing about our time together there, too!
In the meantime, I'm going to keep enjoying as much of my aunt's home cookin' as I can! I'm officially obsessed with the creamy ranch potatoes she made on Monday…
She found the recipe on Food.com, but she switched up the amounts a little, and it's SO GOOD! Here's how she makes enough to serve eight potato-lovin' peeps…
Ingredients
2 lbs. of frozen cubed hash brown potatoes, thawed
12 ounces of cream cheese, cubed
1 (10-3/4 ounce) can of cream of potato soup
1 (10-3/4 ounce) can of cream of chicken soup
1 (1 ounce) envelope of Hidden Valley Ranch dressing mix
2 cups of shredded Mexican blend cheese, divided
1 cup of french fried onions, to preference
Instructions
1. Blend soups and cream cheese in a large bowl.
2. Microwave until mixture is creamy, and cheese is completely melted.
3. Stir in the ranch dressing mix, then fold in 1 cup (half) of the Mexican shredded cheese. After that, stir in the potatoes.
4. Fold until all of the potatoes are completely coated.
5. Spoon the potatoes into a lightly greased 9x13 cake pan. Mash them down a little, and spread them evenly onto the bottom of the pan.
6. Sprinkle the rest of the shredded cheese on top.
7. Cover and bake at 350 degrees for 50-55 minutes.
8. Uncover and top with french fried onions.
9. Bake uncovered for another 5 minutes or until french friend onions are lightly browned.
https://theletteredcottage.net/ranch-potatoes/
And while you read that, I'm gonna go grab another fork full.

PS- If you missed any of the Wandawega Week posts I published a while back- you can find them here: Day 1- Camp Cottage, Day 2- A Very Modest Cottage, Day 3- Camp Treehouse, Day 4- Camp Tent and Day 5- Camp Wedding and a Baby!