A couple weeks ago, I showed you a sneak peek of this guy…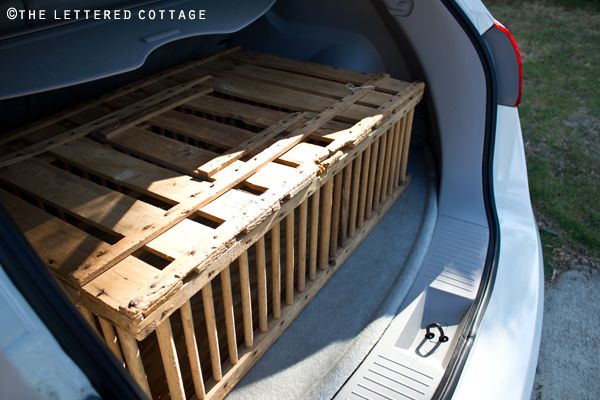 …and told you about our plan to make over the back porch at Kev's parents house…which looked like this: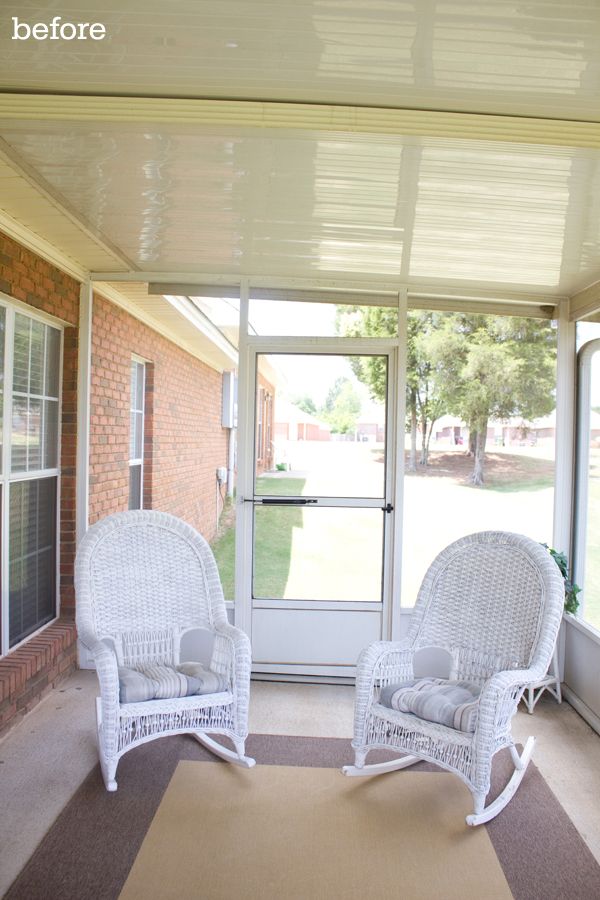 Well, I'm happy to report that we finished everything up last Friday, and here's a little video of the reveal and their reactions…
It was about 105 degrees the day we pulled everything together, but man was that a fun reveal!
Here's a breakdown of everything we did…
With the help of some Rustoleum spray paint in Satin White, we took their chippy chairs from drab…
…to fab!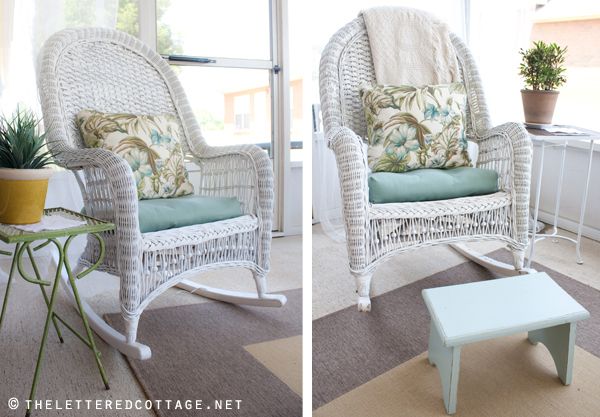 We used outdoor fabric from Hobby Lobby on the cushions and pillows. While one of Kev's Mom's friends made the slipcovers for the seat cushions, I used the striped and floral fabrics to make the pillow covers.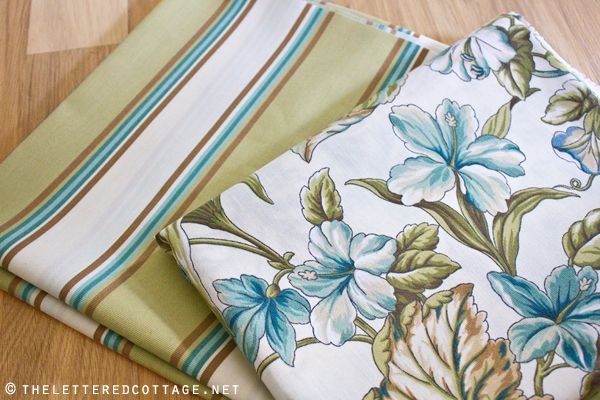 The smaller pillow on the settee was actually from a pillow project I did with my friend Ashley. I just removed the existing, more brightly colored fabric that was previously on the right side of it, and attached a piece of the outdoor floral-patterned fabric instead. The bigger pillow (in back) was a Pottery Barn pillow cover that I got on eBay about a year ago. I loved the neutral back side with the buttons…
…but the front side was previously navy blue and beige, and I never ended up using it anywhere. I just removed the navy fabric and sewed on some of the green stripe fabric instead.
Kev made the sunburst mirror after seeing this project on our last How To's Day link party.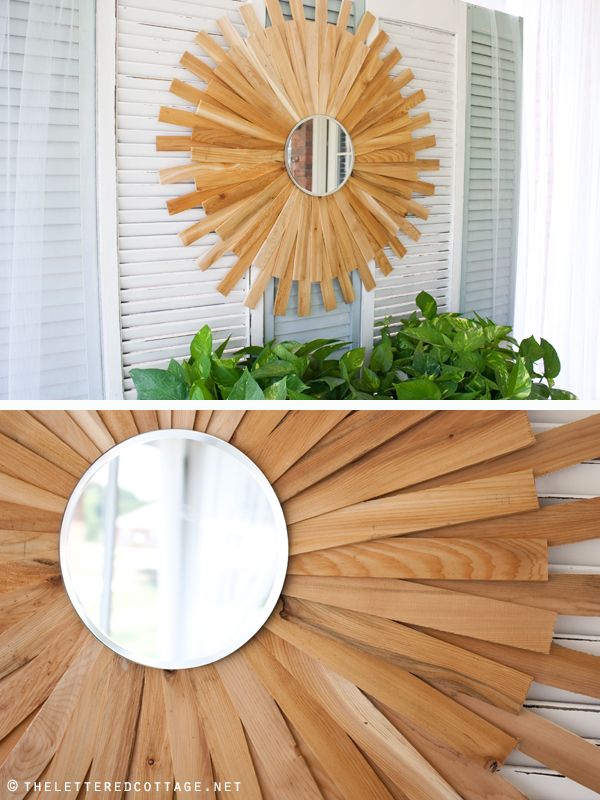 Because we already had the Liquid Nails, we only bought two packs of shims, and the mirror was 50% off at Hobby Lobby- the whole project only cost $10. Talk about bang for your buck, huh? (Thanks Kate!)
The (indoor/outdoor) Dragor rug (something we gave them last year) and netted curtains came from Ikea. We hung the curtains with tension rods from Walmart, and the curtains were just $4.99 per pair. (The ones we used actually used to hang in our guest bedroom.) The white pitcher is something I've had for a while, the yellow flowers came from Publix, and the $3 yellow planter (full of Scrabble tiles) came from  J&G Flea and Antique Mall.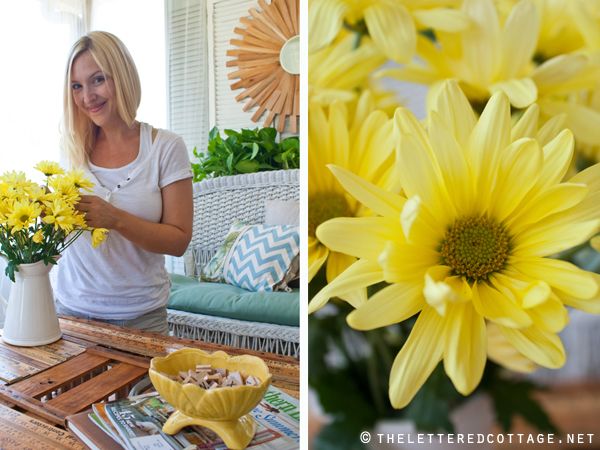 (More about the Scrabble tiles in a future post!)
The ($4.95) caned flyswatter also came from J&G…
(We stuck the hook it's hanging on to the brick with heavy duty velcro specifically engineered to stick to brick. The hook came from Hobby Lobby.)
…and the shutters were part of an HGTV.com project we put together a while back.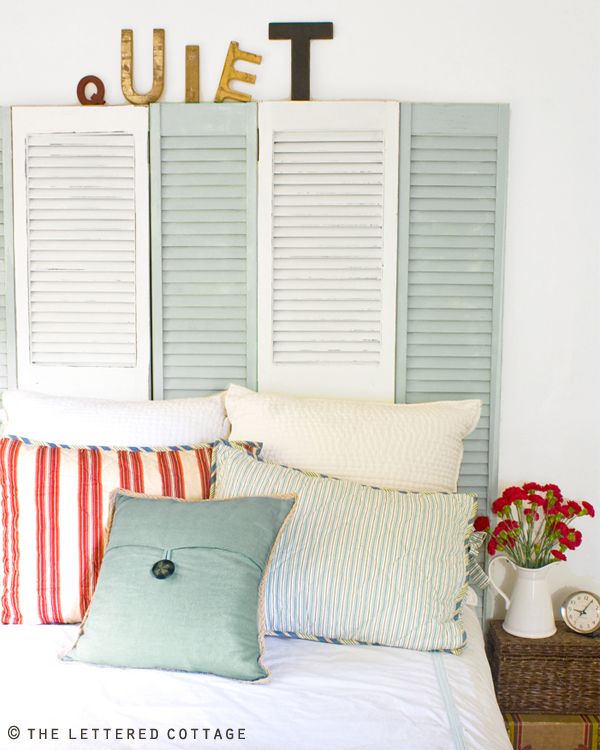 We picked 'em up at J&G last year sometime and used two stacks of cinderblocks (spaced 40″ apart) to hold them in place against the wall behind the settee. We placed a couple of pine boards across them to set the plants on. (We didn't end up using ferns after all!) And like I said in the video, the wood bird came from WhiteFlowerFarmhouse.com (thanks Lori and Megan!), the little blue and white pot came from J&G, and the seagrass plant pot and faux plant came from Ikea.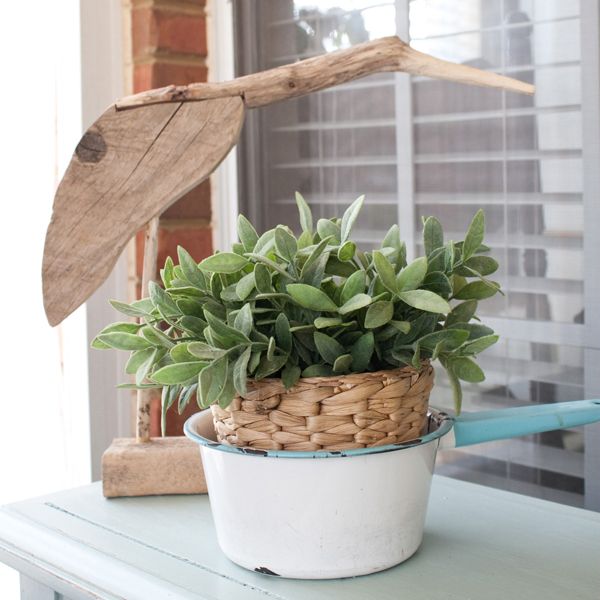 (I'm big on layering plant pots!)
We picked up one of the little side tables from Prattville Pickers for $8, and gave it a makeover using more white spray paint and some Miniwax Special Walnut-stained, wood "fill-it" strips from Home Depot…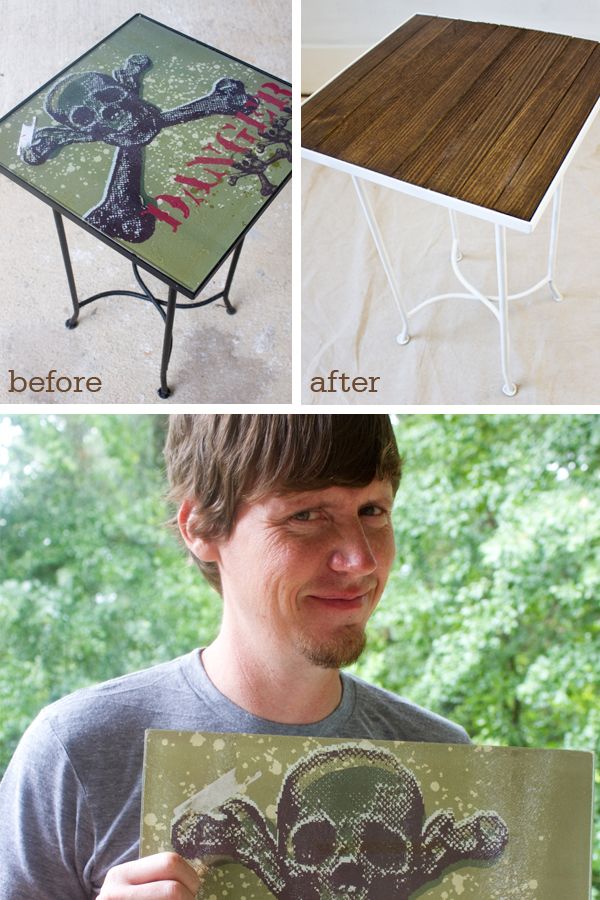 (More about this project in a future post!)
The chicken crate we turned into a coffee table also came from Prattville Pickers, and cost just $28. (If you search for "chicken crate" on eBay, they're usually listed for between $50 and $100 dollars.) To create a smoother surface on top, we attached some old rulers and yardsticks we found on Etsy and at another local flea market.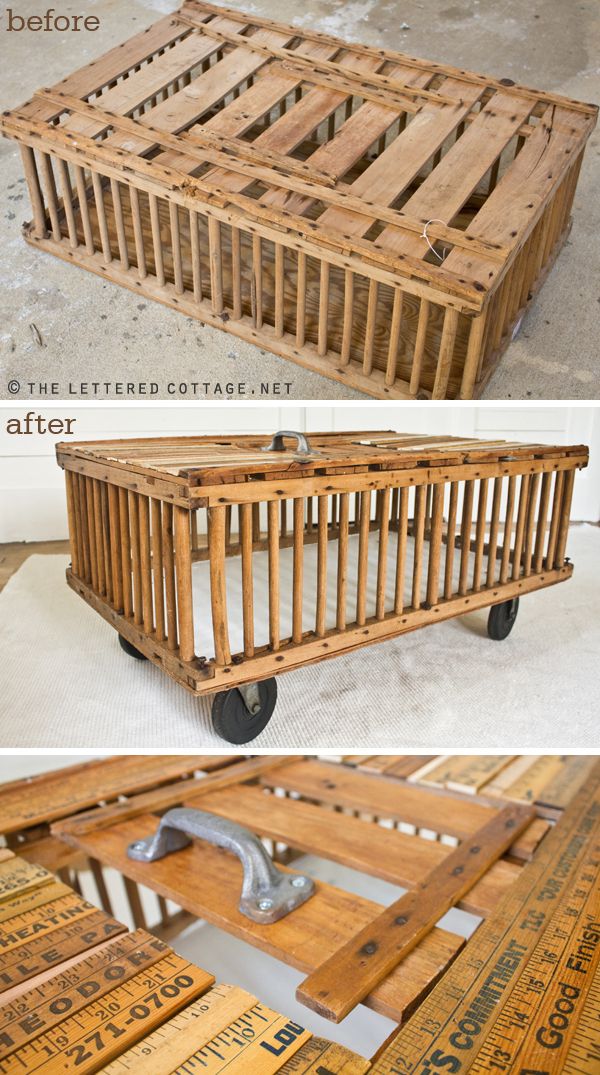 (More about this project in a future post!)
We added some big 5″ vintage casters (from AnythingGoesHere on Etsy) to the bottom of it so it would be easy for Kev's Mom to move it when she wants to vacuum underneath it.
The (solid wood/very heavy) $20 console table (we also found at Prattville Pickers) got coated with a Behr paint color Kev picked out called "Southern Breeze".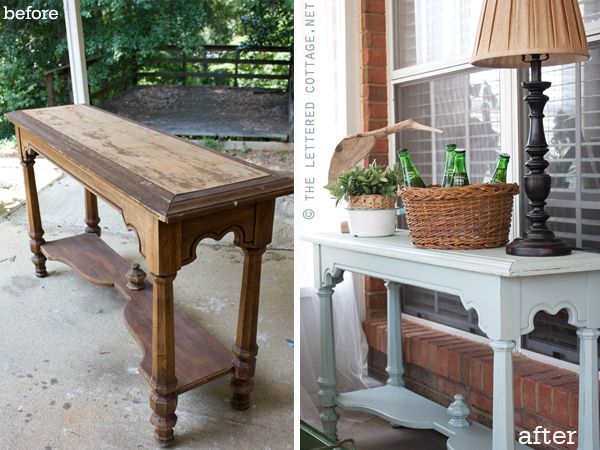 We painted the $6 foot stool we picked up (at J&G) with the same color…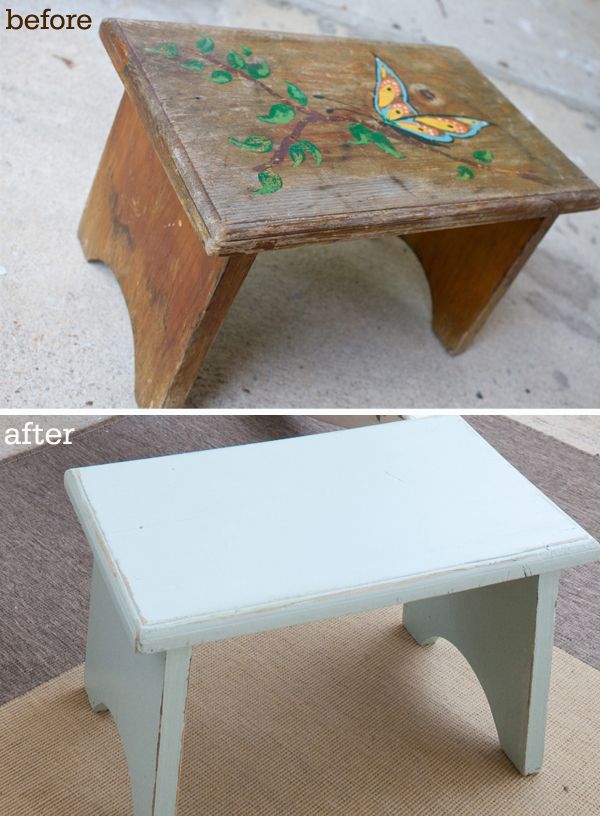 Other inexpensive flea market finds we scooped up included a wood based, $7 lamp (which we plan to secure to the table with a long bolt at some point in case it gets windy), a $5 fabric lampshade, and a $2 basket for whatever they decide to use it for…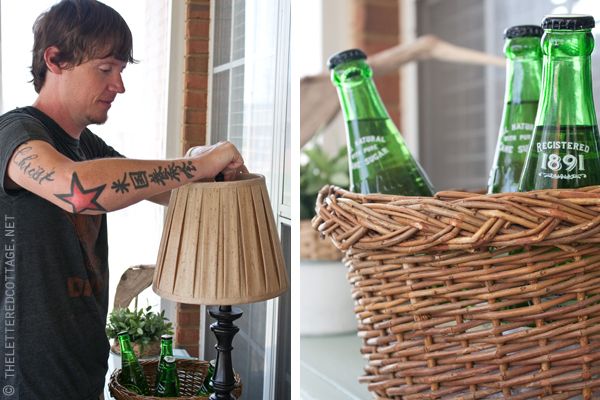 …and the little green metal table ($8)…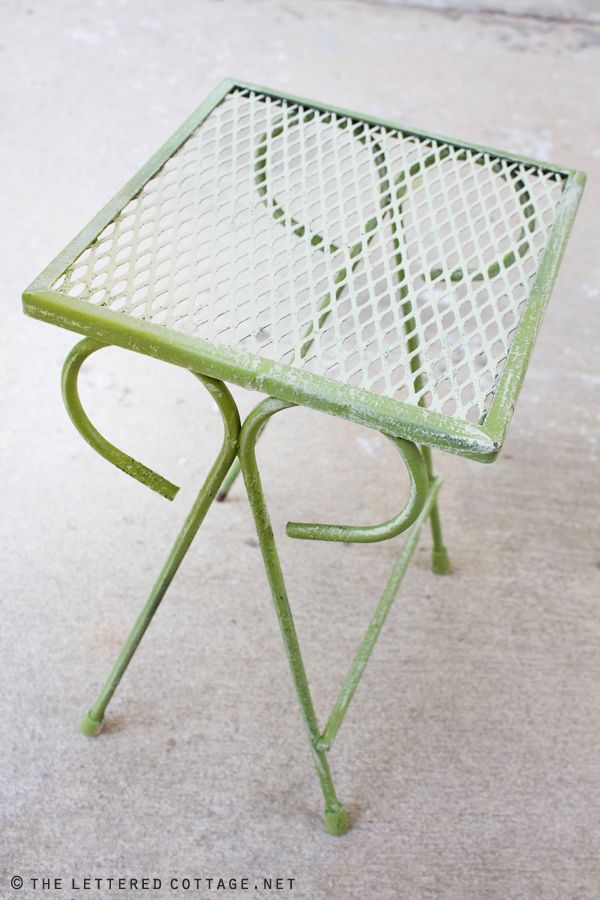 …which all came from a local flea market called Memories.
And last but not least, we've been borrowing this green metal bin from our neighbor for a while (the ones with the awesome kitchen!)…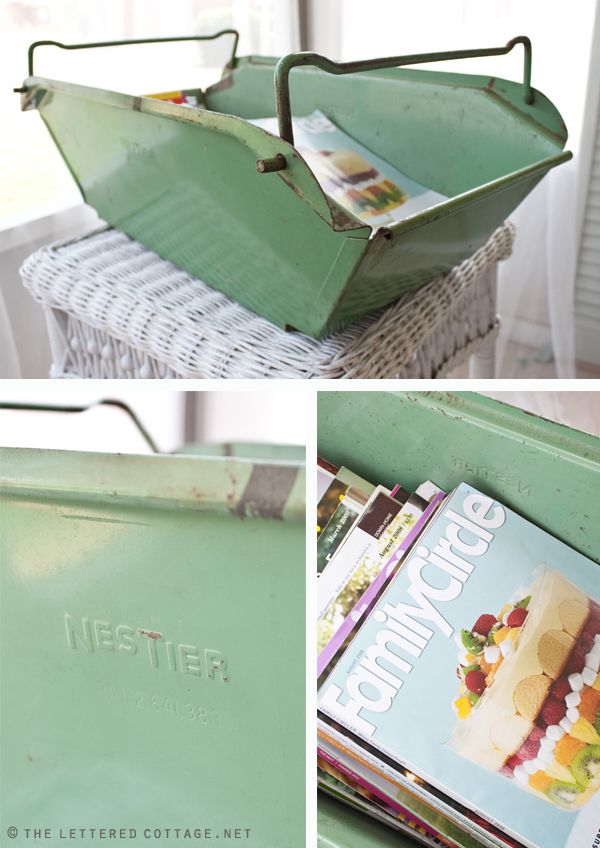 …and it worked perfect as a magazine holder, so we may need to see if we can buy it from 'em!
Oh! And in case you're wondering about the "cookie holder", I got the iron cake stand from the prop stylist that worked on our Nest Magazine shoot, and the rattan cloche ($6) came from TJ Maxx a couple months ago. The hemstitched linen coasters came from Prattville Pickers. (The set of six was $3)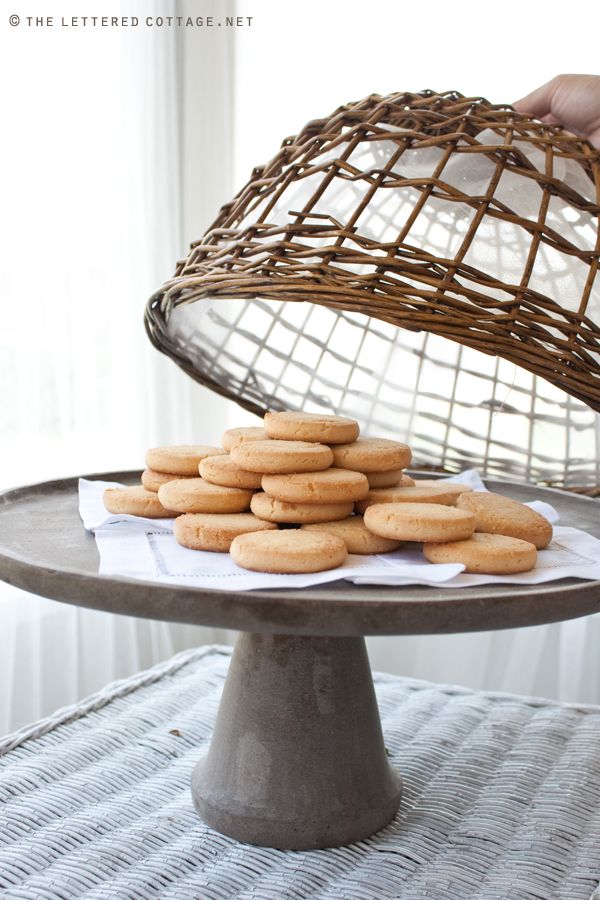 (For more cool cloche's, check out our sponsor FarmhouseWares.com!)
It was a neat space to work on and we can't thank Kev's parents enough for allowing us to have fun with it behind closed blinds all week!

PS- Rumor has it Kev's Mom has been sitting out there with her Bible and her feet propped up on the chicken crate early every morning since the big reveal! Yay!