We decided to go with a metal headboard because we just didn't want any of that glorious natural light to be blocked. (So many of the rooms in our house don't get a lot of natural light because of the way (and where) it's sitting. The master bedroom is the brightest room in the house, and we really wanted to try and keep it that way!) And while Pottery Barn's Mendocino Bed was perfect design-wise, it definitely didn't fit our budget…
A king-sized Mendocino Bed is $1,299.00, with a delivery surcharge of $100.00. However, the Kensington headboard, at JCPenney.com did fit our budget at just $149.99…
It was regularly $299- but it happened to be on sale the day we logged on to their website and spotted it. (I checked their website today, and it's still on sale, but it's $169.99 now for some reason.)
We didn't want to have a footboard, but you can order one if you want to. The price is a little more for both the head & footboard, but still no where near the PB "Mendocino" price, and it's practically the same bed! We ordered the headboard, and instead of paying $108 for shipping, we had it delivered to our local JCPenney for free.
We received a phone call from them about 7 days later, and believe it or not, we fit it into the trunk and backseat of our car- so we didn't even have to borrow somebody's truck to pick it up! We immediately took it out back and laid it on a big piece of plastic so I could spray paint it a color that coordinated with our room better.
Here are the before shots…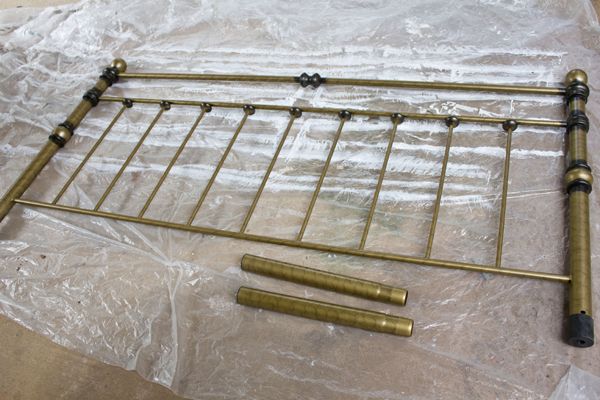 And thanks to some Rust-oleum "Oil Rubbed Bronze" spray paint courtesy of True Value…
About an hour later, it looked like this…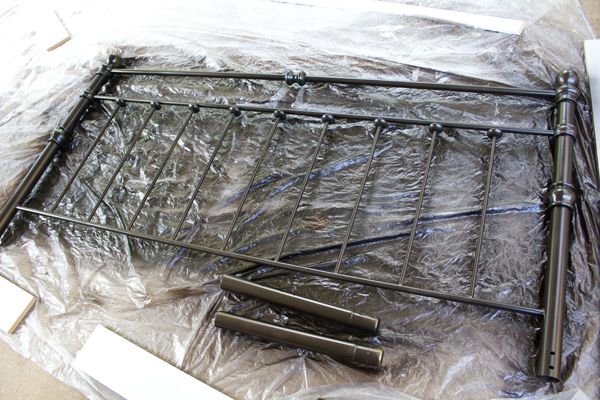 So here's where we're at today…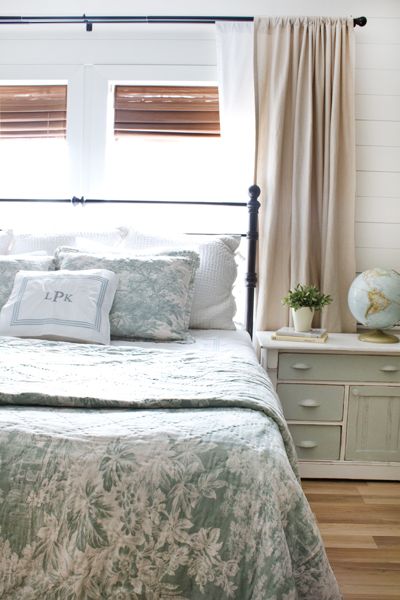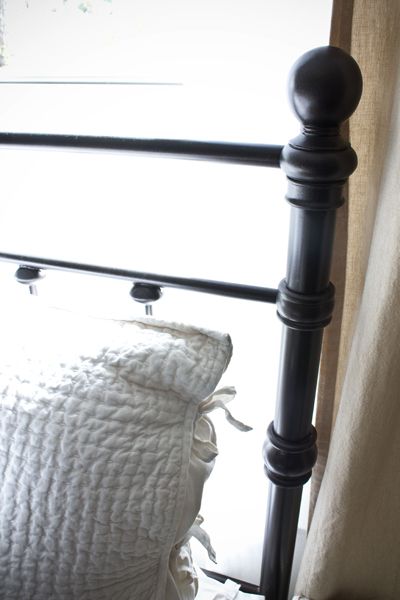 Obviously we still need a small pillow insert for the monogrammed pillow in front (it's just leaning against a pillow form in the photos), a king-sized bedskirt, a big, puffy down comforter to stuff inside our duvet cover, and according to Kevin- a big, puffy featherbed to stuff underneath our fitted sheet.
But we're getting there!
And that's sayin' a lot when you consider we not only got our king-sized headboard to fit into the trunk and backseat of our car- but we made it all the way home with two box spring mattresses strapped to the top of ol' Red Rover too…