I had waaaaay too much fun decorating our tree this year. 2020 made me do it. I went with a cheerful. country-style Christmas vibe and used a variety of things that felt homespun/homemade. Popcorn and braided wool garland, balls of yarn (complete with knitting needles stuck inside!) embroidery hoops, gingerbread cookies, candy canes, stocking, icicles, pinecones, snowflakes, and lots of little houses, barns, churches, and vehicles topped with Christmas trees sprinkled throughout.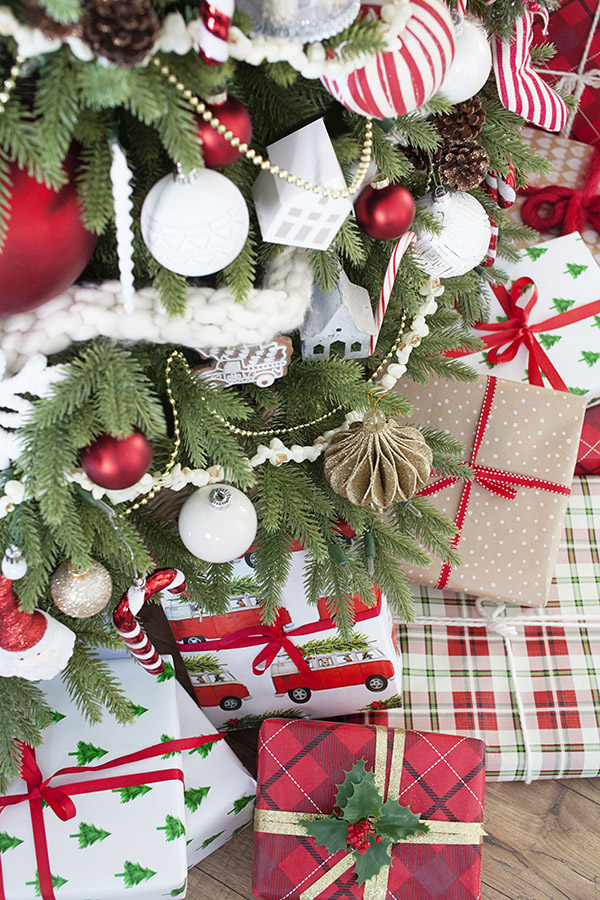 I don't always stick to a theme, but this one brings me so much joy! It'll probably be a work in progress til I take it down in February. 😉 I'll share (affiliate and non-affiliate) links to some of the things on it here in case something caught your eye and you're still adding ornaments to your tree too:
– Red & White Fabric Strip Balls
Those are all of the ones I have links for, so I apologize if you saw one that isn't listed there. I can tell you that the soft snowflakes came from Target this year, the cozy knit garland came from Crate & Barrel last year, the cloches also came from Balsam Hill last year, and we picked up the white paper houses and stars at Ikea last year as well. Oh! And I ordered the faux popcorn garland from FactoryDirectOutlet.com and I got the gold bead garland at Ikea this year. It's only $1.49 for like 12 feet of the stuff!
As for the gift boxes beneath tree, my favorite places to look for wrapping paper are HomeGoods, Target, and Ikea, and I feel like Michaels has the best selection of yarn, twine, and ribbon. (I shopped for all of mine on their website this year!)
And speaking of Christmas decorating, I love to listen to Christmas music while I'm trimming the tree, and I've been putting together a playlist on Spotify if you'd like to add it to your library over there. It's called The Lettered Christmas.
I've got 44 songs in that collection so far, but like the ornaments, I've been adding more of those every day too! 🙂 My latest fav is one called "Santa Will Find You" by Mindy Smith. Have you heard it? It's SO good! Steevenson's current favorite is "Last Christmas" by Wham. We made cupcakes together last night and he must have played it fifteen times in a row- ha! His little voice singing any chorus is one of the most precious sounds that has ever entered my ears and I sure will miss hearing it (real-time not recorded) when he grows up.
I'm hoping to share our Christmas mantel and my Christmas secretary desk with you later this week or this weekend too. I've had fun making those areas feel more festive this month as well.
How about you? Were you bitten by the decorating bug this WEIRD year too? I know not everyone is feeling up to the task, and I can certainly understand that mentality too. It's been a bumpy 2020 and, more than anything, I just hope you and yours are safe, and healthy, and that you're able to enjoy a peaceful holiday season doing whatever it is that brings you peace and joy.
Have a great Wednesday and we'll talk again soon,
Layla