Hey there- and welcome to another installment of Pick My Presto!
In addition to making some fun changes in our kitchen this past weekend  (updated pics coming soon!), I also had a ball photoshoppin' a picture of a living room/home office sent in by our go-to WordPress-wiz, Shauna Callaghan. (Seriously, she is the best and I am so glad Kim put me in touch with her!) Here's the email I got from her explaining her issues with the room:
Hey Layla,
I work out of my living room which makes its cozy-ness factor kind of difficult. (Yes- all of your technical smarty pants website stuff is being done right in the hub of our home!) I'd love to separate my office area from the living room area without cutting me off completely. I like to be in the middle of life around here! I made my desk out of file cabinets about 5 years ago and they've seen better days. I don't love the rustic art hanging to the left of the TV, and I'm not loving our couches and we're looking to replace them with something a little more cottage-y/kid-friendly.

Shauna
Here's the photo she included with her email:
Move your cursor on and off of the photo below to see what I had fun dreaming up for her this weekend…
(PS- Google Readers will have to click over to our site to view this one in action!)
(Note: My drawing is for inspirational purposes only, and the ideas shown in it are just that. Spontaneous, totally flexible, just-for-fun, ideas. And since this is a just-for-fun photo consultation, and not an actual-and-perfectly-to-scale virtual consultation, I have no idea if any of the ideas, furniture or accessories I popped in my drawing would actually work/look right in the room. Boom.)
Here are the still images in case you weren't able to view the interactive ones above…
Shauna's living room/home office photo:
My presto change-o pic: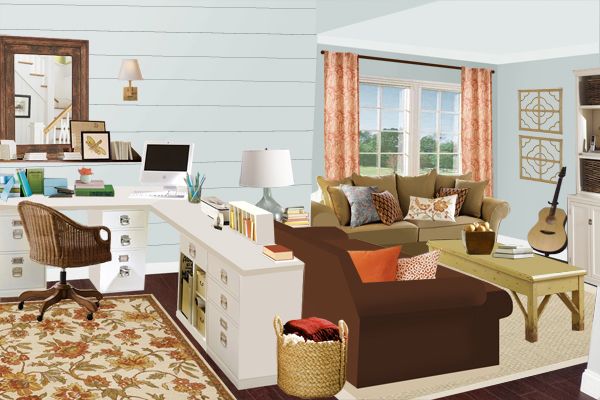 I'm thinking a nice, big L-shaped desk (homemade or store-bought) facing the living room would be a good way to keep the two spaces connected-but-separate. I also like the idea of moving the computer monitor over a bit so that Shauna doesn't have to face that wall so much. And speaking of that wall, I think it'd be neat to really give it it's own identity (I'm Shauna's home office, hear me roar!) by stenciling it, or wallpapering it, or maybe covering it in blue-painting planks like I did in my drawing. (I know that's a really tall wall though, so I'm not sure how do-able that idea is.) And to open it up and illuminate it a little more, I thought it might be neat to flank a large mirror with a pair of wall sconces (hard-wired or plug-in).
In the living room, I drew in a leather sofa, and popped in a camel-colored sofa covered in a variety of vibrant throw pillows. And to keep the kid-friendly theme going, I added a pretty painted/distressed coffee table, and a sisal-type rug. And no matter what color scheme Shauna decides to go with, I think it would be neat to dot one main accent color throughout the entire space. (I dotted tangerine and red from the office rug, to throw pillows on the sofas, to curtains on the windows.) That way, the whole place feels nice and cohesive. (Note: I also used a white entertainment unit in the drawing because I liked the way to "spoke" to the white desk on the opposite side of the room.)
Last but not least, here are some of the inspirational elements I plucked from the web to put together my drawing…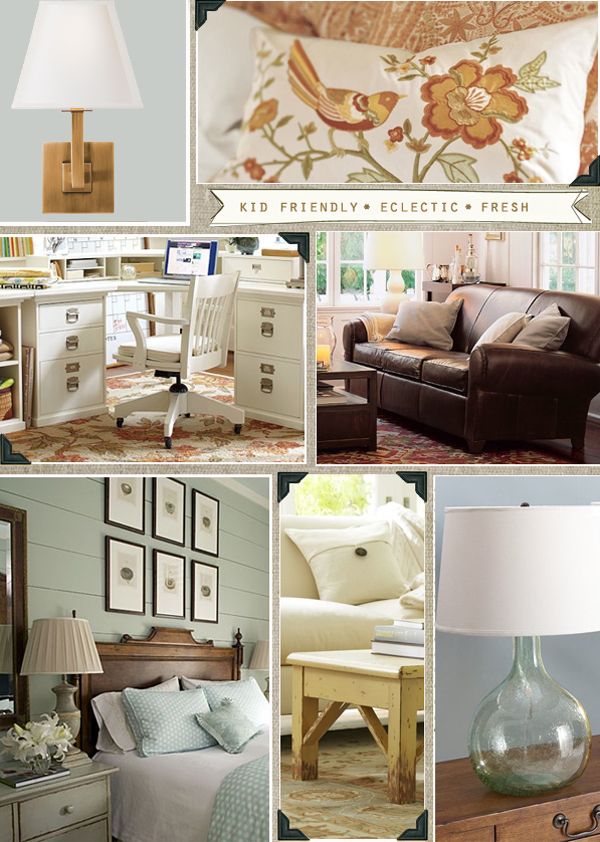 (Clockwise from top left– Antique Brass Architectural Wall Sconce, Circa Lighting; Blythe Bird Embroidered Pillow, Pottery Barn; "Manhattan" Leather Sofa, Pottery Barn; Eva Colored Glass Table Lamp, Pottery Barn; Pratt Coffee Table, Pottery Barn; Photo of blue planked walls, via; Bedford Desk, Pottery Barn)
Thank you for the opportunity to pick your presto, Shauna! I had a blast putting it together and I hope you can use some of the ideas as a jumping off point when you start to redo the room!

Wanna submit a photo for my Pick My Presto series?
Send an email to PickMyPresto [at] aol [dot] com titled, "Living Room". (Replace the words Living Room with whatever type of room you're actually submitting.) In the body of the email, include your name, your blog name (if you have one) your design likes & dislikes, and one photo of the space in question. (No links please.) It should be clear, and measure at least 400 pixels high x 600 pixels wide. (In other words: at least 4″high x 6″ wide) The bigger the better though! Make sure it's a photo you're comfortable with me showing and writing about on our blog. Then, whenever I'm feelin' the urge, I'll randomly select someone's email and creating some presto change-o style inspiration. Oh, and since I love surprises, I probably won't email you to let you know I've "picked your presto" unless I have a specific question for ya about your space.