In the southwest of England, there lies a county called Dorset. It's about 2.5 hours west of London and I can hardly wait to see it in person! #Someday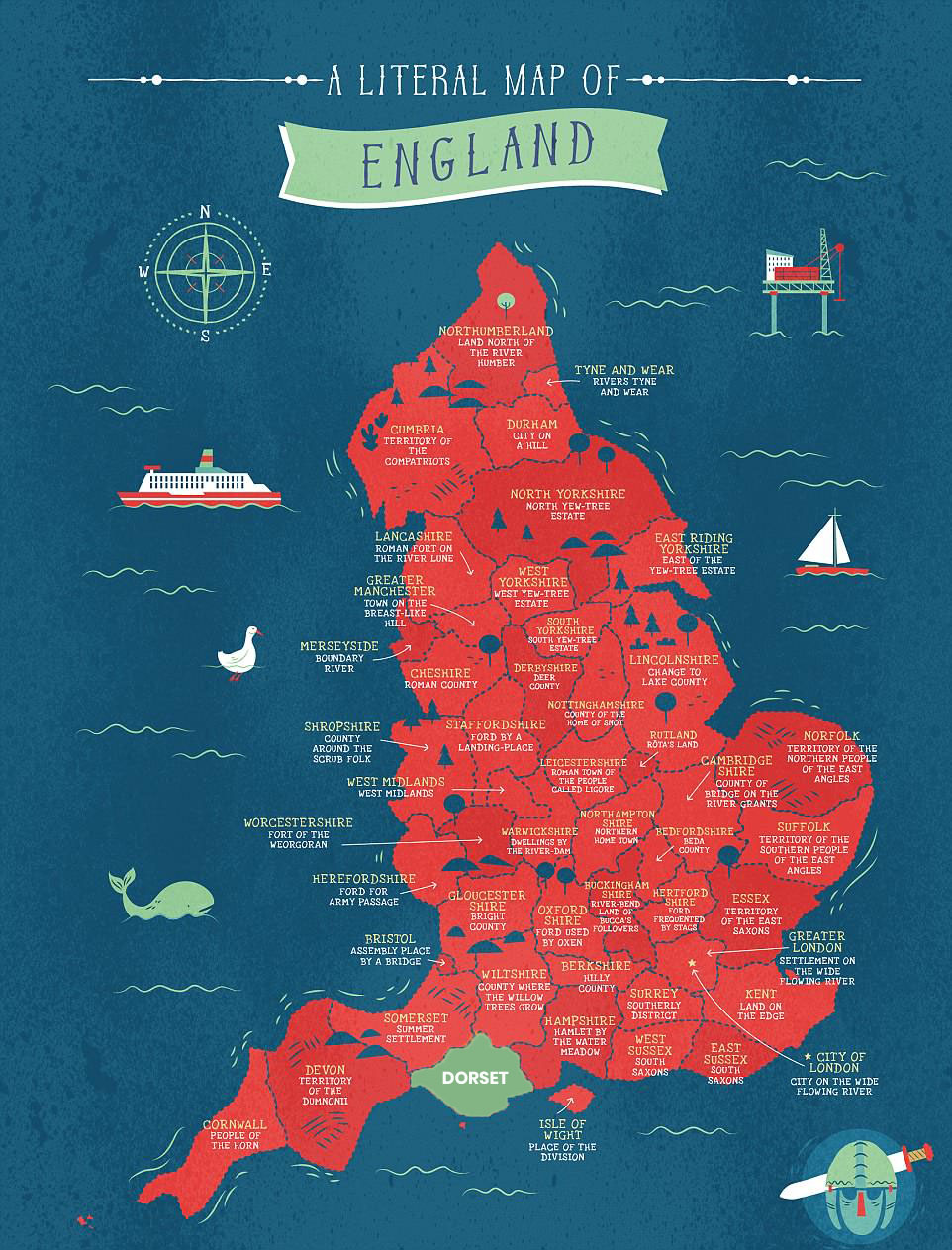 Largely bypassed by the industrial revolution, Dorset has retained much of its natural beauty with habitats that are among the richest for biodiversity in the country.

(source)
I credit actor Martin Clunes (Doc Martin) for triggering my newfound fascination with this incredible place. Every time I read an article in which he is interviewed about his life in Dorset, I can't help but fall in love with it a little more too. He and his wife, Philippa, have lived there for the past two decades and bought their current property (a farm near the village of Beaminster) in 2007. They share it with several horses, Shetland ponies, dogs, 50 Dexter cattle, and numerous sheep and hens.
("Doc" Martin and Philippa)
We then realized, as people seem to — it seems to be a common story — that once you are bitten by the Dorset bug, you just want to be here more and more.
_________________________________
And speaking of English TV…I started watching a series called Escape to the Country on Amazon Prime Video recently too. It's also highly addictive and had me hooked at the intro of episode number 1!
It jumps from county to county, all over the U.K., but the episode I watched last night featured a couple hunting for houses in Dorset. I loved learning that there are more miles of footpaths and bridleways than there are roads in Dorset, and that there's not a single motorway (expressway) in the entire county!
Along its stunning 95-mile coastline are some extraordinary geological features, including Chesil Beach the longest shingle bar in Europe, which is separated from the mainland by the Fleet Lagoon.
(The Fleet & Chesil Beach courtesy of Don Bishop Photography)
(via WDLH)
Further west you'll find the Jurrasic Coast, which stretches a distance of about 96 miles (and spans two counties) in total. It was inscribed on the World Heritage List in mid-December 2001 and holds 185 million years of geological history. There, you can see how coastal erosion has exposed an almost continuous sequence of rock formation covering the Triassic, Jurassic, and Cretaceous periods. At one point the area was a desert, then a shallow tropical sea and marsh, and today you can see the fossilized remains of the various creatures that lived here throughout the ages that have been preserved in the rocks.
("Durdle Door" at Jurassic Beach in Dorset)
And get this: a government survey recently reported that Dorset has the highest life expectancy in the whole country, particularly in the east of the county. But long life and beautiful countryside does not come cheap. The average price for a home is £319,000…which is £53,000 above the national average. (That's about $415K in USD.)
Just for fun, I thought it might be fun to play our own e-version of Escape to the Country here today. I'll show you three vacation rental properties in Dorset and then solely based on the description and exterior photos, you tell me which one you'd choose to stay at. Ready? Let's go!
1. Prairie De Gorge:
"Prairie De Gorge started life as two tumbledown cob cottages and has been tenderly renovated into a luxury self-catering cottage retreat exuding country charm. Set on the fringe of Shipton Gorge near Burton Bradstock, this elegant family home is idyllically positioned just three miles from the Jurassic Coast with its unique landscape of dramatic sea cliffs, Olympic-class sailing waters and golden beaches packed with fossils.
The courtyard with a pretty knot garden will be a favorite spot for visitors to enjoy the tranquil setting with an afternoon tipple, while children play in the grassy paddock alongside. Armed with brimming picnic baskets, buckets and spades, take the three-mile jaunt to the Jurassic Coast for a jolly day at the seaside. When sun-kissed families head home to rest their sleepy heads after a day of frolicking in the waves, the mesmerizing night's sky promises to bring a magical end to the day- there is no better place for stargazing than in the still surrounds of this rural homestead.
Halcyon days spent moseying around the quaint villages, coastline and countryside will give families a healthy dose of country living, and the fresh air will provide a natural tonic to rejuvenate weary souls. Take the short country ramble down to the characterful New Inn in Shipton Gorge and refuel with a hearty supper in the warm company of the welcoming locals. On winter days the log fire will be the heart of the home, where families can cozy up with board games and rounds of home-made cakes and tea, indulging in good old-fashioned quality time together."
2. Sugar Ray:
"Bright, fresh and overlooking the ocean, Sugar Ray is perched near the muscovado sands of Hive Beach on England's cheerful south coast. An endless horizon to the front, rolling hills to the back and understated seaside elegance within seamlessly blend to make this self-catering beach house in Dorset a refreshing refuge from the real world.
Overlooking Chesil Beach on the east side of Burton Bradstock, the extensive, informally-landscaped gardens were designed for family fun and sun-worshipping. With a sunny, south-facing disposition, follow the morning rays as they rise and fall around the house from the swimming pool, to the orchard, to the colorful, flower bed-bordered lawn. For daytime picnic excursions, the beach is just a mile away; in the evenings, gather around the fire pit and watch the coastline twinkle into the night.
Days here are best spent curled together, fingers linked, watching the weather change over the sea. When the sun is shining, fill the pool house fridge with crisp white wine and float in the outdoor swimming pool, occasionally seeking shade under a tree in the orchard. Of course, it can't always be balmy in England and when the weather forces time spent inside, here it is time to delight; light the wood burner in the shepherd's hut, cozy down on the day bed with a good book and mug of hot cocoa and slip in and out of daydreams as the rain patters on the roof."
3. Butterfly House:
"Honeyed, Jurassic ham stone brings warmth and character to Butterfly House; occupying the grand west wing of a luxurious 16th Century manor house in Sherborne, Dorset. Set within the grounds of a former butterfly farm which provided the silk to construct Princess Diana's wedding dress, this elegant home is chock-full of historic charm and has been lovingly restored to mingle original period features with contemporary class. Flaunting a 250-foot private garden and art-filled living spaces, this luxury self-catering country home makes for an extra special gathering.
In daylight, the clever landscaping of yew and beach hedges directs focus to the breath-taking horizons over the Sherborne countryside. As the sun dips, strategic lighting illuminates the front façade, showcasing Butterfly House in all its majesty. Cocooned by eight acres of private, gated grounds and boasting direct bridleway access, Butterfly House provides the perfect equestrian escape where you can canter through the Dorset countryside in the company of your own horse.
Summers here are made for country escapades. Family picnics of dainty sandwiches and cricket innings on the lawn make for afternoons of summer highlights. Evenings are best enjoyed in the cinema den, hunkering down for private screenings of family favorites, whilst the drawing room boasts an original restored bookcase filled with a library of fascinating reads. In winter months, gather the family and feel the warmth of the roaring jet-master log fire, with an evening of board game marathons. Family gatherings have never been so cozy."
___________________________________
So…based on those descriptions and without seeing the interiors (and if money wasn't an object!) which style rental would YOU choose?
Rustic Prairie De Gorge in the countryside near Burton Bradstock
Laid back Sugar Ray by the sea at Hive Beach
Regal Butterfly House in the 12th century market town of Sherborne
I look forward to reading your responses!
Layla
PS- I found these properties on UniqueHomeStays.com so be sure to swing by their site if you'd like to visit any of these properties in person! 😀
Get My Free E-book: 15 Common Decorating Mistakes And How You Can Avoid Them
Enter your email to download my free e-book instantly! 🙂