Greetings!
Well, Spring has definitely sprung around these parts, and we just couldn't resist clipping a few Bradford Pear branches to use in the photos we took for our post today…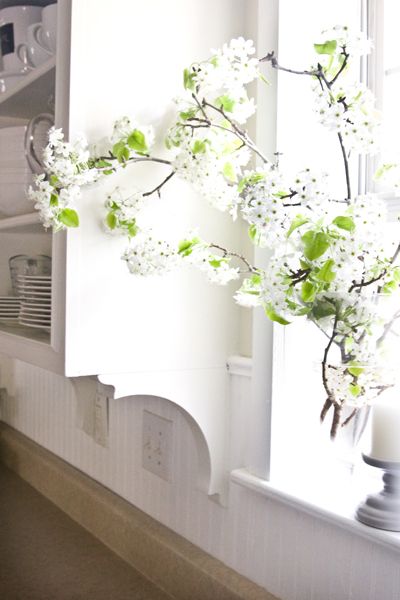 Aren't they beautiful?
I wish I could say that they smell as beautiful as they look, but they do not.
They actually smell the exact opposite of beautiful.
As a matter of fact, they weren't even allowed to spend the night inside our house last night because of how un-beautiful they smell. No joke.
We got them off a tree at one of our favorite local parks just after the sun went down last night.
Yeah, yeah- I know, I know. Saturday night, stealing branches from a park for a blog post sounds pretty lame compared to what most people our age that don't have kids yet were probably doing. But in our defense, I can assure you, sneaking around in the dark with a humongous pair of clippers, while one person keeps watch and the other struggles with branches that are a just a little stronger than the blades of your clippers is in.tense.
(Insert Mission Impossible music here)
"Whoa! What's the smell?"
(Kevin, gagging)
"I think it's that puddle right there. The geese hang out in it. I think it's their poop."
(Layla)
"Ack! It's horrible! Let's hurry. Which branch should I cut?"
(Kevin)
"Breathe through your mouth. Here. Get this one. It's pretty."
(Layla)
Chop. Chop. Chop. Chop.
(Kevin, struggling to sever the branch because it's too thick.)
"Baby, no! The branches have to be long. I'm gonna put 'em in a big, tall vase. You have to cut it back further."
(Layla)
"I can't even cut it here, how am I gonna cut it there?"
(Kevin)
"Just make sure the branch is all the way down into the clippers. Don't cut it with the tips of the clippers. Hurry though. I think somebody's coming."
(Layla)
"Really? Where?"
(Kevin)
"Right th….oh wait. Nevermind. It's just a goose. We should still hurry though."
(Layla)
———————————————————-
After four intense minutes of chopping and watching, we managed to snag three great-looking branches. We threw them on the back seat, and high-tailed it outta there.
Unfortunately, the "mud" puddle smell was still with us as we pulled back into our driveway. And as I arranged the branches in a tall, glass vase in the kitchen, the smell seemed even stronger.
"Honey! Come here! It's the branches that smell!"
(Layla)
"Is it? Let's see…(sniff, sniff)…Whoa! It is! Gross! You're gonna have to put those outside tonight."
(Kevin)
And so I did.
I put my pretty, putrid branches in a gorgeous glass vase, and they spent the night on our back porch.
———————————————————-
But enough about the branches!
The real reason I'm blogging today is to share our kitchen re-do number two! (Considering how this post started, maybe "number two" was the wrong choice of words there.) Anywho, if you follow us on Twitter you've probably already seen a sneak peek of our "new" kitchen. (Hint, hint- follow us on Twitter if you like sneak peeks!) But before you scroll down to see photos of our "new" kitchen, (Yeah right, you scrolled down before you read the goose poop stuff, didn't you? It's okay. I would've scrolled down first too.) here's a video we shot to document the process…
(forgive the poor quality, the terrible lighting, and the occasional herky-jerkiness)
(Sorry about all the outtakes- I like to keep those so that if we ever adopt a child, they can watch them and see how happy their Dad made me.)

———————————————————–
Okay, for those of you who haven't scrolled down and looked at the following photos yet- Welcome!

For the folks with ants in your pants-
Welcome Back!
Here's the "new" kitchen…
(Move your mouse back and forth over the photo below to see what the kitchen looked like when we bought the place, and what it looks like now.)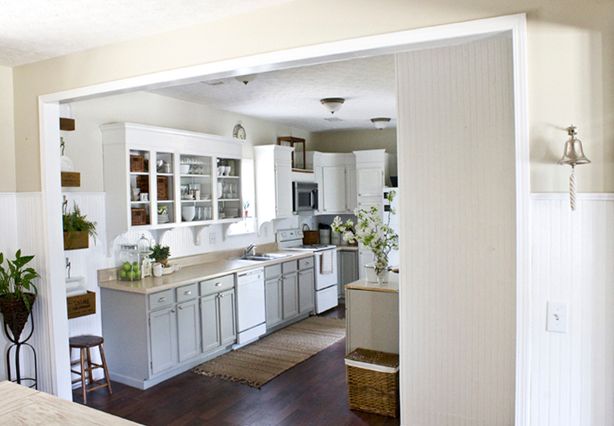 It's still far from finished.
We still need to get a window treatment, hang something on the beadboard-clad wall on the right, add more cabinetry above and to the right of the fridge, add crown molding, replace the counter tops, purchase stainless steel appliances, replace the light fixtures, replace the floor with salvaged brick, etc. etc. etc.
No rush though.
As for the cabinetry, the paint color on the base cabinets is called "Mourning Dove" (8085). It's a Martha Stewart color and we had it mixed at Sherwin Williams. (FYI- They don't carry Martha's line anymore, but if you ask them to mix it, they will.)
The paint color on the upper cabinets is called "Alabaster" and it's a Sherwin Williams color. We primed the base cabinets with gray-tinted primer from Home Depot (they helped us choose a primer specifically engineered for kitchen cabinetry) and we primed the upper cabinets with white primer. We did not sand the cabinets, but we did lightly sand the doors and drawer fronts. We sprayed everything with a light coat of Deft Clear Wood Finish. The aerosol version of this stuff…
It's non-yellowing and will help protect our new paint job.
(You can find it at Lowes.)
The wall color is called "Rice Grain", (it's also a Sherwin Williams color) but we had them lighten it by 50%. We used Rice Grain in the dining room, and love it, but since the kitchen is a little darker (only one tiny window), we thought we better lighten it up a bit.
We kept the same hardware on the doors and drawer fronts: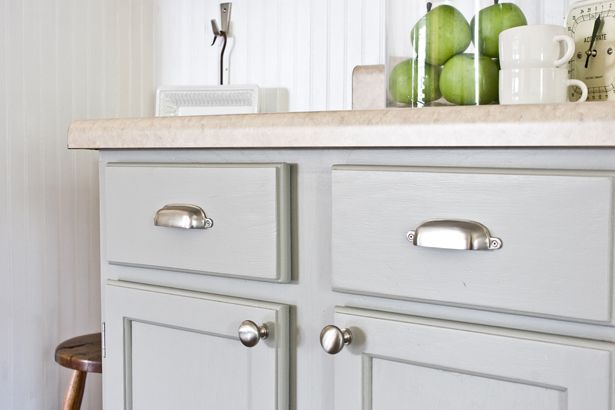 We got them on eBay a while back. If I remember correctly, the knobs were .87 cents a piece, and the pulls were around $3.00 a piece.
Unfortunately, for some reason, whoever originally designed this kitchen positioned everything on the left (North) side of the room…
But luckily, Kevin and I had a serendipitous moment when we ripped the cabinetry out of the guest bathroom and set it in the kitchen to get it out of the way while we worked in there.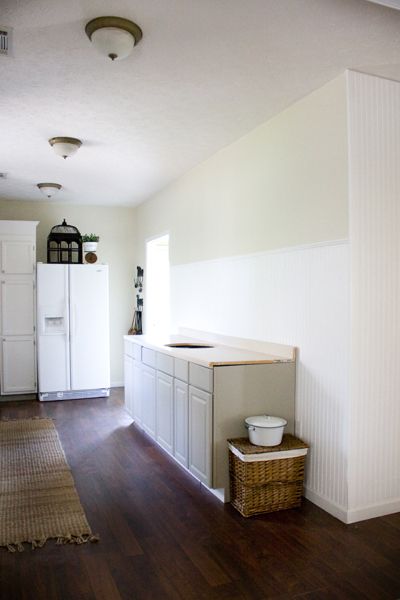 We've already painted it all "Mourning Dove", now we just need to get some more drawer pulls and door knobs and replace the existing counter top with an eight foot butcher block countertop from Ikea.
As for the wall above the "new" cabinetry- I've got thirteen and a half ideas about what to do with it.
(If you have one you'd like to share with us, by all means, send us an inspiration pic or leave us a comment on this post!)
———————————————————-
My Mom's coming to visit us this weekend. She hasn't seen the place in quite a while. I wonder what she'll think of all the changes we've made…
(Move your mouse back and forth over the photo below)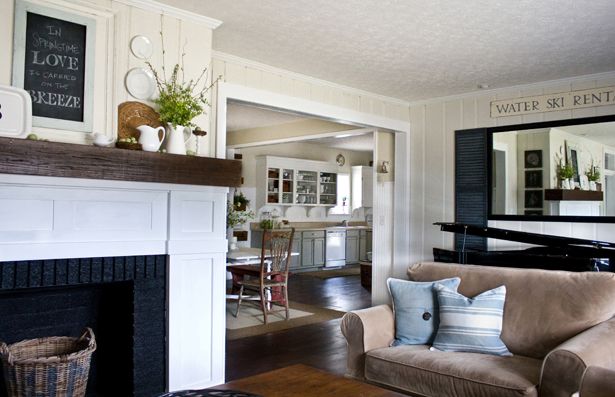 (FYI- We blogged about opening up the doorway between the living and dining room HERE)
Knowing my Mom and I, come Saturday night, we'll be sitting at that dining table, (which still needs chairs by the way!) drinking something fizzy, playing Upwords and laughing uncontrollably about something that isn't even all that funny.

Hope you get to laugh a lot this week too!
————————————————————————————-
Check out my e-book!