Me and the fur kids are camped out on the couch again today…
Long story short, my palindromic rheumatism (which flares up every few years) caused the big ol' Bakers Cyst behind my knee to rupture, and I've been limping around since Friday night. Short story gross– there's a bloody/cyst-y mess the size of a piece of bacon trapped in the tissue around my calf. I'm off to see an orthopaedic surgeon tomorrow, to make sure it's okay to just let it heal on its own, but in the meantime, here I am. On the couch again.
I've been watching way too much Undercover Boss (pass the tissues, please), and reading lots of oldie-but-goodie shelter mags. This morning I got lost in a sweet little book I bought at a flea market last week. It was stacked on top of a shelf full of other previously-loved books, and I was drawn to it like a magnet the minute I saw the words "pop-up" on it's spine. The sticker on it's cover read $1.25, but the vendor was having a 50% off sale at the time, so I was able to take it home for just 63 cents. Score!
Every single pop-up is in perfect condition, and the whole book is only 4 pages long. Absolutely fascinating!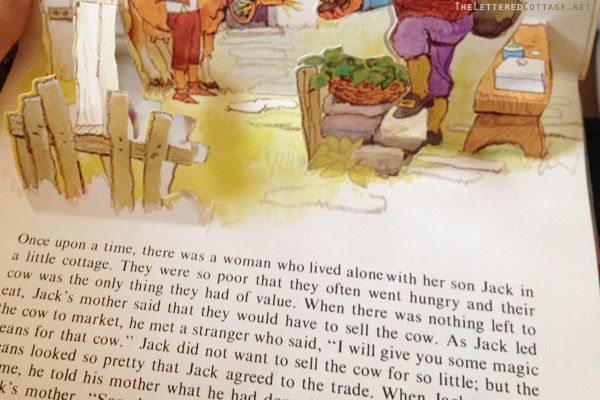 I feel like I'm extra drawn to pop-up books because of a blurry-edged memory I've got stored somewhere at the back of my brain. I can't see the title or the pictures anymore, but I do have the faintest flash of turning a paper dial on the outside edge of a page, and seeing something move as a result. Pure magic!
I was enchanted to the edge of my seat back then, and I found myself feeling that exact same way again when I discovered Jack and the Beanstalk the other day. It's crazy how memories can race across time and pop-up pages to reignite those kinds of feelings again!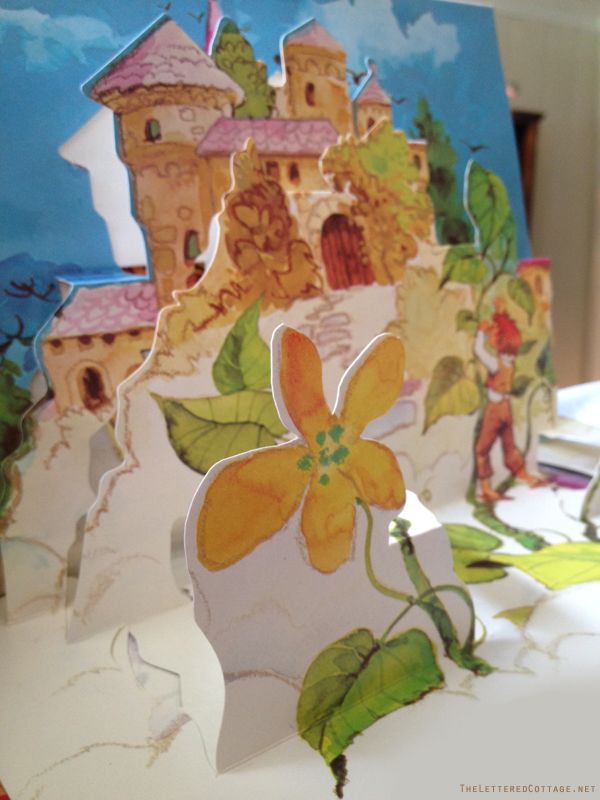 Have you come across something that's thrilled and transported you like that lately? If so, I know someone who's stuck on a couch that would love to read about your experience if you feel like sharing it.