A couple of home magazines featured some of our photographs this summer, so I thought I'd blog a little bit about them here today…before it's time to break out the pumpkins- ha!
We shot Ashley and Jamin's veranda for the June issue of Cottages & Bungalows, and the photos we took of our neighbors (Peter and Josette) kitchen were featured in the September issue of Country Woman magazine.
We included an article about Peter and Josette's kitchen in our "Summer Fun" e-zine last year, but we still get lots of questions about it from folks who are just now seeing the photos of it on Pinterest. Here's a shot of what the kitchen looked like when they bought the house back in 1999…
Among lots of other things, they removed the bar that separated the kitchen from the dining room, replaced all the light fixtures (with salvaged ones), and took down the 70's-style linoleum backsplash.
One of the most dramatic, yet least expensive, changes was what they did to their existing cabinets and drawers. They saved a ton of money by simply re-facing them. They bought one sheet of cabinet-grade birch plywood and cut it into several pieces. They glued the pieces to the fronts of their cabinets, and to the fronts of their drawers…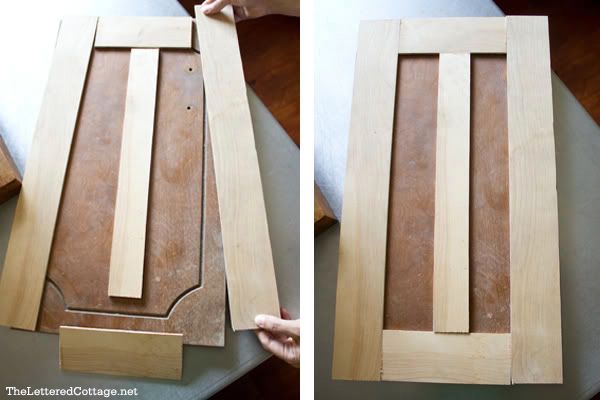 Here's the stove area, before and after…
What a fantastic way to create shaker style cabinetry, huh? I got to take a photo of Peter and Josette's family for the article, and it was so fun to read their story in the magazine!
Our house is on the other side of the bushes just beyond their red kitchen door, and they have truly been the best neighbors a kooky couple could ask for!
If you're interested in picking up a copy of Peter and Josette's (September 2012) issue of Country Woman– click on the photo below to be re-directed to their website: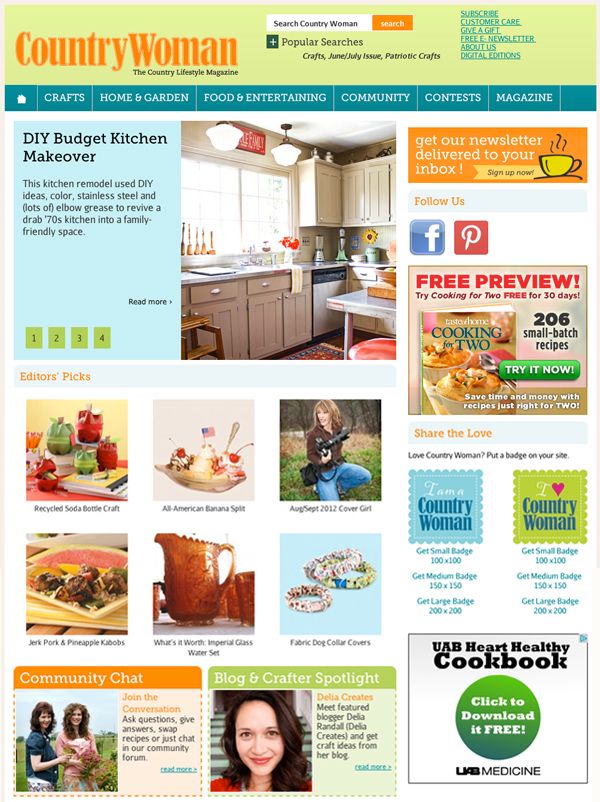 The pics we took of Ashley and Jamin's porch were a ton of fun to style and shoot as well!
Like Peter and Josette's, their makeover was also full of pretty/cost-effective decorating ideas, and they really did a great job of turning a once under-utilized space, into one that they can use all the time now. Here's a photo of the porch before they closed it in…
…and here are a few photos we took for Cottages & Bungalows…
We actually met Ashley and Jamin through their blog, and we were SO surprised to find out they lived in the next town over from us! Sometimes this bloggy world can be so small, can't it?
If you're interested in ordering a copy of Ashley and Jamin's issue, click HERE to be re-directed to the Cottages & Bungalows page at Beckett Media.com. (It's the June 2012 issue.) To read more about the porch re-do on Ashley and Jamin's blog, click on The Handmade Home banner below:

Speaking of room re-do's- we hope to be finished with our (mini) master bathroom makeover sometime next week. It's amazing what a can of paint, a few new goodies, and a little scrub-a-dub-dubbin' will do, isn't it?