I went to an art festival with my mom and her hubby about a week after I got home from Haiti. It was so much fun to wander around with them in that environment! They both lean handmade/handcrafted, and seeing what makes their hearts sing makes me appreciate those kinds of things (and them!) all the more. I just love art festivals, don't you? The food, the music, the jewelry, the ART- they always make me want to jump heart-first back into that world again. (I painted folk art and pet portraits full-time for a bit in my early 30s.)
Anywho- back to the art festival in Milton. It was beautiful that day, and there were so many great booths. My favorite, was  Donna Tucker's. Her paintings caught my eye from three booths away.
There wasn't anyone else shopping in her tent when I stepped into it, so I took my time looking at each and every painting she had. I swear I could've taken home every one! There was one in particular though- of a pasture and big round hay bales. That one really captured my attention.
I wanted to think on it though, so I turned back toward the middle of the tent and began to look through the bin full of her matted prints. Rooster, crab, goldfish, then boom: a bubble.
I gasped and clutched my chest the second I saw it, and a lump zoomed straight up into my throat.
In a flash, I was transported across time back to that first day in Haiti…to that first hour we spent with our son. Him, processing the mama and daddy from his photo book that were now standing right in front of him. Us, processing his precious face in person– the one we had only been allowed to see online for the past year and 8 months.
It was blowing bubbles together that broke the ice.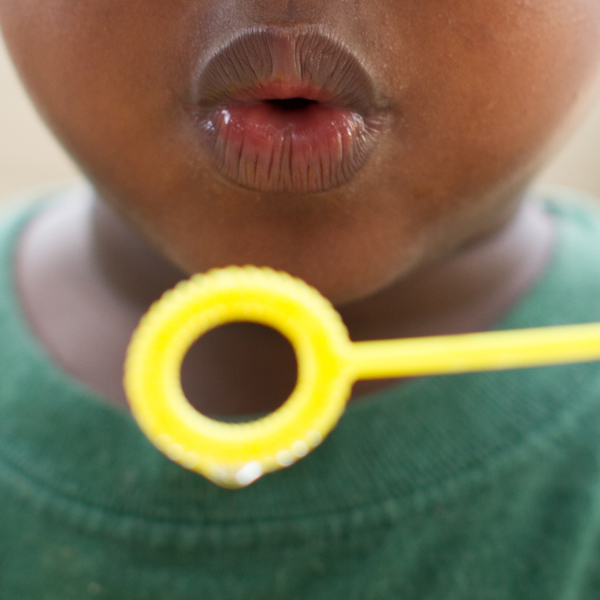 (photo: Billy Pope)
Once that little plastic wand came out, time slowed and the three of us were home. We had our first "family laugh" in the middle of all those bubbles. I'll never forget that.
So obviously I *had* to have Donna's bubble print. I carried it up to the little sales counter she had set up in the corner of her tent. I silently chanted "don't cry. don't cry. don't cry." in my head on the way.
Long story short- I cried. Right there at the register. Poor Donna didn't even see it coming, bless her heart. I really did try my darndest not to, and I was smiling while I was boo hoo-ing, but somewhere between swipe and sign, I just couldn't hold it in anymore. Those tears just had to bust on out. My mom came up behind me around that same time and, boy, it was really over then. Seeing your mom + thinking about being a mom = guaranteed water works.
Donna was sweet about it though, and I did end up buying the hay bale painting before I left her tent that day, too.
The print now lives inside one of the frames in Sweet P's bedroom. One day I'll tell him all about why seeing bubbles will always make me smile and cry. 🙂

PS- I grabbed one of Donna's cards so that I could remember to tell you that she has a blog: ArtOfDonnaTucker.blogspot.com, is on Facebook, and that she has a website: donna-tucker.artistwebsites.com. Oh! Also, thank you for your prayers about my throat. It seems to be a case of "silent reflux" so I am sticking to the anti-acidic diet and will continue to take Prilosec until it's totally gone. It's uncomfortable to feel like your airway is restricted, but it is comforting to know that it really isn't and that things are improving! XO