"There is something about the outside of a horse that is good for the inside of a man."
―Winston Churchill

I've always been a sucker for a vintage paint-by-number. Whether it's a collection of individually framed ones…
…or a huge wall mural…
…or one that's painted on a piece of furniture…
…I just can't get enough of the things! I purchased this pair on Etsy a couple of years ago…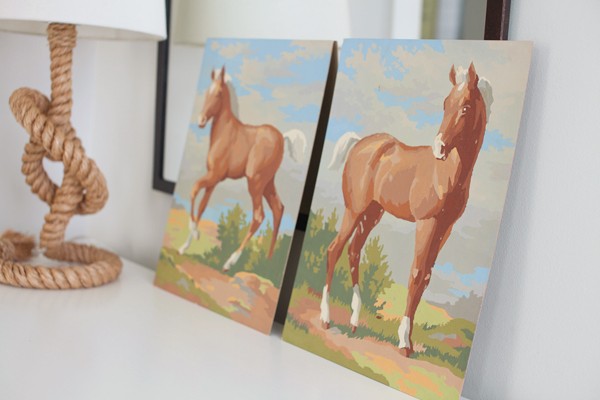 Yeah. You read that right. A couple of years ago. I loved them at first sight, but (shame on me) they've been sitting in the box they arrived in since the day they showed up on my porch. :-/
I'm a slow hanger.
I mean, I know when I LOVE something, but sometimes it takes me a while to figure out where/how to hang it. Half my problem with these particular paintings has been that I thought I needed to frame them. But look! Ashley at Under The Sycamore hung hers with vintage pants hangers and they look so cute!
So here's what I did today. I went over to Etsy and searched for vintage pants hangers. I found this pair that reads "Double Star":
I bought 'em, and I am FINALLY going to hang those paintings when they get here!! Guess I better FINALLY decide where. 😉
How about you? Fan of paint-by-numbers? Slow hanger, too?