Howdy!
I've been thinking about giving our half bath a little makeover ever since we created Meme's room, which is adjacent to that space. Here's what it looks like currently:
The things I'd like to update are:
the paint color on the paneling
the wallpaper on the upper part of the walls
the accessories
the grout between the hex tiles
possibly the mirror (or maybe I'll just spray the hardware?)
possibly the light fixture (or maybe I'll just spray that too?)
None of it really *needs* to be re-done (although the old chest of drawers and cheap sink top & faucet have definitely seen better days)…I think I'm just craving a little change and feeling like it needs some freshening up in a few different ways.
But since I didn't have an immediate, clear mental picture of exactly what I want to do, I went over to Pinterest and searched for inspiration pics. These are some that made me feel happy…
(source)
I think what I like about that first one is:
the style of the pedestal sink
the color of the painted wood
the brass hardware
the patterned wallpaper
Now let's move on to this next one…
(source)
I *think* I really need a few drawers underneath our sink, but MAN do I stop in my scroll every time I see one of those sinks!
Other than the GORGEOUS sink, what I like about that particular room is the:
painted paneling (not necessarily the color, although it's lovely!)
patterned wallpaper
white vanity & marble top
brass hardware
Here's another photo that jumped out: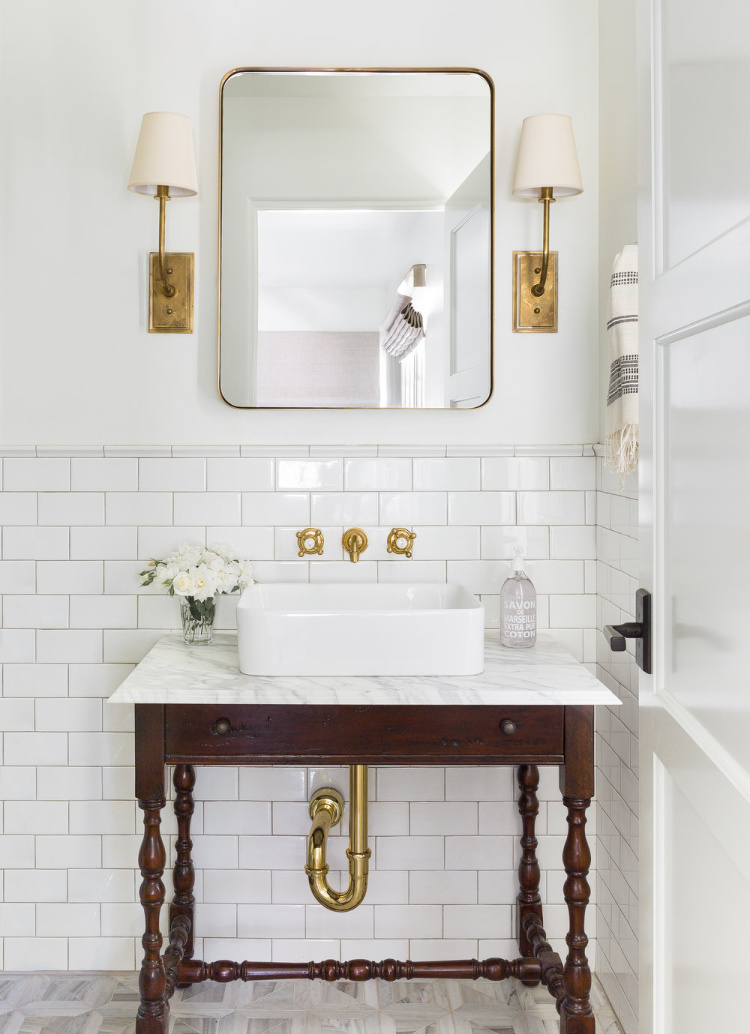 (source)
What I like about that pic is:
the antique (wood) vanity base
the style of the sink
the brass hardware
wall mounted faucet & knobs
This has always been one of my favorite bathrooms too: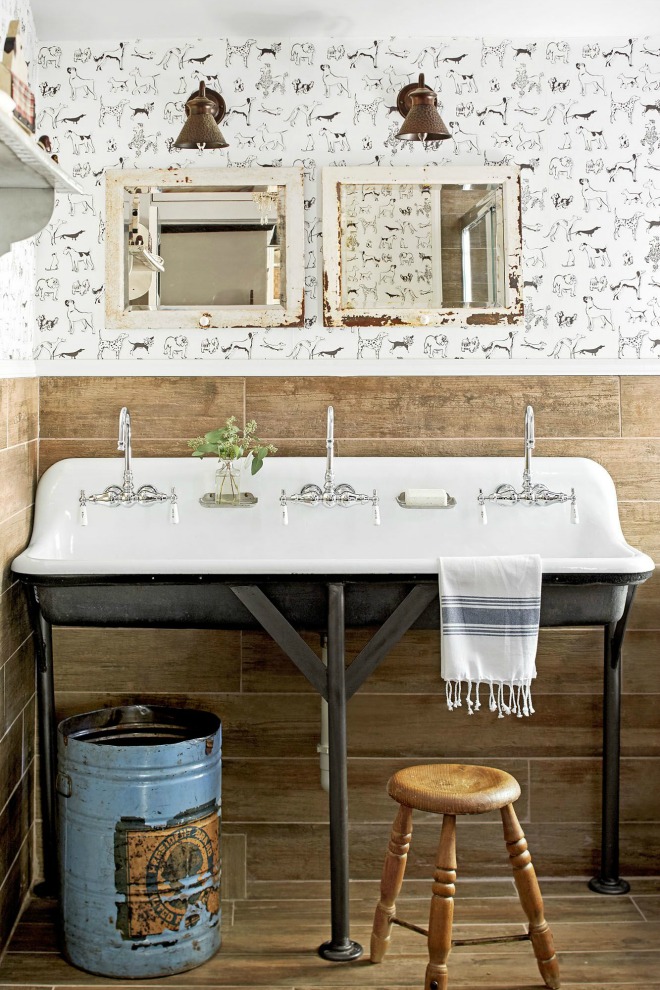 (source)
What I like about it is:
The whimsical, high contrast wallpaper
the mix of white, black and wood
the use of a vintage sink
This next pic isn't of a bathroom, but it's my absolute favorite vibe-wise: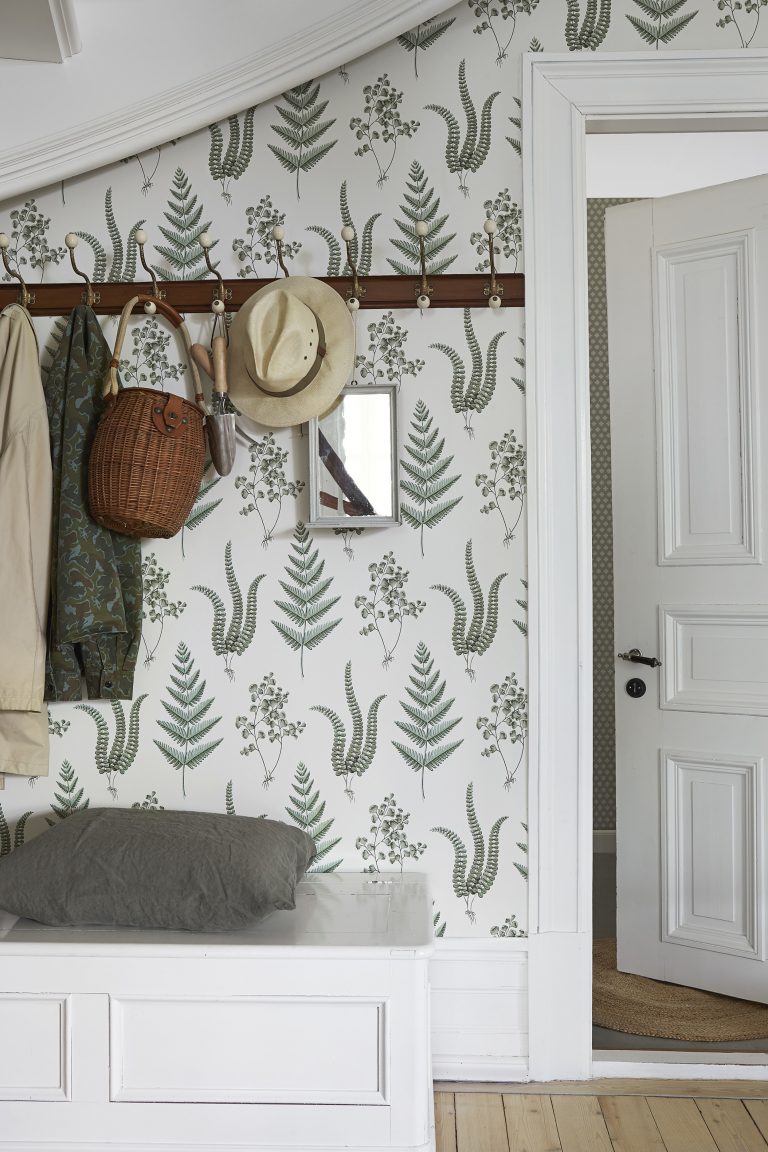 (source)
Here's what stands out:
the vibe (Scandinavian cottage)
the palette (I'm such a sucker for white, wood and green!)
the peg rack (I think this could be handy in a small bathroom too!)
Same goes for this next pic. I love the moody color of the "vanity base" paired with the white top and sink. The soft brass hardware makes my eyeballs purr and if you squint really hard, you can almost see what a botanical print wallpaper would look like above the sink because of the greenery outside the window there.
And ya know what's really cool? In simply putting together this post, I've identified three really key things:
I definitely want to keep a fun wallpaper above the wood paneling
I definitely want to use brass hardware
I definitely prefer a traditional (vs. modern) look
I definitely want to use wood elements
I don't know exactly which elements will be wood yet, but before I started researching, I wasn't sure even sure if I would include wood elements this time around, so it was helpful to rediscover how much I appreciate them. And how fun (and interesting!) to realize that several of the things I was drawn to 7 years ago, are still the kinds of things I'm drawn to today!
I'm creating an inspiration photo in Photoshop so I can move forward with confidence…I share it as soon as I've got it all together and I look forward to e-chatting with you again soon!
Layla