Hello! I thought I'd share some photos of where we're at in our half bath renovation today. (PS- We're putting together a short video about some of the key steps in our process, and I look forward to sharing that whenever we wrap things up!)
The floor and walls are starting to look much different than they used to, and although we've still got a ways to go, we're really excited about how the room is coming together: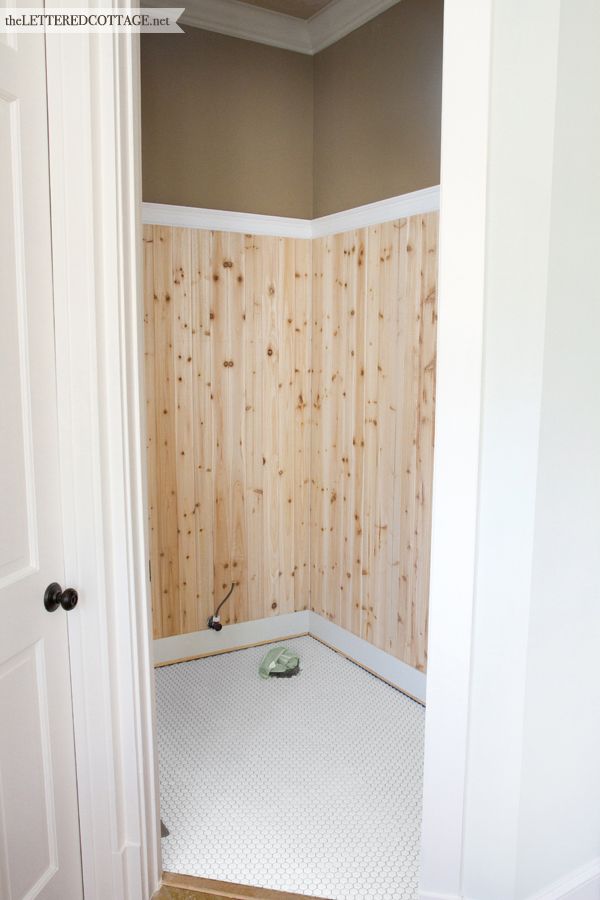 First, Kev ripped out the tile that was previously in there, and since some of the backer board underneath it was damaged in the process- we had to use new backer board underneath our new tile. Here are a couple of cell phone pics that show the new backer board (left) and the new hex tile all thin-setted into place (right):
We're looking forward to taking this house back a few generations over the next several years, so replacing the contemporary tile with something a little more classic and cottage-y was just what the (old house) doctor ordered in here. We got our hex tile from Overstock.com, and since we only needed three packages of 10 tiles, we felt like it was a good opportunity to get some major cottage bang for not a lot of cottage bucks.
We used Warm Gray grout in between the tiles, and I think Mr. Kit-Cat likes it as much as we do.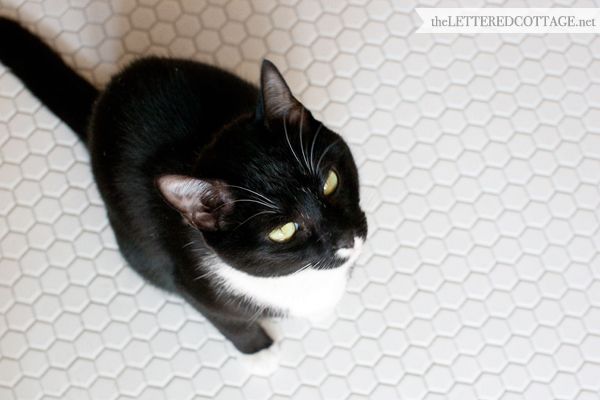 We're really excited about the wood wainscoting we've got up on the walls in there now, too. Because the wall studs (behind the drywall) run vertically, our carpenter friend, Wade, suggested we secure our pine paneling planks to horizontally-oriented strips of luan plywood. Here's a photo of the first few strips of luan after they were nailed to the studs behind the drywall…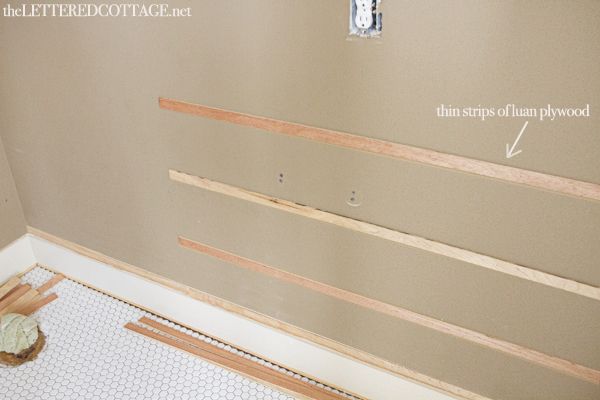 And here's an "in-progress" shot of the pine planks and chair rail molding being nailed to the luan:
We got the planks at Lowes. They're super thin (5/16″ thick, to be exact) and they're usually displayed on an end cap, at the end of the trim aisle. They come in 4′ and 8′ lengths, and we decided to go with 7-foot tall wainscoting because we've always been fans of the two-thirds look. (Meaning: the lower 2/3 portion of the walls have wainscoting, the upper 1/3 does not.) Here's a photo of the label that was on the packages of planks in case anybody out there is interested in picking some up:
A pack of six planks is 13 bucks and some change, but again, since this room is teeny-tiny, we thought it would be a fun way to give it a big dose of cottage charm without spending a huge chunk of change.

We also got the chair rail molding at Lowes. We chose a top-heavy one because we're both suckers for a "shelf-y" profile when it comes to that stuff.
We're hoping to get some primer up on the ceiling, walls, and wainscoting next week. After that- PAINT! We're thinkin' Simply White on the ceiling, and Wedgewood Gray on the baseboards, wainscoting, chair rail, and crown molding. And after that, WALLPAPER! Aaaaaaaahhhhhhh! #MyFavoritePart