Happy April! I hope you had an awesome Easter weekend!
Kevin played guitar at our church's Pike Road location, and we had a really great lunch with his family yesterday afternoon. His mom sent us home with a whole tub of Watergate salad, so I will be enjoying more of that this week, too. #ICouldEatItEveryDay
Last Thursday, we went over to Fireman Keith's place to check out the sample paint colors we gave him to try out and I think the winner is going to be Gray Owl by Benjamin Moore.
But before we purchase a couple of gallons of it, Keith wants to try out a 50% darkened version of it to make see if he'd like it that way even more. I'll show you which one we go with after our paint party on Saturday, April 20th!
Right now, his living room is painted bright yellow…
…so while I was researching gray paint color's online, I was pretty pumped to see this picture over at Sarah's blog, Cozy. Cottage. Cute. She went from bright yellow to a 50% lighter version of Gray Owl at her place…
…and boy does that look sharp, doesn't it?
We got some good news in the fireplace department last week, too. AirStone is generously going to hook Keith up with some of their faux stone product, and Southern Accents is going to donate a mantel beam, so it looks like we'll be tackling that project after we get the walls painted in there!
In around-the-fireplace news, Keith dug the look of the old, blue gray-stained wood above the mantel so much, he's thinking he may want to extend it into the back of the bookcases, too.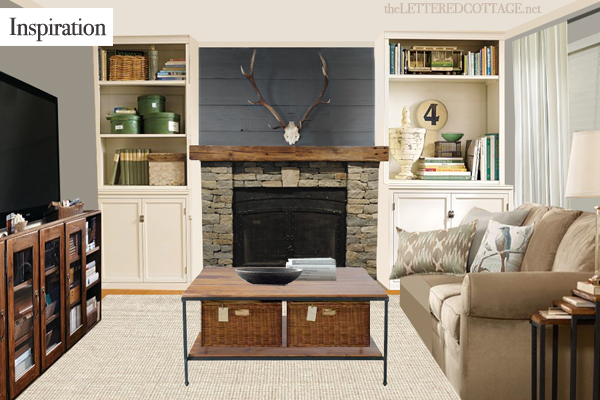 He's out pallet-hunting right now, so we're excited to see what he finds. We've never worked with pallets and blue-gray stain before- but I think with a little sanding (to clean 'em up) before we stain, it could turn out to be a pretty neat project!
Have you ever worked with pallets before? If so, do you have any tips you could share with us about them?