It's been a busy summer so far, but I'm excited to get back to work on Keith's living room makeover next weekend! If you're just tuning in, here's a look at Keith's 'before' photo:
…and here's the inspiration photo I put together using Photoshop: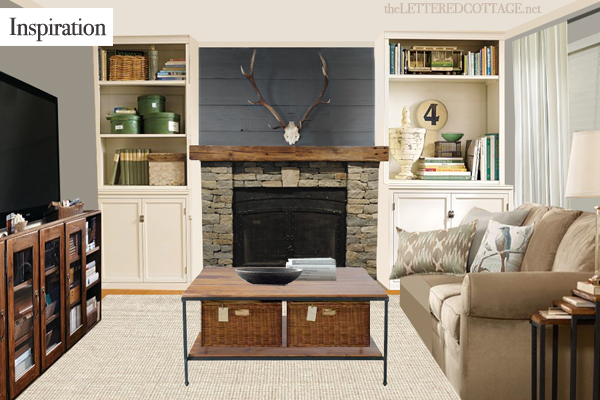 Keith is a firefighter at station #7, so I decided to make a DIY sign like the #4 one in the inspiration photo.
First, I went to Michael's to pick up a round piece of wood, but I found this one that sort of reminded me of a badge and decided to go with it instead:
I started by painting it with a few coats of (leftover) Sebring White paint…
…then I sanded the edges with a drywall sanding block:
Next, I printed out a backwards number 7…
…and cut off most of the paper around it. I used a pencil to put some lead on the outline of it…
…then I taped it in place on the front of the sign and rubbed more pencil lead on the top side of the 7 so that the lead underneath would transfer onto the face of the sign:
I filled in the 7 with a little paint brush and some black craft paint, and last but not least, I used an old t-shirt to rub some of Miss Mustard Seed's antiquing wax onto the entire surface of the sign:
I'm going to use some sticky-backed velcro to attach the sign to the back wall of one of Keith's bookcases when we head over there to work on the room again next weekend.
We're partnering with a company called SkimStone to give Keith's hearth a concrete makeover, so I look forward to blogging about how that turns out, soon!

For pics between posts, join us over on Twitter, Facebook and/or Instagram!

Get My Free E-book: 15 Common Decorating Mistakes And How You Can Avoid Them
Enter your email to download my free e-book instantly! 🙂