We spent yesterday shooting "pick ups" (little bits and pieces of footage and audio that didn't get recorded the first time around) for our pilot episode for HGTV. And even though it was significantly chillier here at our house yesterday than it was when we shot the initial footage in Suwanee in September, we managed to git r' dun without getting frostbite. (ha ha)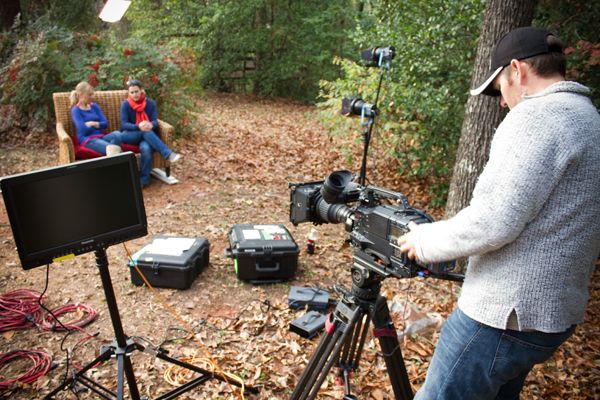 That's me and one of our producers, Stacey, sitting on the loveseat (a.k.a "Cecil") in the photo above.
If HGTV decides to pick our show up, there's a good chance Cecil will be a part of every episode, too. We took him around with us to several different locations (both yesterday and in Suwanee) and we thoroughly enjoyed collapsing on him every once in a while so we could talk to the camera about blogging and design stuff!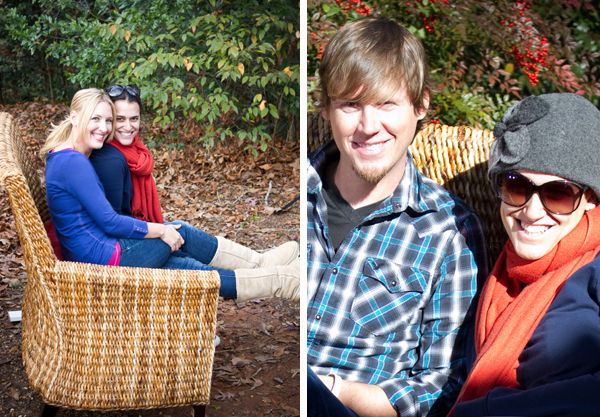 (Side note: doesn't Stacey totally have a Reese Witherspoon-esque smile?)
Here's a shot of Kev and Stacey discussing what he needs to say before they started shooting that scene in our driveway.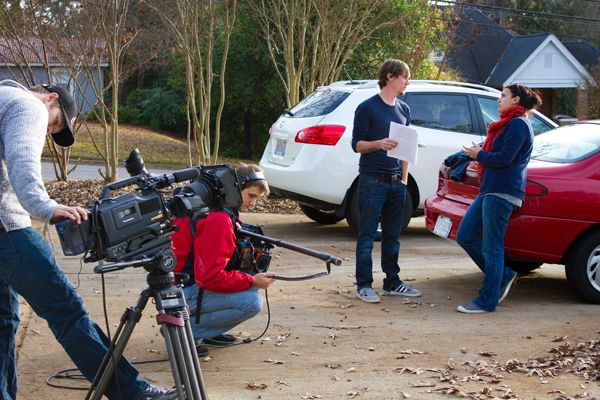 It was quite challenging shooting on our street during leaf blowing season, and we never realized how many planes flew overhead, dogs barked, birds squawked, or how many loud vehicles drove in front of our house til yesterday either! We spent many a minute waiting for things to simmadownnow– so we could get a usable take- LOL!
After we finished shooting outside, we did all of our interior shots. Max insisted on being involved in most of those (yay!), and Kit-Cat had fun stalking the camera man's cords most of the afternoon…
Here's another shot of me and my fur-ocious co-star, watching the camera man (Tom) shoot some footage of our (still stove-less!) kitchen…
I'm sure there will be some creative editing going on if that footage makes it into the final edit!
And speaking of getting creative, we don't have anything but a plain white desk and a few empty, plain white bookshelves in our home office right now, but the production company wanted to get some footage of us blogging at a desk- so we had fun temporarily turning our dining room into an office so that they could get the (close up) shots they wanted…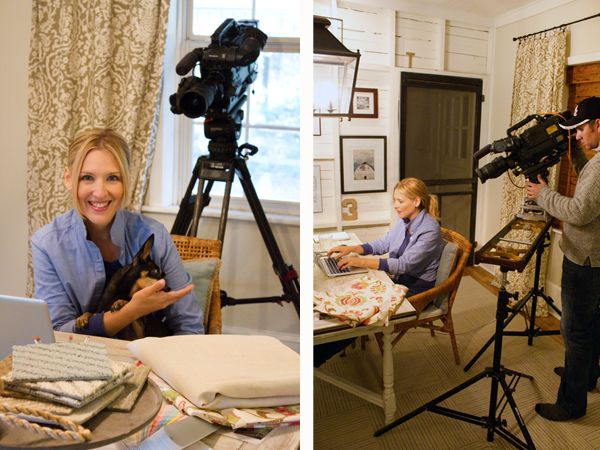 That camera slider thingy was so cool and I kinda want one for Christmas.

After the sun went all the way down (ya know, at like 4:30pm) Kev sat down at the desk and surfed the web for sales on new stoves while they filmed him using the computer, too…
I watched what they were shooting on a little monitor off to the side, and I think it'll really look neat if they decide to edit it in there!
(PS- the overhead light wasn't in any of the shots)
And speaking of things acting as different things– the armchair in our living room became an audio booth that night, too.
Who knew facing a couple of pillows, propped up in a chair, would help create such an echo-free recording?
The production company plans to deliver our finished episode to HGTV by Christmas, and hopefully we'll hear something back from them in January or February. Either way, it was a whole lotta fun shooting the pilot for them- and we're so grateful to have had the opportunity to work with so many fun/talented blog friends, and re-do Alex and Emily's living room in the process, too!
___________________________________________________
Join us on Pinterest, Twitter and Facebook!
___________________________________________________________
Need design inspiration? Need help arranging your furniture?
Check out my e-books!