We're back from Suwanee, Georgia- and the room we re-did for our pilot episode for HGTV is done!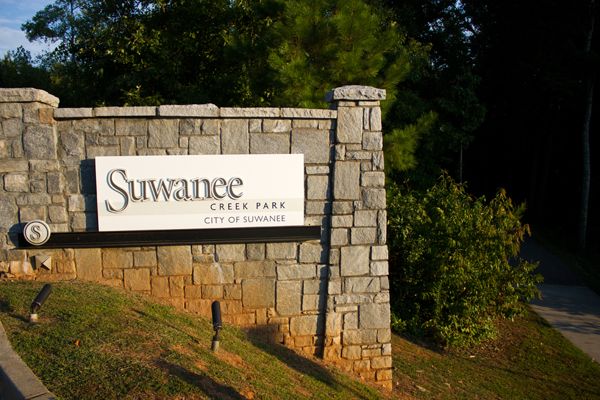 It was an exciting/fast-paced five days, and we're thrilled with how the Morrison's living room turned out! (More importantly- so were they! Yay!)

Our adventure started on Thursday, September 8th.
We borrowed our neighbors Suburban because we had so much stuff to bring with us for the makeover. That sucker was packed front to back and floor to ceiling!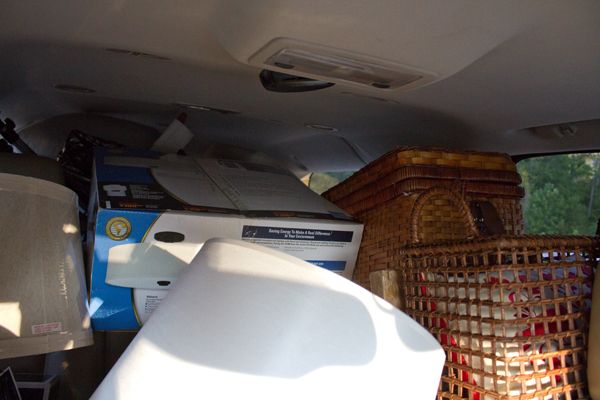 (Thank you Peter and Josette!)
I shared the passenger seat with a table lamp from TJ Maxx.
Our friend Meghan warmed up my hair on Friday, the 9th…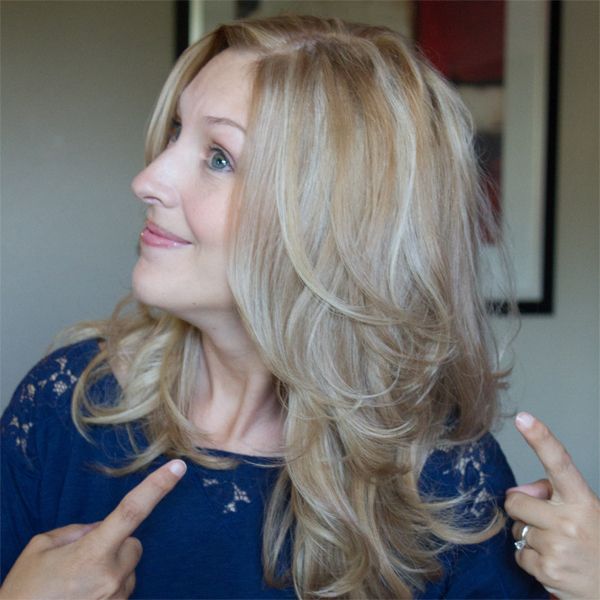 …and we spent the 10th and 11th pounding the pavement for some new duds, and more furniture and accessories for the makeover room.
On the 12th, our TV team gathered in our hotel's conference room to talk about everything that needed to be accomplished over the next 5 days.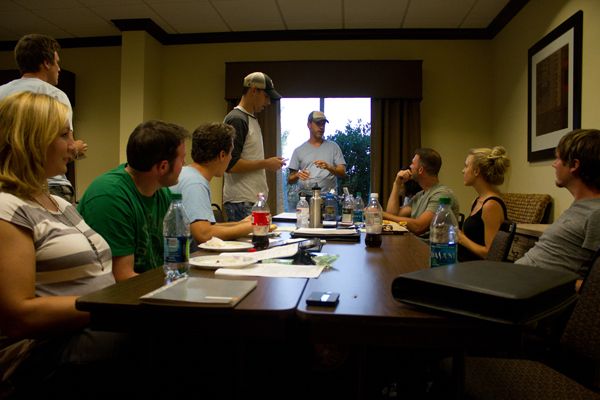 That's Patrick, our executive producer, at the head of the table. It was his idea to create a show that was an extension of our blog, and we can't thank him enough for allowing us to be ourselves, and for letting us video things with our own camera like we're used to doing for our posts! (He even incorporated our presto change-o concept into the show- yay!)
These three kept things running super smooth all week…
That's Jinnie on the left, (remember her from Carter Can? She's amazing!), Jason in the middle (construction manager extraordinaire!), and Whitney on the right. Whitney coordinated everything and made sure we all knew where to be, and at what time. She's 14 years younger than me, but holy cow is she waaaay more organized than I was at 23!
This is Michael…
He used his big fancy-schmancy camera to shoot footage of us, while we shot footage with our little bitty camera. His view will show things from another perspective, and capture things we couldn't with our own camera. We're excited to see what that looks like!
Terry was in charge of capturing all of our audio…
I felt so bad for him having to tote that thing around with him all day, every day!
Here he is, putting Kev's mic on him at the beginning of day 1…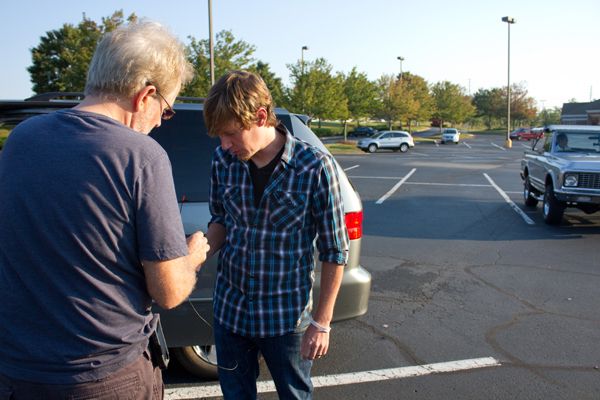 And that cool old blazer on the right side of the pic? That's Suzie.
A friendly fellow blogger named Charity (and her hubby!) let us borrow her for the shoot.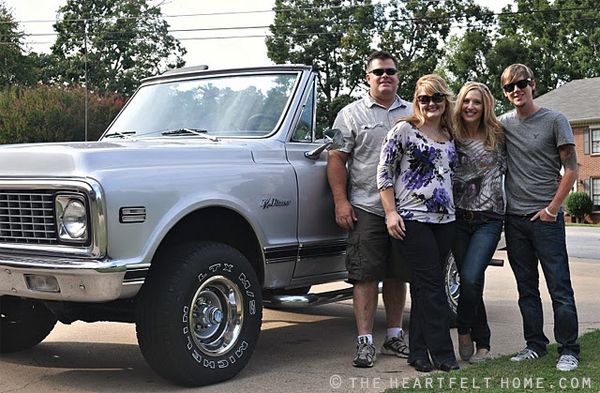 (I have another story to tell you about her this week, but I want to save it for a separate post.)
Our friends Matt and Shaunna graciously volunteered their time and talents the whole week too…
…and if they're able to work it out, we're hoping one or both of them will be able to join our crew full time if the show gets picked up! (We also want to send out a HUGE thanks to Shaunna's parents for kid-sitting so Matt & Shaunna could be a part of the show!)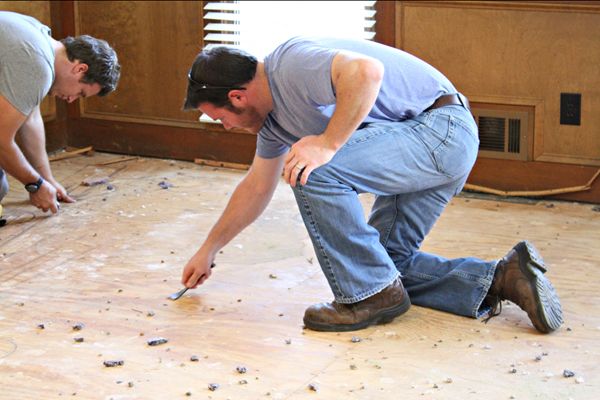 (Matt, hard at work)
(Shaunna, ready to shoot a pic of us pulling up to the makeover house on day 1. PS- Would you believe that sucker sold for almost the exact same price as our little Lettered Cottage?!)
And speaking of helpful-volunteers-we-owe-big–time…we were stoked so many bloggers and blog readers were able to come out and participate in the shoot!
(Deneen (who drove all the way from TN!), Mendy, me and Donna)
(Rhoda, on wallpaper duty)
We seriously would not have finished the room without our blog friends' help. Like we mentioned in an earlier post- the show would be about connecting with our e-friends and redoing rooms on a budget, so we're really excited about the opportunity to work with lots more bloggers and blog readers on future redecorating adventures!
This is Rachel…
She was the first person there on day 2, and one of the very last people to leave that day! She drove all the way over from Columbus, GA- and was an absolute delight to be around! Our construction manager, Jason, was very impressed with her work, and we can't thank her enough for jumping in and making over that room with everyone!
We also want to thank Sherry from GertieMaes.com for donating so many lovely fresh flower arrangements and plants, and Mel & Denise for sewing together all of our curtains and throw pillow covers! We felt so lucky to have you guys there!!! And our favorite salvage shop in Alabama, Southern Accents, hooked us up with great deals on several of the wood elements in the room- SUCH AMAZING PEOPLE!
Kev and I are so used to tackling redos by ourselves, but we had to do a lot more yappin' than usual this time…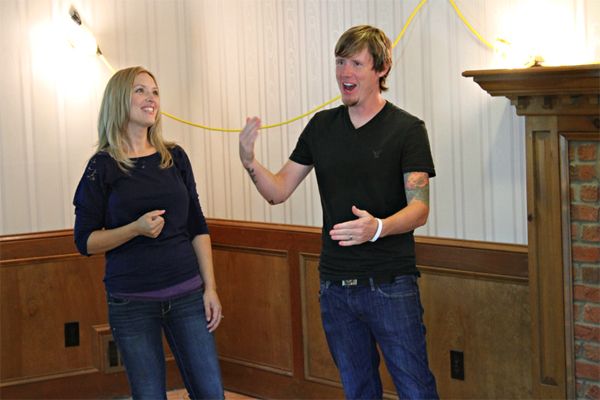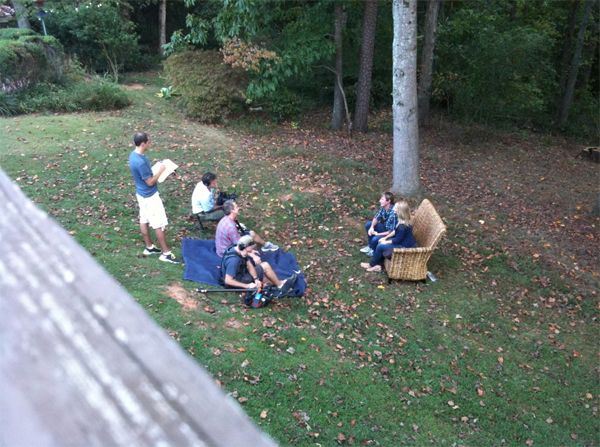 (photo)
…so we're very grateful that so many friendly folks were able to come out and help with this (big/fast) redo! (If the episode airs, you'll notice that my voice is significantly lower and weaker on day 5 than it is on day 1- LOL!)
Here are some random pics Shaunna shot throughout the week…
Patrick pinching my cheek…
Just kidding, I have no idea what was going on there!
Kev, shooting something with our blog cam…
Terry, sticking my mic to my shirt…
Lori, Rhoda, Emily and Alex- taking a break in the kitchen…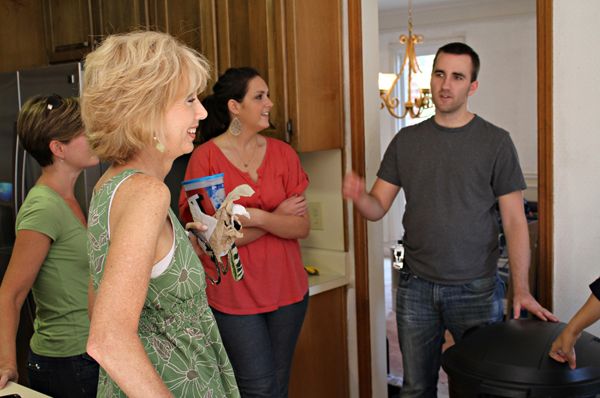 Kev and me- taking a banana break in the kitchen…
Me and Jinnie Choi…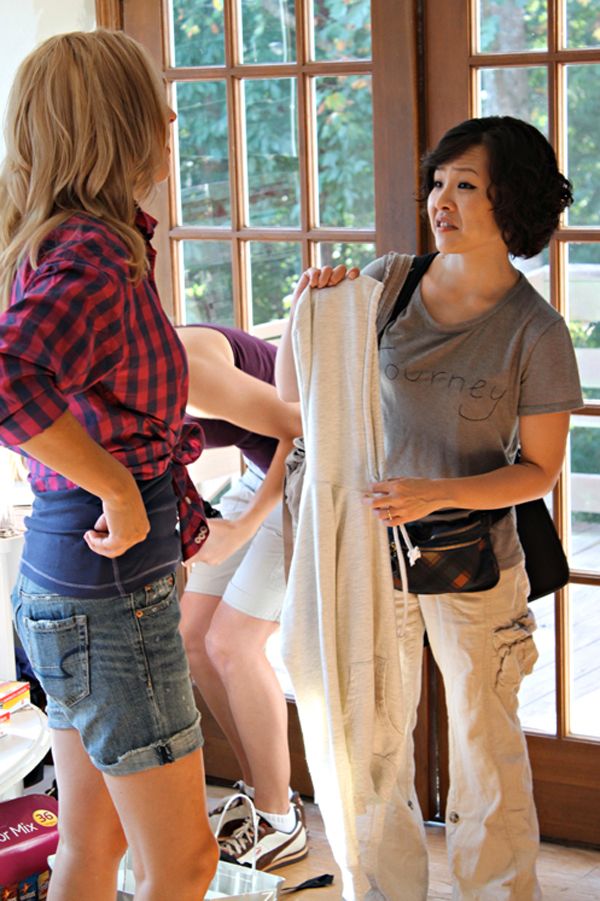 Patrick giving us our first iPad lesson…
Jason, hard at work…
The electrician that gave us a heck of a deal…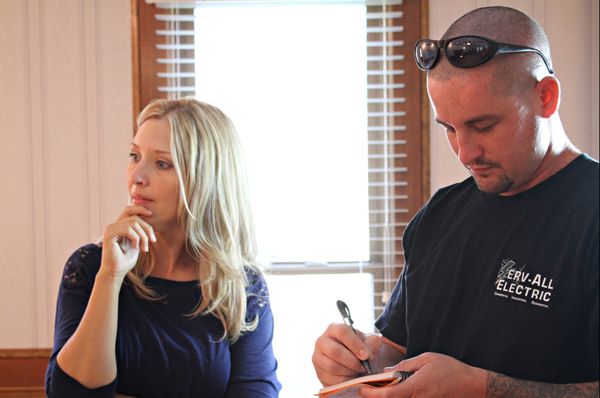 The living room before…
The living room during…
Shaunna, Matt, Kev and me…
Flea market shopping at Queen of Hearts Antiques in Buford, GA…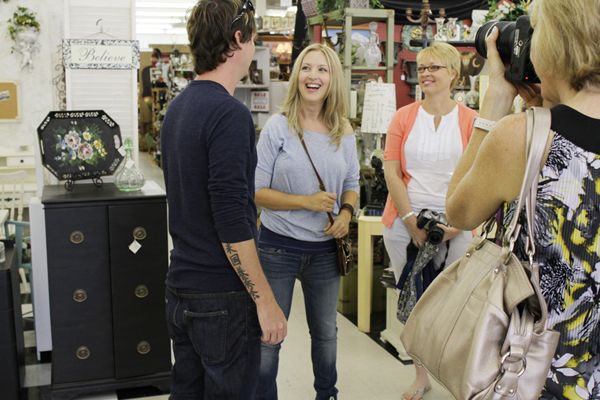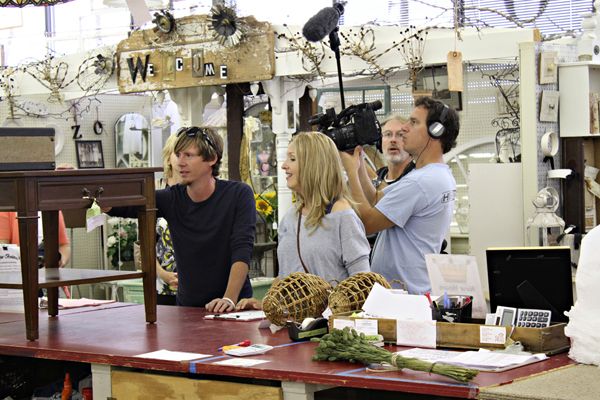 This was right before we showed the Morrisons their "new" (soon-to-be-reupholstered) armchairs…
And here's a shot of Kev explaining that the flap of fabric at the bottom would be taken off to expose the chair's great-looking legs…
Thanks to Susan from Sassy Stitches for knocking that reupholstery project out of the park!
The night of day 4 (a 17 hour day!) we did a little shooting at the Gwinnett County Fair…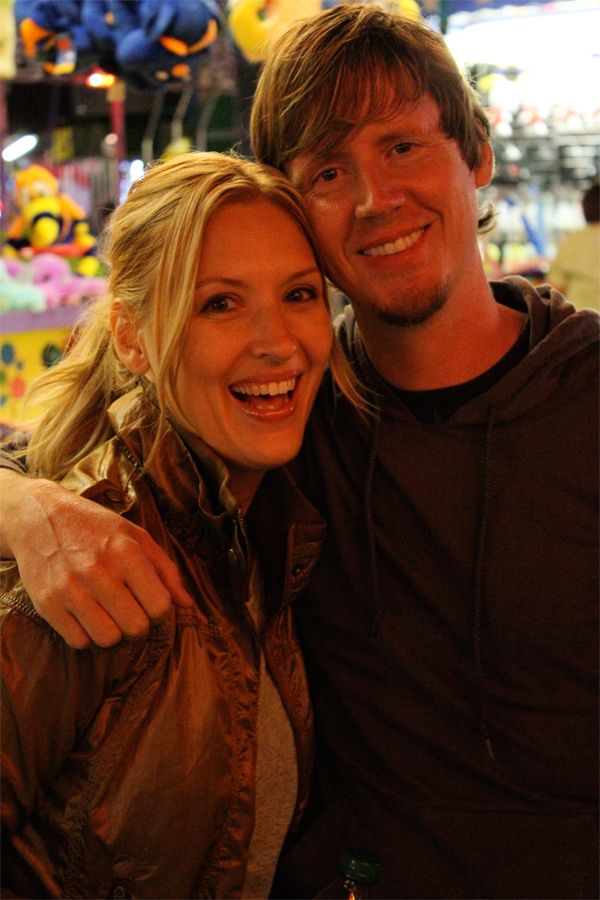 Rides were ridden, cotton candy was consumed, and stuffed animals were won- it was a night we'll never forget!
And last but not least, here's a sweet shot of the newly-wed homeowners…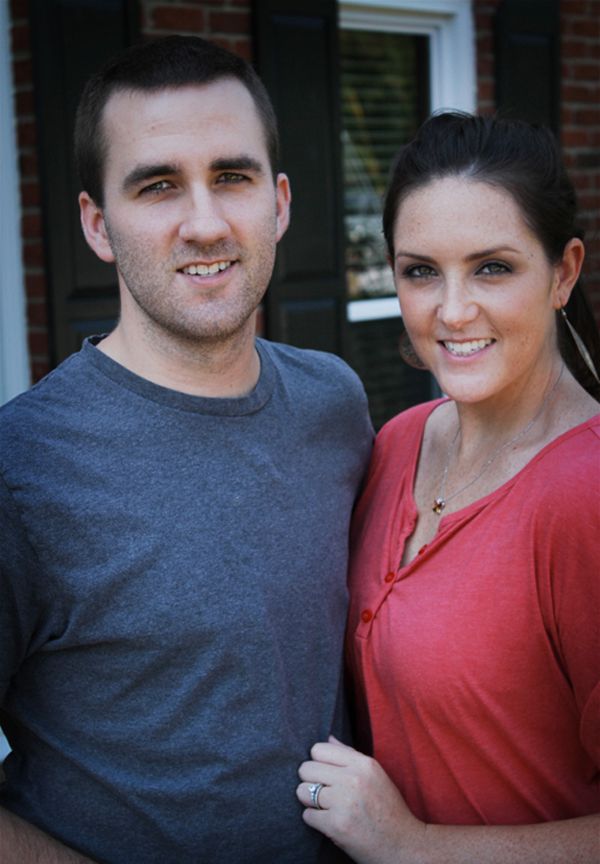 (Alex and Emily)
They just moved into the house a couple of weeks ago, and it just so happened that their one year wedding anniversary was on the exact same day we revealed their new living room to them! We're so glad to have had the chance to meet them, and we hope having their living room done will inspire and motivate them to forge ahead with the ideas they have in the rest of their house! Purchasing a foreclosure can be intimidating (especially when you have to spend all of your redo money on a new HVAC unit before you even move in, like Emily and Alex had to do!), but we tried to show them that even a shoestring budget can stretch a long way if you think outside the box and make a party out of it!

Thank you friends and family for inspiring and motivating us to give this thing wild thing a whirl!
__________________________________________
And like our header says- 0ur blog is our playground, and passion pushes our swing- so no matter what happens with that all that wacky TV footage, we're so grateful to have had the chance to try something new, and redo another room!
PS- We'll let you know if we hear anything back from the folks at HGTV before the end of the year. It'll take a couple of months to edit the episode, so it'll be a while before we blog about a yay or nay!