"Serious is a word that must be entirely avoided when it comes to decoration."
-Kathryn M. Ireland

Remember that long box I taped off when I was laying out our gallery wall?
I had a $25 off Pottery Barn coupon burning a hole in my pocket, so I sprang for this iron shadowbox cube last week: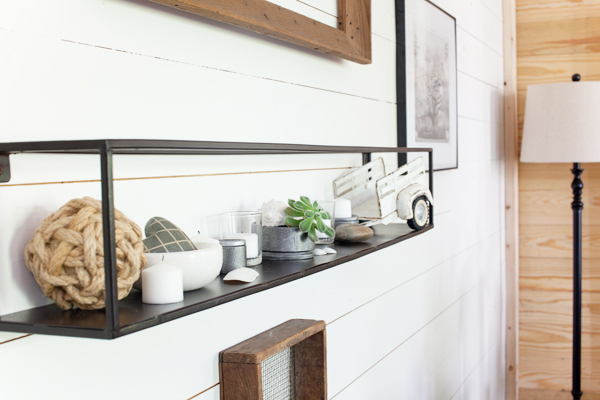 I filled it with things I had around the house…
…and I think it'll be so fun to change them out with the seasons!
Kevin decided we "needed" a bell in the kitchen this week, too:
Which is pretty funny considering this post I published 5 years ago: A Delightful Dining Room Detail.
😉

PS- I'm waiting for the results of a CT scan today. Something has been "off" with my throat for the past three weeks. It started on the first night we went to Tybee. It felt like I must have swallowed a little piece of the crab shell. A couple of days later, it went from a sharp (glass shard-like) feeling in the side of my throat, to a "fullness" in my entire throat. No pain, just fullness. So full that I became really nervous about eating because it didn't feel like there was enough room for food to move through. (Silver lining: I quickly lost 7 pounds!) I went to my ENT 2 weeks ago and he used a camera to go in through my nose and down into my throat. He said my throat was about as red as it could possibly be, but that my airway wasn't restricted, so I wasn't in danger of not being able to breathe…even though it felt like it. I told him it gets especially swollen after I eat so he started me on Prilosec and a "magic mouthwash" gargle. Neither of those things seemed to have any effect on me though, so I visited him again this past Wednesday. He told me to continue the Prilosec, and he prescribed a 6-day Prednisone pack (yuck) and a 9 day antibiotic (Cefdinir), just in case it's some kind of low-grade infection. I've been on them for the last couple of days, and I have experienced a *little* relief, but I still can't help but wonder what is really going on inside my throat. Hoping to hear back from the ENT later today with the results of the scan. Prayers appreciated! I have "white coat syndrome" and a very intense fear of anything medical/medication-related, so this has been an extremely challenging time for me health-wise. XO