I haven't added our dining room tour to the Our House tab in our menu bar yet because it's still a bit of a work in progress. That being said, the room has changed a lot since we bought the pumpkin-colored place in 2007…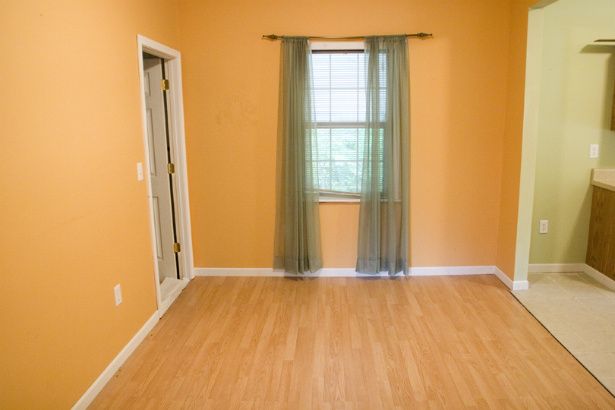 And boy have we had a lot of fun working on playing with it over the past few years!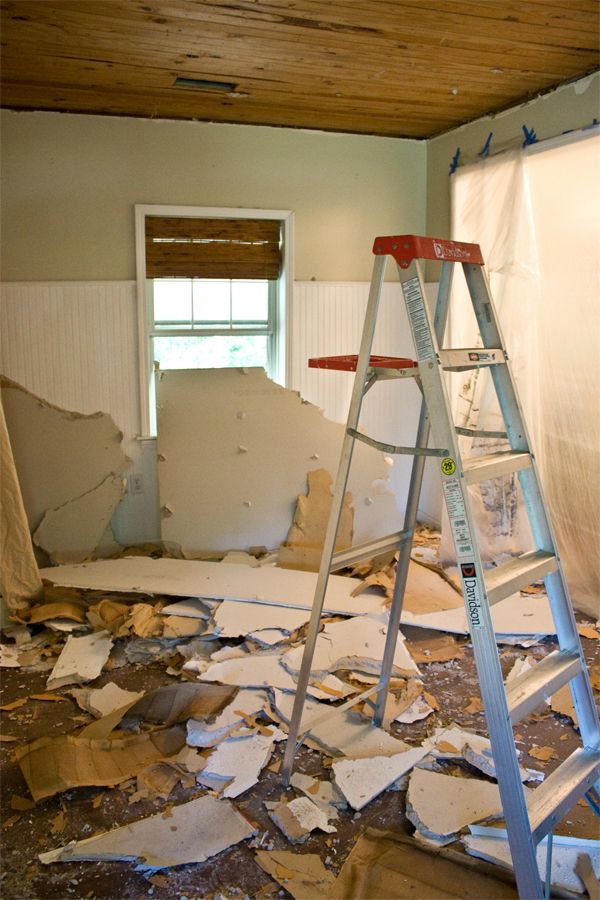 We had fun creating the "wonder wall"…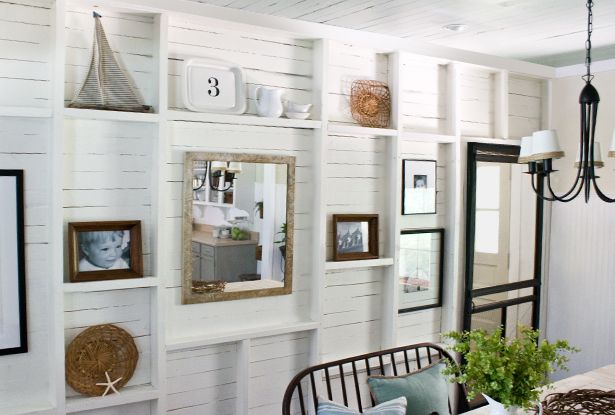 …and even more fun decorating it for Christmas last year…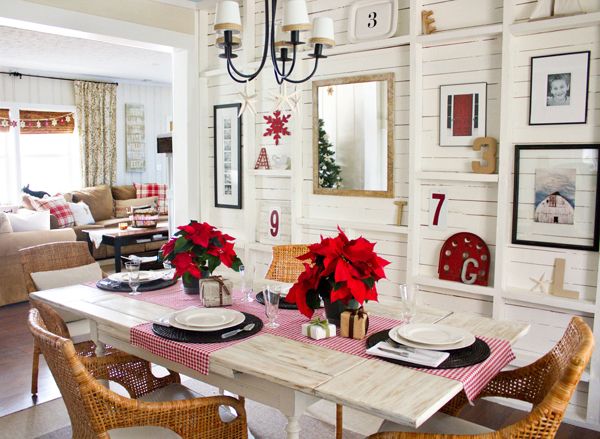 We even had fun using the room as a bedroom, while ours was under construction…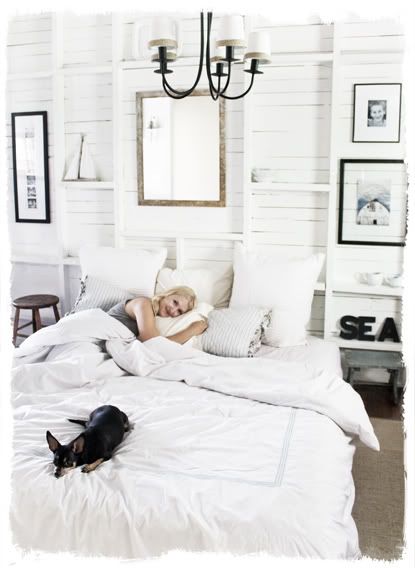 But at some point, we ran out of steam and never really finished the ceiling or the floor in there, so we took advantage of another burst of DIY energy a couple weeks ago, and went back to work on Project: Dining Room.
Kev started by taping himself in there one day and sanding back the original hardwood floor (that was originally covered up by laminate flooring)…
(That awful old kitchen tile is gettin' the boot at some point too!)
Unfortunately, he sanded his palms back a bit that day too. Zoinks!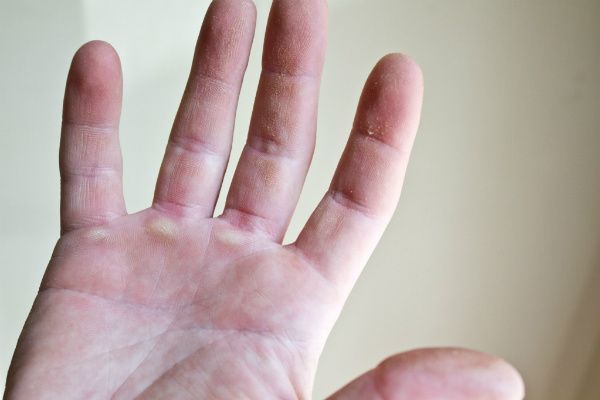 So while Kev's pummeled palms healed up, I got down to business and sealed the floor with three coats of semi-gloss Varathane from Lowes, and after that, we turned our attention up to the ceiling.
Unlike the planks in our guest bathroom and reading room, the wood we uncovered up there was always just a liiiiiiittle too rustic for our taste.
We didn't have the funds or energy to deal with it when we originally uncovered it, so we just slapped on some primer and leftover blue paint (Sea Salt by SW).
It did the (temporary) trick, but last month I had one of those infamous "I can't take it anymore" moments, so Kev and I put our heads together to figure out how we could fix it… for around a hundred bucks.
Our first idea involved attaching big sheets of something called eucaboard (from Home Depot) to the ceiling. It was thin, it was inexpensive, and it seemed like a great idea. Keyword: seemed. I thought we could attach them in a big grid-like pattern, and cover up all the seams with some kind of thin, wood trim. Keyword: thought.
Let's just say that little project didn't go quiiiiite as easily as planned, and that there may or may not have been some uncomfortably intense moments at the Palmer household as we tried to hoist and hold up the first 4′ x 8′ sheet of eucaboard while one of us nailed it into place. And let's just say the intensity may or may not have intensified when said nails proceeded to slide right up on through that first 4′ x 8′ sheet of eucaboard at the exact moment someone's arms turned to wet spaghetti.
Oh yeah….that was a real good time.
Anywho, our (intense) adventure ended with a 4′ x 8′ sheet of eucaboard out by the curb, and a trip to Lowes to see what else we could cover the ceiling with.
Here's what we decided to try (the second time around)…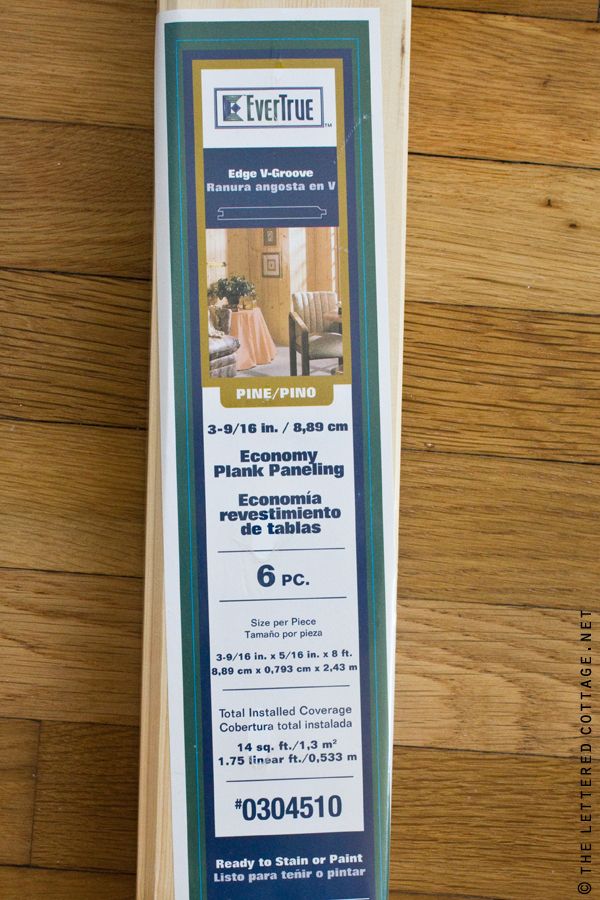 It's a V-groove, wood plank product by EverTrue, and there's six 8-foot long planks in each pack.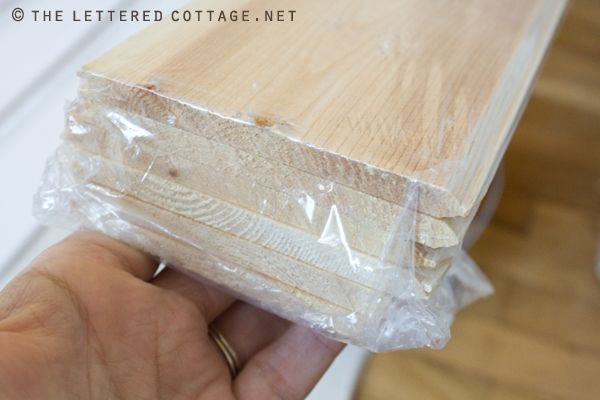 Each pack costs $10.93, and we figured we'd need about 10 of them to cover our entire dining room ceiling. (Much cheaper than any other ceiling plank option that we looked at.)
The planks are super thin, and very light weight. Keyword: light.
We didn't buy all eight packs right away, because after the whole eucaboard debacle, we weren't sure if anything was going to work and we were skeered. We took home one pack of planks that day, and I promptly laid them out on a drop cloth and gave them two coats and primer, and two coats of leftover Moonlight White (BM) paint.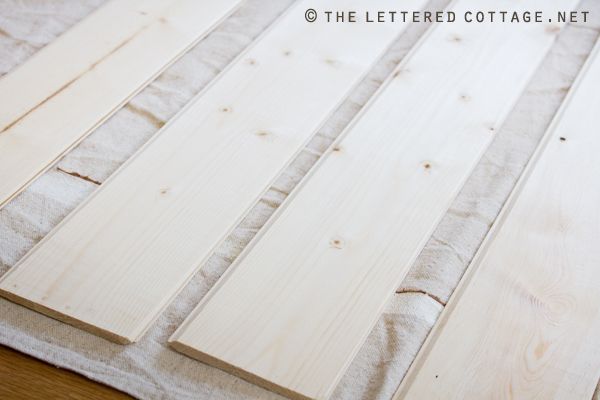 Our dining room ceiling is 9′ – 7″ wide, and the planks are only 8 feet long, so we decided to do a little staggering of the seams.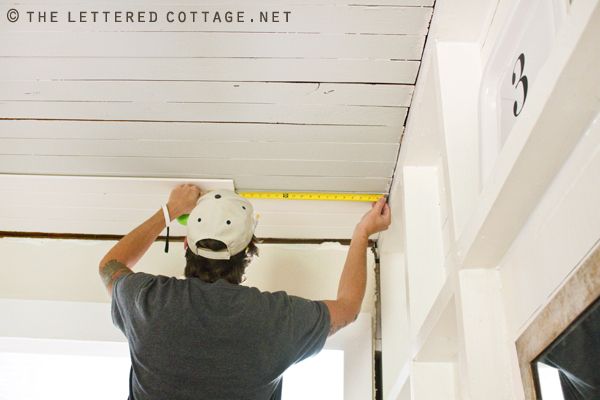 Using our nail gun, we attached one full-length board to the ceiling, and then cut a smaller one to finish off that "row". Then on the next row, we did it the opposite way, so the "pattern" will look sort of like this when we're done: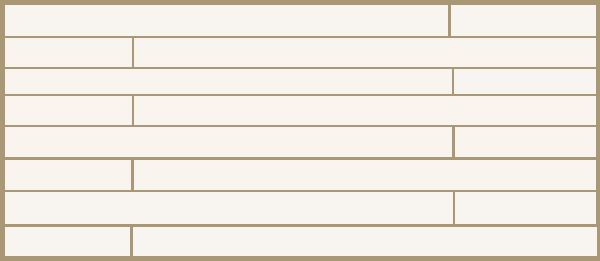 Turns out you can barely see the seams after all, but we just thought it would be weird to have all the shorter planks on one side of the room.
Here's where we're at today…
(You can still see some Liquid nails up there from the eucaboard experience…grrrr.)
We're not quite halfway across the room, and there's still LOTS of nail hole filling, touch up painting, crown & trim molding attaching, and wall trimming, painting or papering to do- but we're okay with that. It's the 4′ x 8′ sheets of eucaboard we have issues with.

PS- We're hoping to finish the ceiling up soon so we can turn our attention back to the drywalled walls. We want to do something really different there too! (Just have to figure out what that is- LOL!)