Welcome to Day 5 of Wandawega Week!
Today I'm going to share a little bit about the friendly folks behind the oh-so-creative camp. David, Tereasa…and a sweet, little cherub-faced girl named Charlie.
________________________
"Boy meets girl. Boy proposes. Boy suggests that they purchase his abandoned childhood summer camp to be wed at. Girl accepts on both counts."
David and Tereasa's wedding ceremony was held at Wandawega, atop a hill, and overlooking the lake. Tereasa, carried a bouquet of daisies, and her father, Tom, walked her down the aisle to Elvis's "Can't Help Falling in Love," played on the guitar by Nicholas Barron. They hired a Nashville-based company called Hatchshow Print to create their wooden wedding invitations and silk-screened RSVP and Save-the-Date postcards. The invitation and RSVP cards were packaged inside a brown kraft-paper envelope, along with an old map of the Wandawega resort. The envelopes were secured with a gingham ribbon and fastened with a small embroidered patch.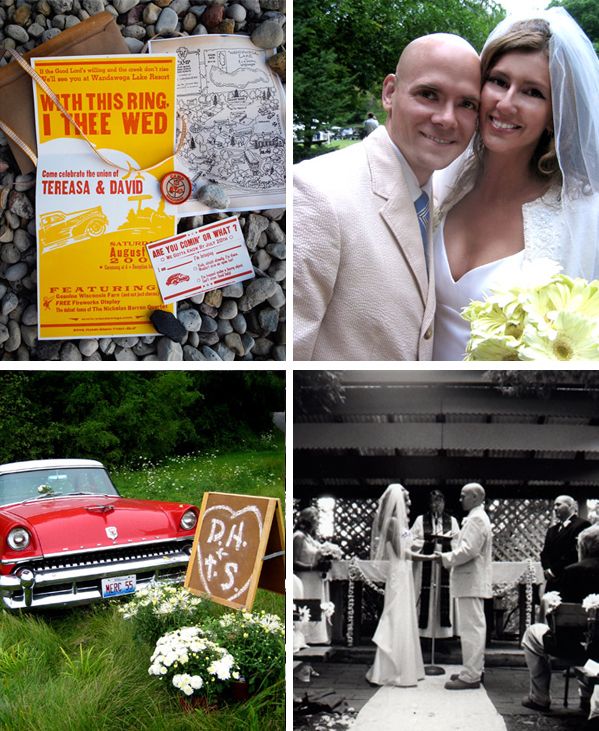 Upon arrival, wedding guests were greeted by a 1955 Mercury Monterrey. The couple shares a love for vintage cars and motorcycles, so it was only fitting that they park one from their collection on the property. Next to the car, Tereasa placed a "D.H. + T.S." sign, and surrounded it with pots bursting with bunches of daisies.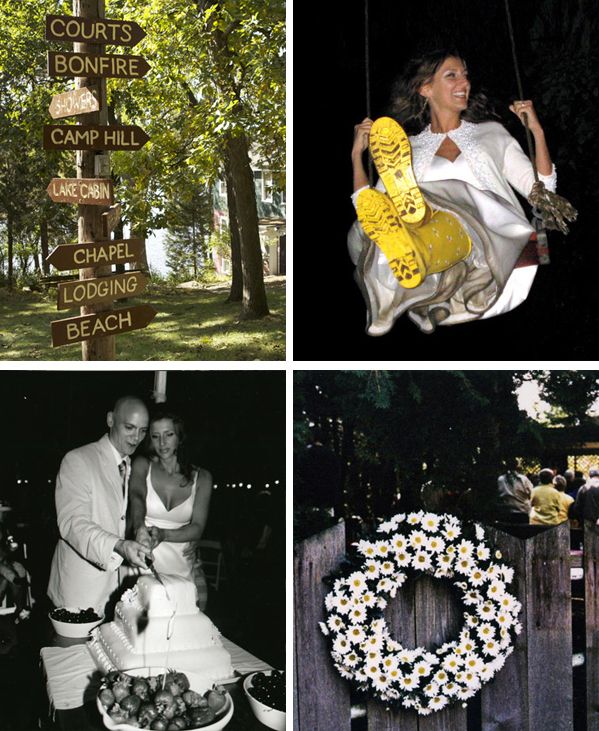 Even though the day was rain-filled, Tereasa and David still describe their wedding as being "the color of sunshine". Partly because of all the yellow rain slickers, rain boots, and the abundance of daisies- but also because they believe that "sunshine is very much a state of mind". (I whole-heartedly agree!)
Their vanilla wedding cake was decorated with buttercream icing and daisies. And, of course, no camp gathering would be complete without a bonfire, so following the reception, everyone gathered 'round to roast marshmallows, sing campfire songs, and enjoy the starry night in the woods.
*swoon*
Here are all the dreamy wedding deets:
Venue: Camp Wandawega; available for rental through Town and Country Locations
Stationery: Hatch Showprint
Band: Nicholas Barron Quartet
Photography: Chris Strong; Matthew Gore; Robert Jillson; Mitch Gordon; Landis Smithers
Cake & Catering: Rodney Oksuita, besteventscatering.com
Desserts & Brunch: Christine Busby of Busby Bakes
Daisy Wreath and Garlands: Pesche's Greenhouse
Bride's Dress: Jenny Lee
______________________________
Fast forward to nine months ago. David and Tereasa welcomed daughter, Charlie, to the world…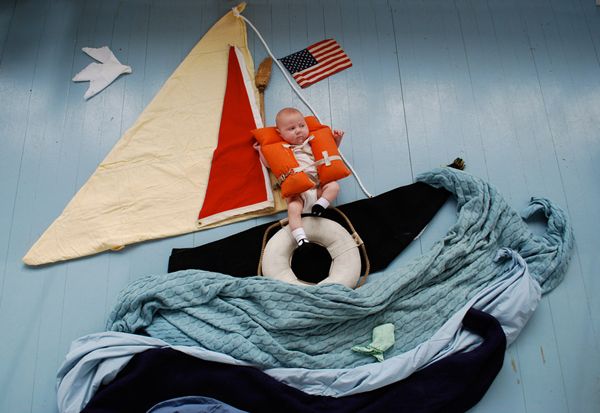 Tereasa created a woodsy-style nursery for her in their Chicago home…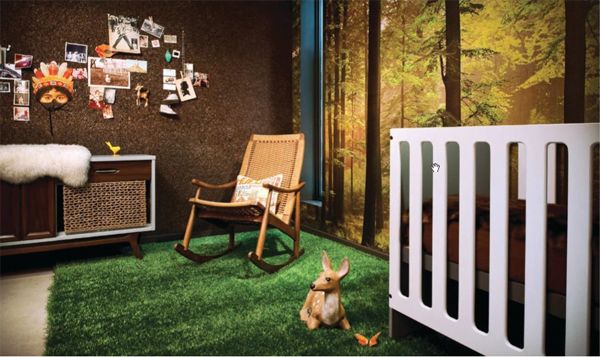 …and another one at Camp Wandawega…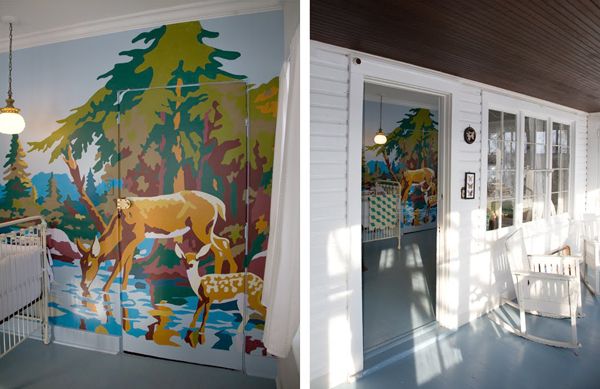 To create a paint-by-number (PBN) mural like the one above, Tereasa suggests searching eBay to find an old school PBN painting guide you love. Next, give each of the colors on it a number, and then match each number to a paint chip.
Once you've decided on your palette, take your paint chips to the paint store and buy 'em up, Buttercup! After that, use a projector to display your PBN guide onto the wall and begin tracing it out with a pencil.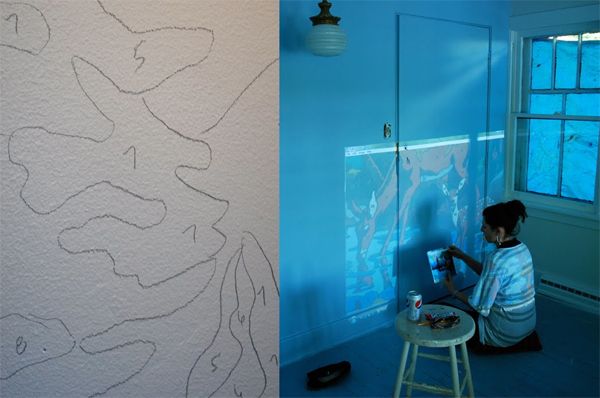 Last but not least, fill in your numbers with the latex paint your purchased using a foam brush.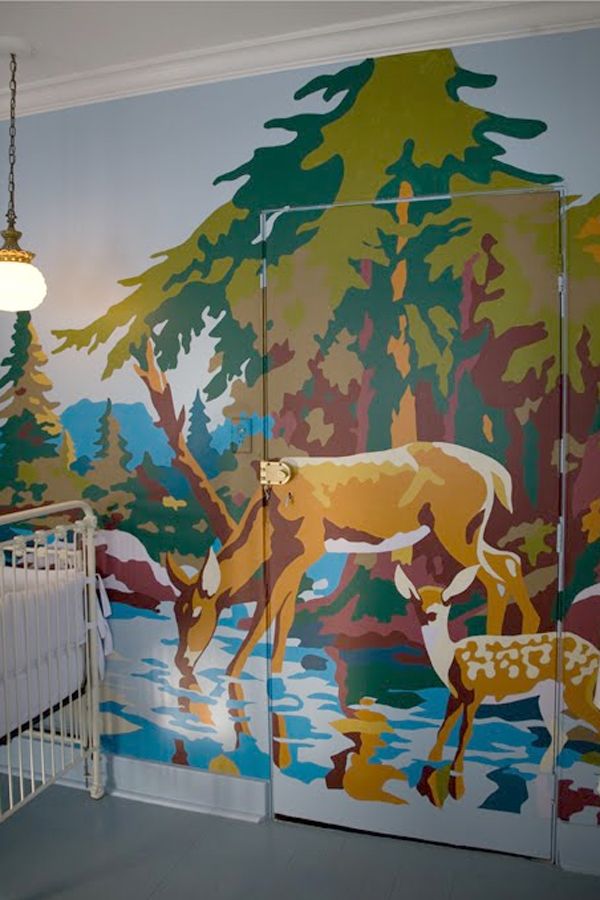 Tereasa also broke out her brush to brighten up a collection of old cuckoo clocks hanging on the wall in the Charlies Wandawega nursery…
Yesterday, I asked Tereasa about where she draws her inspiration from. She said…
"My inspiration is 3-fold:
1- Our biggest project yet, 9 month old Charliegirl
2- My dear (late) Dad, Tom (Turtle)
3- My freakishly patient husband, David.
Each of them has made me hyper-aware of just how fleeting life is, and that you have to chase down your dreams like a cheetah. My three muses inspire me daily to look at things with a lens of optimism, and quite simply, transforming the homes and spaces around my loved ones makes them happy, which makes me happy."
______________________________
Outgoing and hospitable, David and Tereasa host a constant, rotating stream of visitors at Wandawega.
If you'd like to visit them and their magical camp, leave a comment on this post for a chance to win a 2-night stay for you and a friend, (if you're parents with kids, the little ones are welcome too!) and we'll randomly select a winner on Sunday (August 14, 2011) at noon (Central Time). Your getaway will include a welcome gift basket and access to all that wonderful Wandawega has to offer. Think: peace and quiet, boating, fishing, hiking, swimming, etc. David and Tereasa will be in touch with you to see about which dates will work best for you, based on availability. Good luck and may the fun force be with you!

PS- If you missed any of this week's Wandawega posts- you can find them here: Day 1, Day 2, Day 3, Day 4!