Welcome to Wandawega Week!
What's Wandawega Week, you ask? Well, it's kind of like "Shark Week", but instead of ginormous ocean waves, exploding with super scary sealife- think: a serene midwestern lake- filled with sweet little (non-ferocious) fishies instead. Oh, and a whole buncha this kind of awesomeness in a special series of blog posts over the next 5 days too…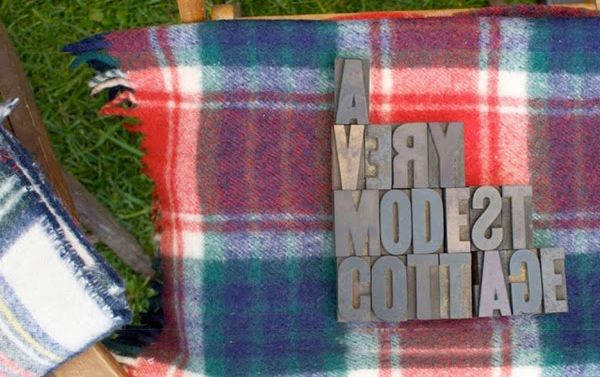 Let's dive right in, shall we?
This is Tereasa Surratt…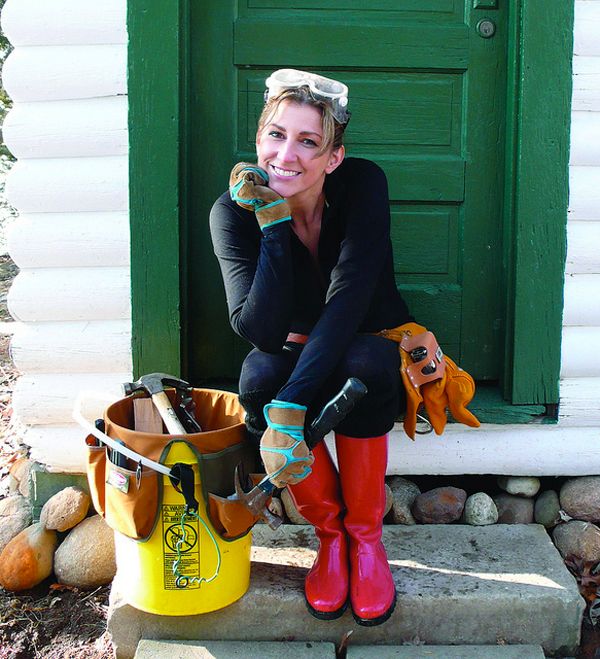 She's one of my home improvement heroes and she's created a magical little place in Wisconsin called Camp Wandawega.
It all started in 2004, when she got engaged to fellow advertising executive David Hernandez and they bought a tumbledown lakefront resort in Elkhorn, Wisconsin- 90 miles from their Chicago home.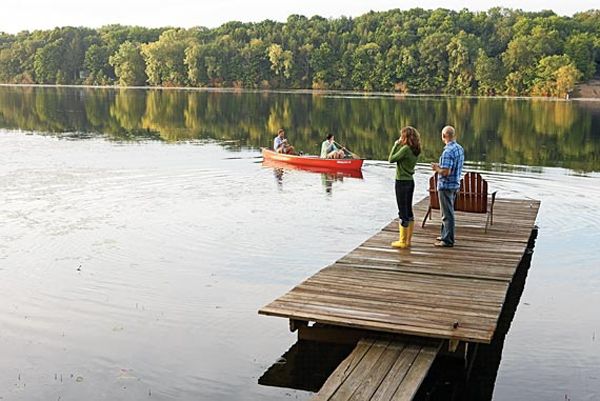 Even though it needed tons of work, they thought it would make the perfect location for their wedding ceremony and, later, for weekend getaways.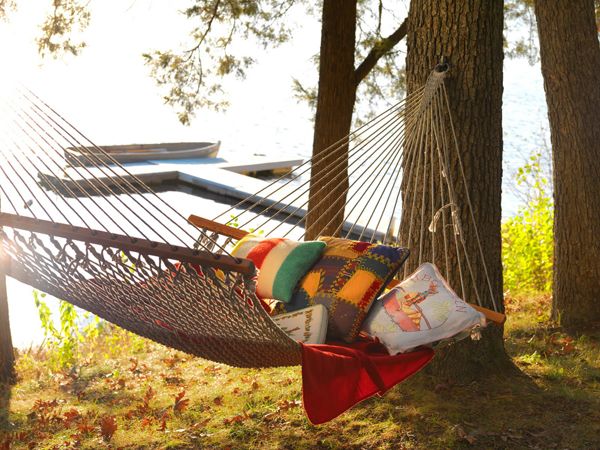 Developed in the mid-1920s, the 25-acre piece of lake property they purchased served as home to many different businesses over the years. A speakeasy, a brothel, a modest vacation destination, and finally- a Catholic priest-run retreat for the Latvian community.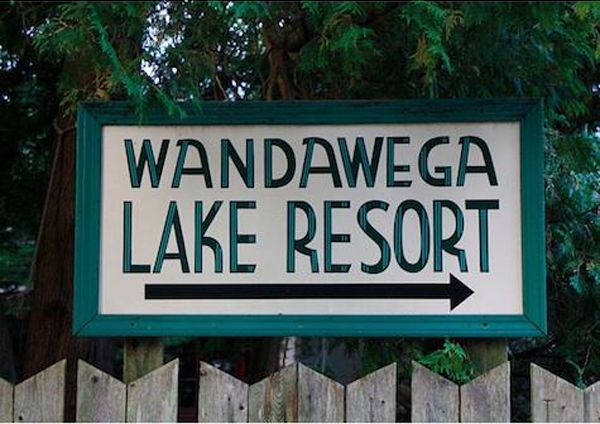 But to David, (who's half-Latvian) the rustic camping resort was sacred ground. His extended family had vacationed there every summer since he was born, and each nook and cranny of the property held special childhood memories. "Going there felt like a fantasy," David says. "It was a different world."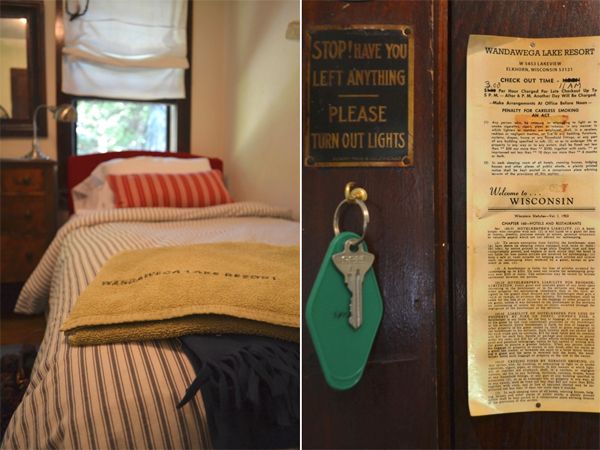 When David initially took Tereasa out to see the place (several years before they got engaged) they left with a parting request to the elderly priest who owned it at the time: "If you ever decide to sell this place, call us first."
The good news call came five years later, and the couple snatched up all 25 acres. On it, sat four buildings (and all the furniture inside of them), an archery range, a basketball court, shuffleboard courts, a garage, two piers, and some horseshoe pits.
But years of deferred maintenance had left almost everything in a fragile state. Leaky, sagging roofs; critter squatters; and mildewed drapes were just a few of things that needed to be dealt with. So from the time they closed on the place in February of 2004, until their wedding date six months later, tons of friends pitched in on weekends to help them whip it back into shape.
Their marriage celebration also revealed the potential of their new purchase. With 25 bedrooms divided among the main lodge…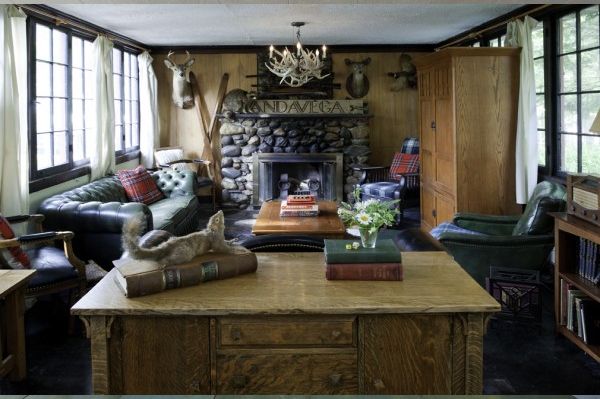 …an old hotel…
…and three small cabins…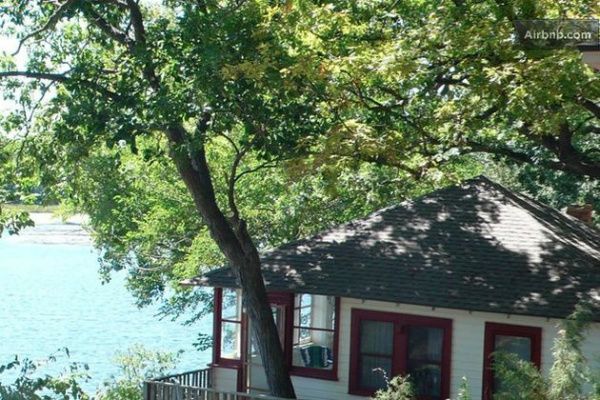 …Camp Wandawega makes one heckuva place to entertain. Tereasa says, "It's like summer camp for adults!".
Tereasa's decorating strategy is what she calls "found, flea, or free", and she really has fun with the camping theme. She reupholsters chairs with wool blankets…
…and cable-knit varsity sweaters…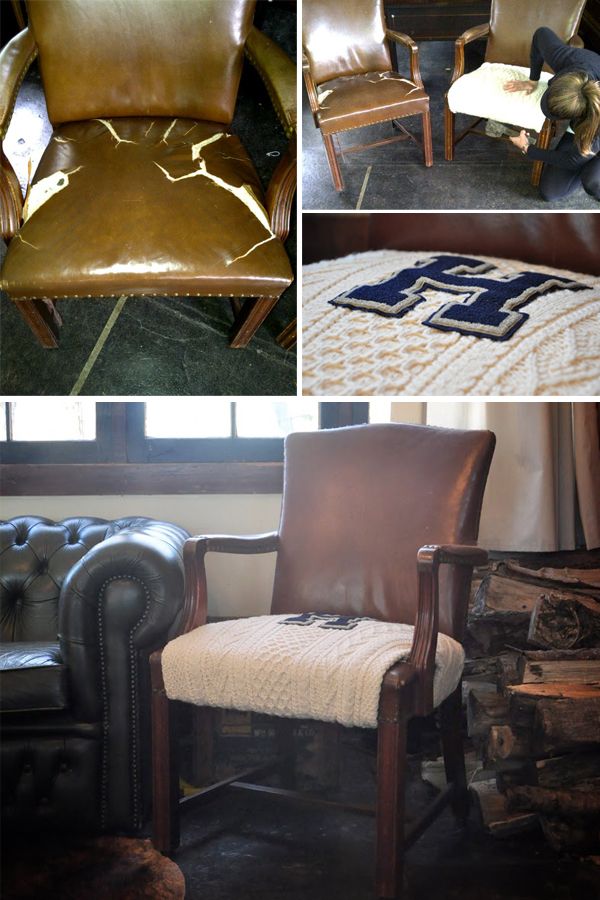 She decorates walls with vintage, fish-shaped jello molds…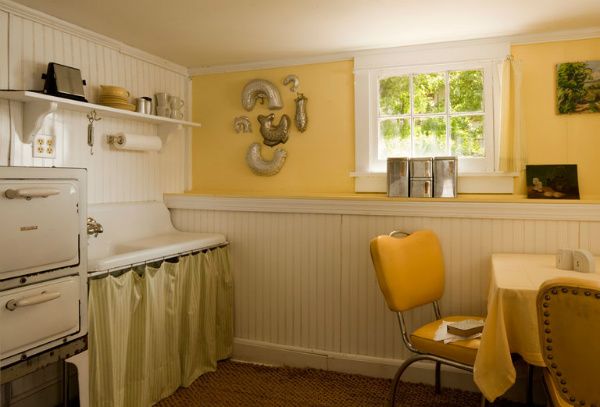 …and old school art…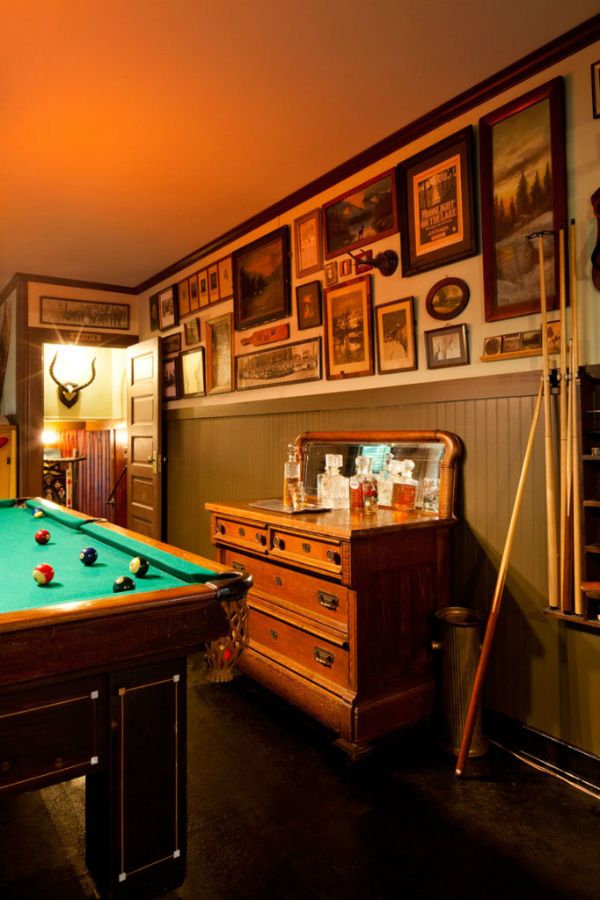 …and colorful fishing lures…
She also took this rundown kitchen from drab to fab on a $5000 budget…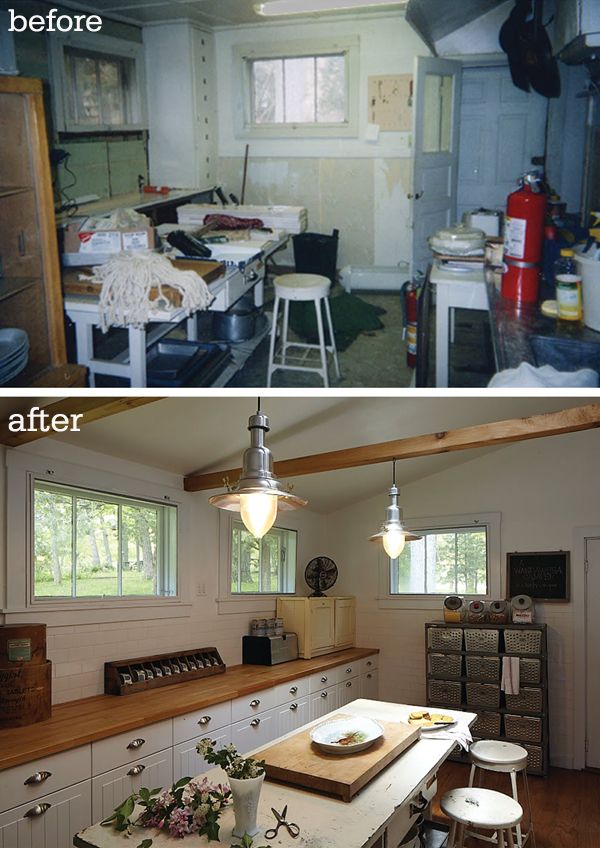 And check out this shot of the amaaaazing collection of Fiestaware they discovered inside a boarded-up wall in the pantry…
SCORE!
Here are some shots from around the dark green-painted cabin that came with the property…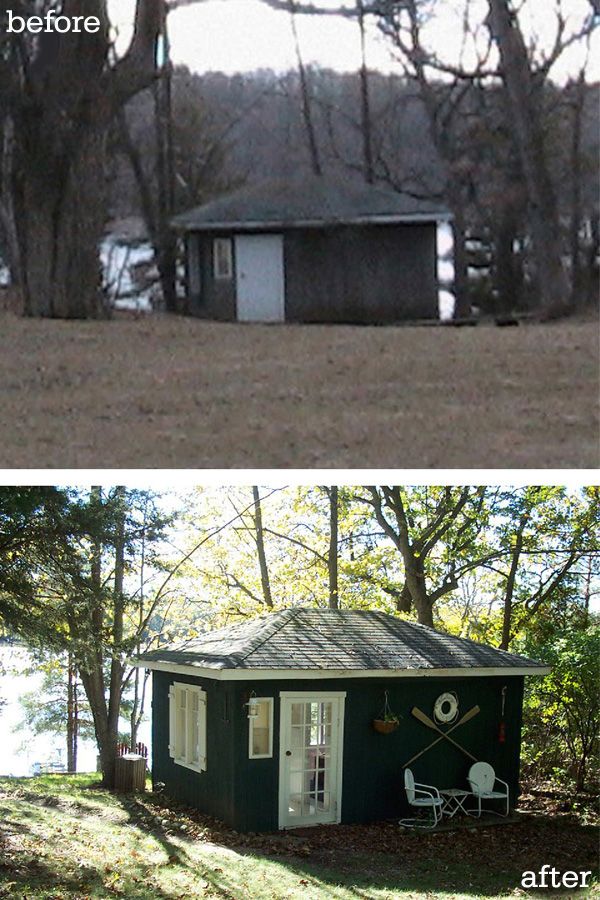 Before…
And the light and airy afters…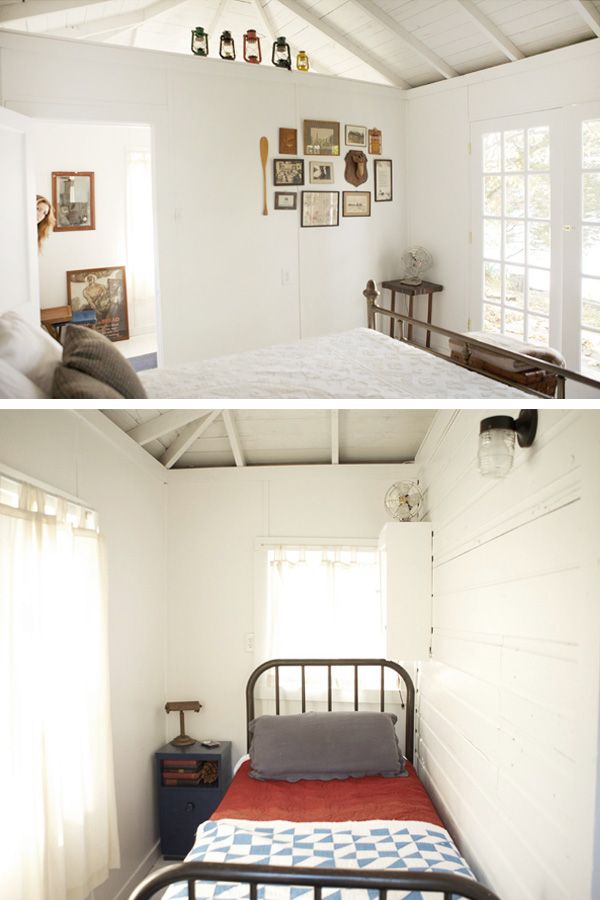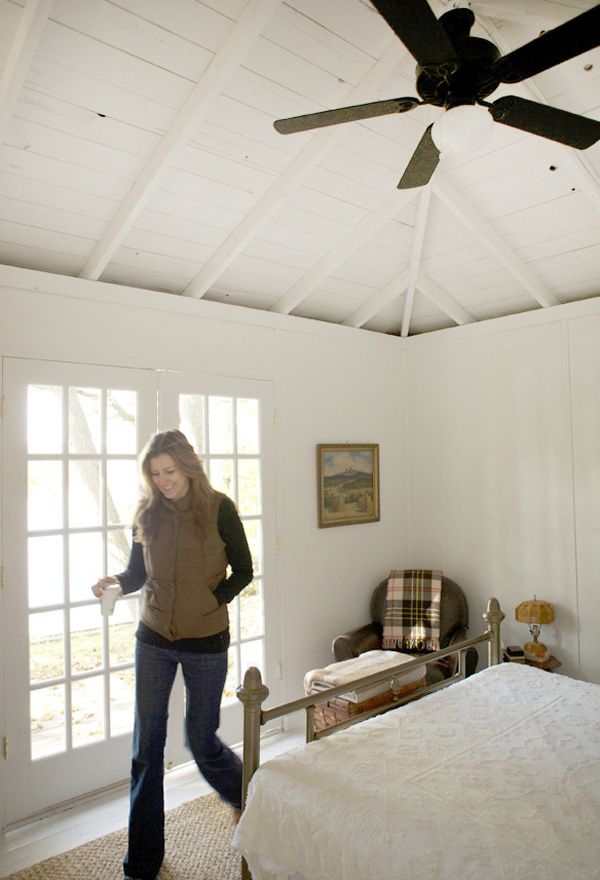 Here are some photos from the 3-bedroom, red and white cabin that overlooks the lake…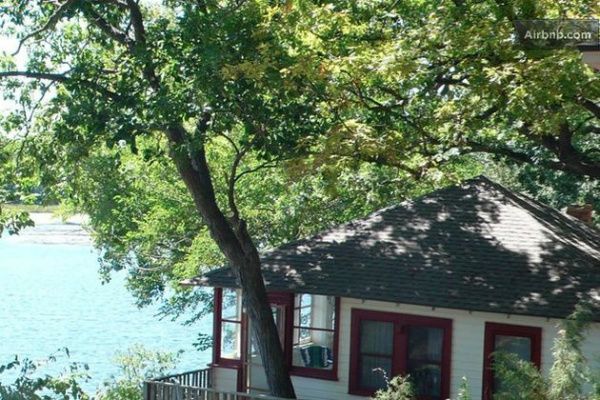 It was also on the property when they bought it, but Tereasa has given it a sweet & sunny facelift over the past few years…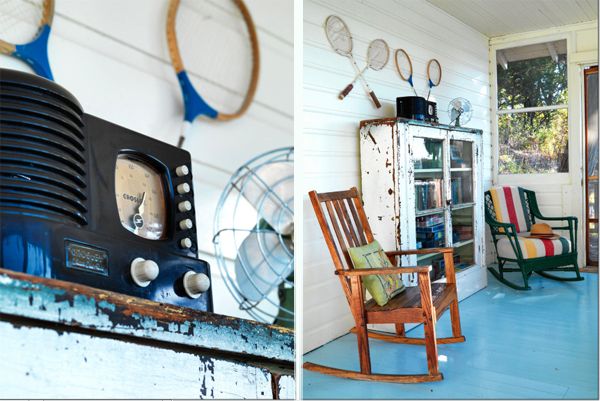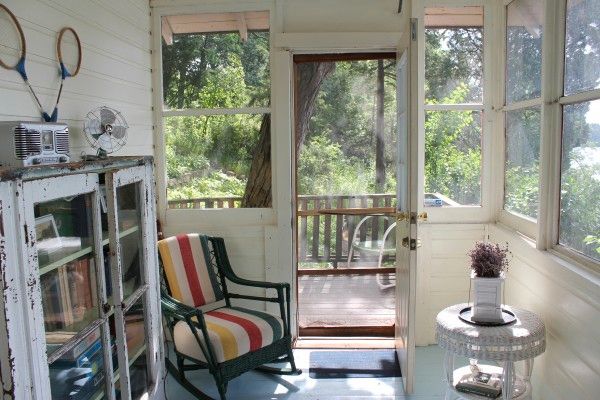 Don't you just love those vintage rackets and that pretty painted porch floor? *swoon*
The tiny green and white cottage (now nestled next to the green cottage) was a big time labor of love too…
Plucked from a weed-tangled truck yard in Beardstown, Illinois for $500, the crusty little cabin could barely stand when they purchased it…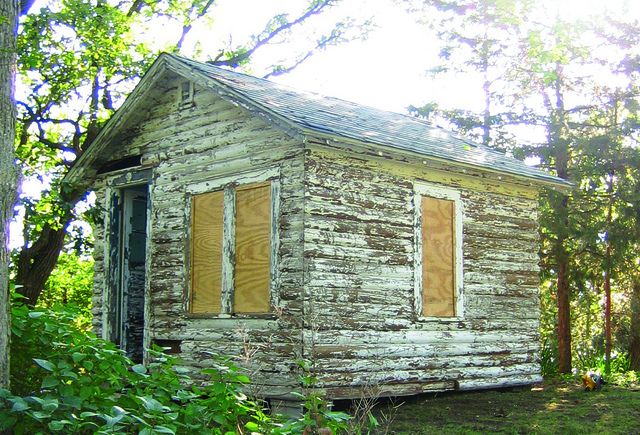 Tereasa had had her eye on it since she was "knee-high to a grasshopper", so David and his brother hauled it 300 miles over to their property on Lake Wandawega…
The white circle on the map below shows where it sits now…
(Take a virtual tour of the whole place at Wandawega.com!)
When Tereasa got around to researching her little cottage-that-could, she discovered that it had several prior lives. In the 1920's, it was an overnight rest stop for motoring tourists. After that, a rod-and-gun club used it for Friday night card games. Then in the 1950s, it served as the office for a trucking company. Eventually it became a storage shed and when Tereasa and David bought it, it was just sitting there, abandoned.
There's nothing lonely about it today though…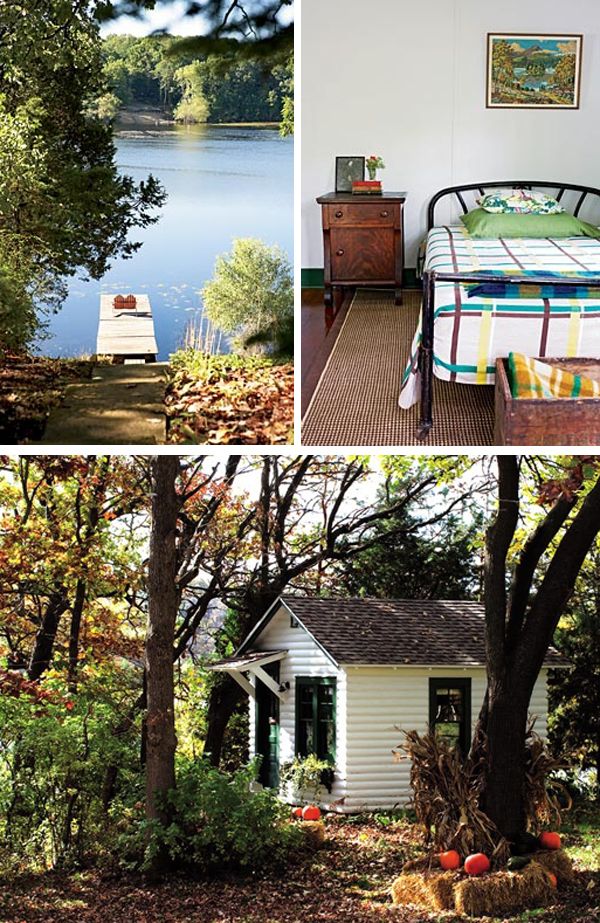 (Photos by Aimee Herring)
…and would you believe Tereasa loved it back to life in just three months and with a budget of $300!?
I dream about moving an old cottage to a lake someday too, so of course this part of David and Tereasa's Wandawega story was extra intriguing to me!
___________________________
Tereasa wrote a beautiful book about her cottage-moving/restoring experience, and we thought we'd give away a signed copy here on our blog this week. (Thank you for joining in on the fun, Tereasa!)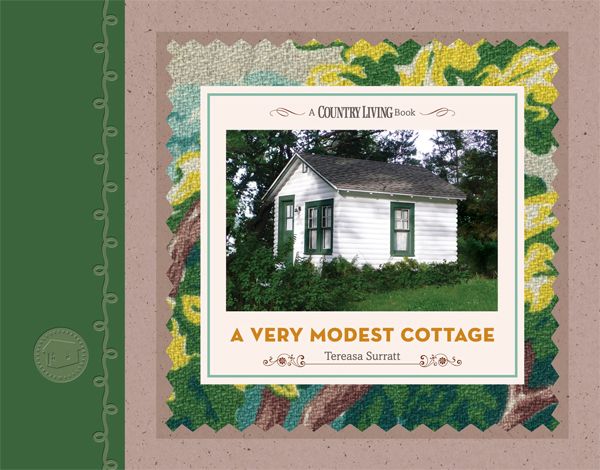 Swing by tomorrow if you'd like to throw your name in the (virtual) hat, and stay tuned for more "Wandawega Week" posts to come too!
(Note: Photos in this post are linked to their sources if they were available.)
Click HERE to go to day two of Camp Wandawega Week!
__________________________________________________________
Join us on Pinterest, Twitter and Facebook!
___________________________________________________________
Need design inspiration? Need help with space planning?
Check out my e-book!