She sent me an email asking if I was, "free for lunch Friday?".
She went on to say that she and gal by the name of Leslie were meeting at 11 o'clock, and that I was invited too.
The email was from Joy, who I had first "met" when she appeared on an episode of "Designers Challenge" on HGTV back in 2008, and then had the pleasure of meeting in person later that same year. I'll never forget the day she brought her newly-adopted Ethiopian daughters into the photography studio I was working at at the time.
By the end of her email, I learned that Leslie and her husband (a student minister at a local church) are adopting from the Congo sometime this year, and that Joy thought it would be a good opportunity for me to meet someone else traveling a similar path.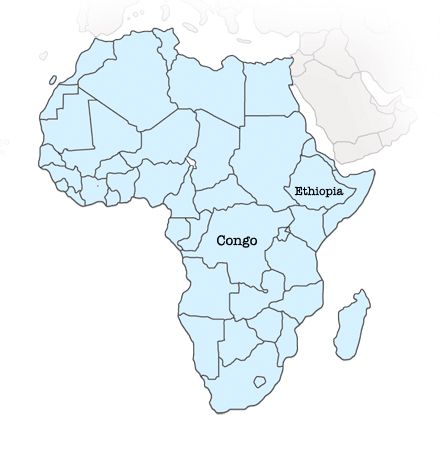 Well, the thought of getting out of the house for a couple of hours to have lunch and "talk adoption" sounded amazing, so I immediately wrote her back and said "YES, YES,YES! Just tell me when and where, and I'll be there with bells on!"
__________________________________________
The restaurant we met at was dimly-lit, and had a masculine feel to it. Joy and Leslie shared a booth upholstered in red & black plaid, and I sat across from them in a dark brown leather chair, complete with sturdy wooden arms and shiny nailhead trim. We were the only ones there. Perfect. (I'm all about eating at restaurants before the rush, grocery shopping after the rush, and seeing movies at noon during the week!)
We placed our drink orders, then our food orders, (chicken salad sandwich and kettle-cooked potato chips- mmmm!), and then dove straight into "adoption talk".
Joy shared stories about her Emme and Zoe from Ethiopia, and since that's where Kev and I hope to adopt from this first time around, I clung to her every word.
When I met Zoe three years ago, she didn't speak much English. But I tell ya what- she had "hello, yes ma'am, and thank you" down pat. Such a polite little girl!
Her biological mother passed away during childbirth, and for the first few years of her life, she shared a small mud hut with her father and grandmother. The only water they had access to was also used by cattle as a bathtub. I can only imagine what kinds of things were living in that water. When both her biological father and grandmother died, Zoe was taken to an orphanage by a caring neighbor.
Zoe is 12 years old today, and Joy said that she, and Emme, are both super bright & bubbly kids! Zoe is doing great in school, and is passionate about helping bring awareness to the worlds clean water crisis, and Emme will start Kindergarten next Fall.
__________________________________________
Joy told us about adopting Samuel from China, too. He had to undergo some major surgeries (cleft lip and palate, and a single ventricle heart) but he's doing great these days, and will celebrate his 9th birthday in March!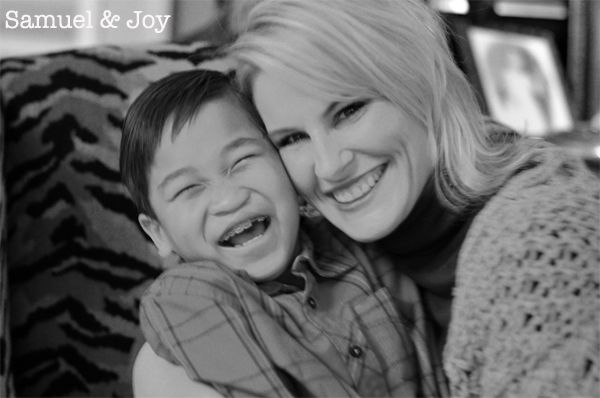 __________________________________________
She told us about Eli's challenging domestic adoption as we walked to pick him up from the daycare center.
Sounds like it was quite an ordeal, but everything worked out in the end. (Yay!) He turned one last year, and my friends at the photography studio I mentioned above put together the cutest video of him (and Joy, and birthday cake!)…
__________________________________________
Joy and her husband recently became foster parents too. They're lovin' on the little fella in the car seat below right now…
He's 18 weeks old. Life has been really tough for this little guy so far. It was extremely hard for me to even comprehend how someone so young could go through all the things he's had to go through in just 9 months, and 18 weeks. I'm so glad he has a safe place to call home now, and that the Portis family loves him the way he deserves to be loved!
__________________________________________
Joy has been such an inspiration to me over the past few years, and it's so nice to know she's just right around the corner (in Montgomery) if we have any questions or need emotional support throughout the adoption process. And, thanks to Joy, now we've got the lovely Miss Leslie to bond with too! I look forward to getting to know her more over the coming months, and Kev and I will definitely be praying for her and her hubby as they travel to the Congo later this year.
(Joy, me, and Leslie)
_______________________________________
If you'd like to visit Joy's blog, you can find it HERE!

(Joy's family)
And if you'd like to visit Leslie's blog, you can find it HERE!
(Leslie, Brian & Knox)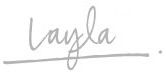 PS-
Check out the cute necklace my friend Christine sent me…
——————————————————————————————————–
Join us on Twitter or Facebook!
————————————————————————————-
Need help arranging your furniture?
Need design help?
Check out my e-book!