Hello! Each Wednesday I share some of the photos that stopped me in my scroll while I was perusing Instagram the previous week. Here are this week's picks!
1. @MissMustardSeed:
I love the look of all those pretty pots! Marian said whenever she posts about her pot rack on her blog, there are always comments from people who think it looks cluttered and that she should take it down. I'm glad she always sticks to what makes her heart sing! You can find her every week at: Miss Mustard Seed
2. @YoungHouseLove–
Have you been following along with John and Sherry's duplex remodel? I love that they were able to show off some of that original brick! Here's a link to their super informative site: Young House Love
Susan knocked it out of the park with this little work space! You can also find her here: Kindred Vintage & Co.
4. @PierceAndWard: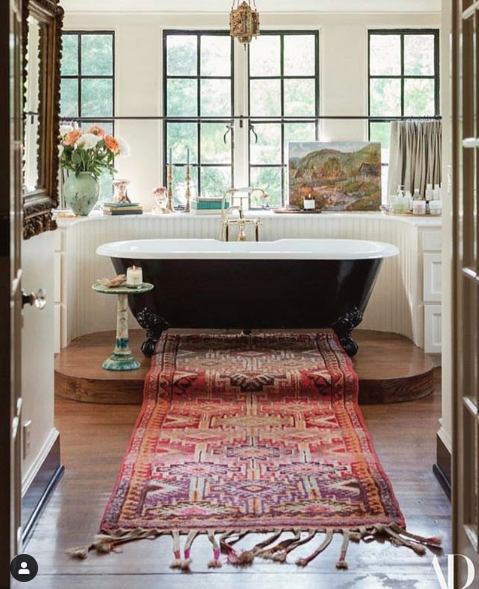 Yes! Yes! Yes! What an inviting bathroom! You can find more gorgeous photos here: PierceAndWard.com !
5. @HelloFarmhouse:
Oh, if I only I could step right through that pic! So sweet and serene looking! Here's a link to Meg's inspiring site: Hello Farmhouse
Hope you're having a great week, y'all!
Layla