Hello! Each Wednesday I share some of the photos that stopped me in my scroll while I was perusing Instagram the previous week. Here are this week's picks!
1. @Em_Henderson:
You know I'm a sucker for blue, white and green, so when Emily's kids room makeover picture popped up, I had to see more. Here's a link to her blog post all about it: Emily Henderson Kids Room Makeover
Wow! What a spectacular ceiling! Such a pretty way to top such a pretty room! Here's a link to sweet Alli's blog: The Festive Farmhouse
This photo is from House and Leisure and was shot by photographer Greg Cox. I love the space because it's textural, and tall, and bright, and has just the right mix of warm and cool!
4. @LifeByDixon:
That right there is the way to do it. Create a small gallery wall grouping above a desk, I mean. You wouldn't necessarily have to use *those* exact pieces, but I'd definitely use their scale and tones as a guide!
5. @Farmhouse4010: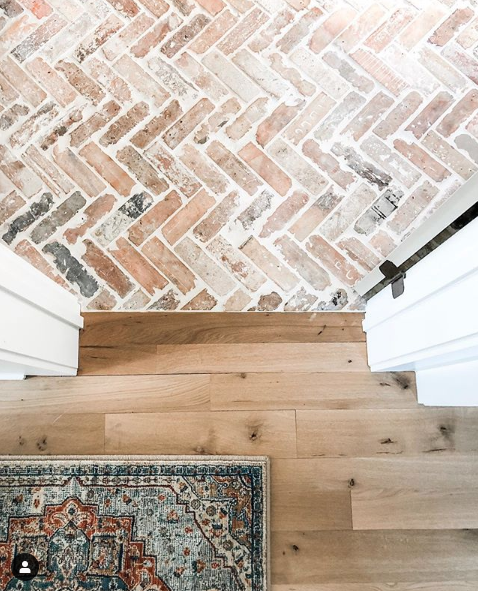 Gosh, is that a gorgeous flooring combo, or what!? Allie's caption reads: "These bricks are the faces of old Chicago bricks from Vintage Brick Salvage. They are cut by them and installed like tile. Ours are laid in a herringbone pattern with true white grout smeared all over the surface and sealed. So far this flooring has been very durable and I highly recommend it! Just an FYI with these being actual antique brick- they are not smooth! So if you order these you will not get a smooth surface like the brick tiles made today! Next, are our hardwood floors. We have quarter sawn white oak in various widths. 5", 4" & 3" laid in a random pattern. Our floors are stained with Minwax Natural in a matte finish".
Hope you're having a great week, y'all!
Layla
PS- Congrats to Julie Michelle who is the winner of the surprise I mentioned on Instagram the other day! I'll email you later today! 😀