Howdy! I haven't shared one of my Virtual Consultations in a while, so I thought I'd blog about one today.
Dilemma: How to arrange the furniture in a super small living and dining room that are open to each other.
Mission: Come up with a great space plan!
Meet Meredith and Nick (and their dog Jack!)…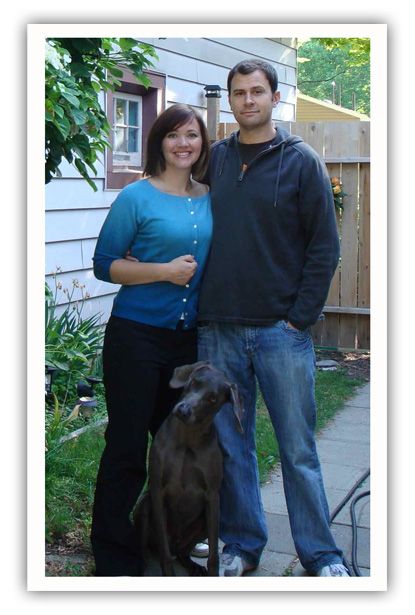 They live in a little house called, "Tiny Town", in Canada…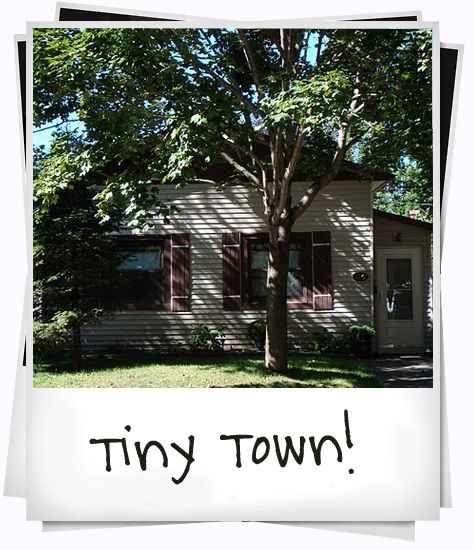 Meredith sent me a letter about their design dilemmas…
She also sent me some before photos of Tiny Town…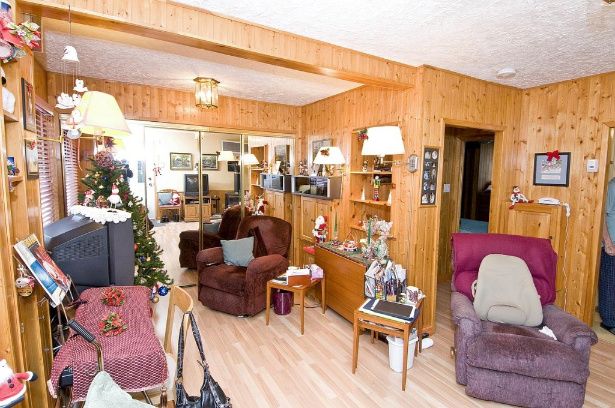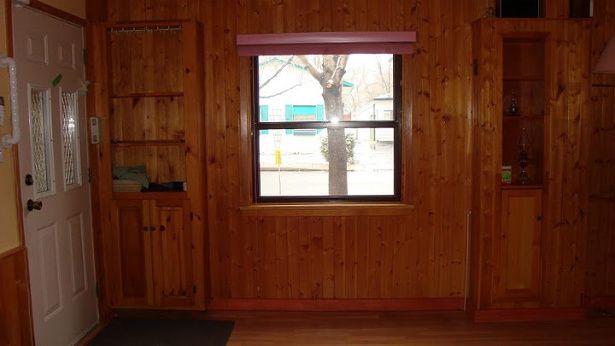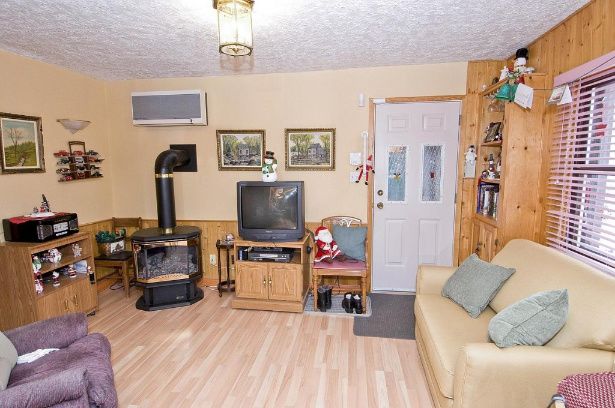 And some photos of things they'd like to work into the new design…

A stylish chair:
A pair of sconces: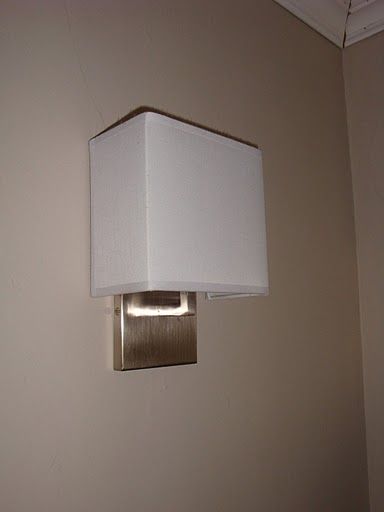 A pretty pendant light:
A handsome, hand-stitched pillow: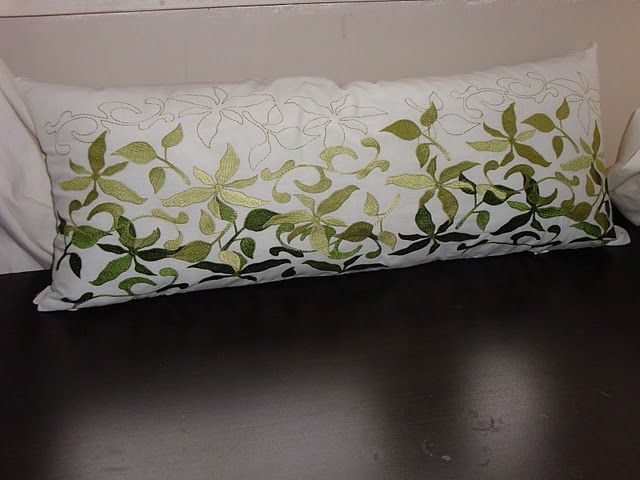 A snazzy glass console table:
And a large, dark-framed floor mirror: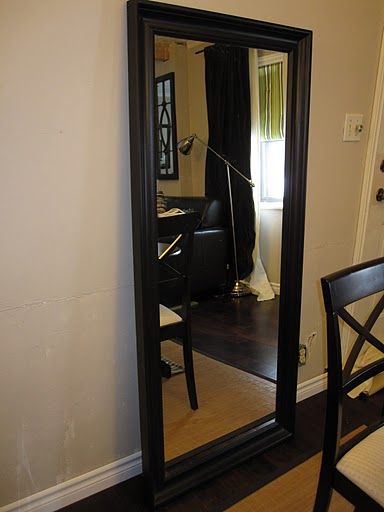 Great stuff huh?!

It was tricky, but here's what I came up with…
This first drawing doesn't show all the little details (like rugs, art and accessories), but I wanted Meredith and Nick to be able to see how everything was laid out from above.
That's really the best way to work out a rock-solid space plan.
(Don't know how to draw a to-scale floorplan from above? Check out my E-book and I'll walk you through the process step-by-step!)
You'll notice I suggested they switch the two rooms around.
It just didn't "feel right" to me to have the dining room right inside the front door.
I also suggested they add a wall between the two rooms.
Now normally I wouldn't ADD a wall in a super small space- but I really thought it was necessary to give their couch something to back up to, so that the fireplace wall could become a true focal wall. There isn't a true focal wall in the current layout, which is probably why the rooms are struggling to find their identities.
Here's a view of the cut-out wall I added between the two rooms…

(I had to add Jack into this drawing!)
It created a nice spot to put their leather sofa opposite the fireplace.
And since there wasn't room to sneak in side tables or table lamps, I suggested they use plug-in, wall mounted sconces instead.
Not necessarily the exact ones I used in my drawings, but I do think they would work…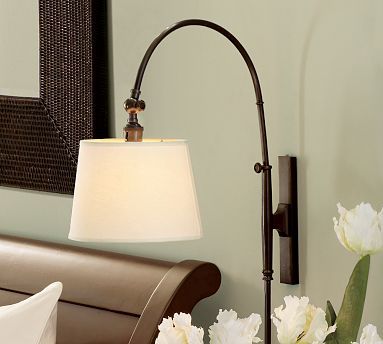 (PotteryBarn.com)
I also suggested they layer a large (8×10) sisal rug underneath their fantastic-looking green one. I think that will just add to the overall luxuriousness of the living room. And since this is the room you see right when you enter the front door, attention to luxurious details is extra-important in here!
Your entry (or living room in this case) should say "Welcome Home, Love! So glad you're here!"


Here's a view of the new focal wall I designed…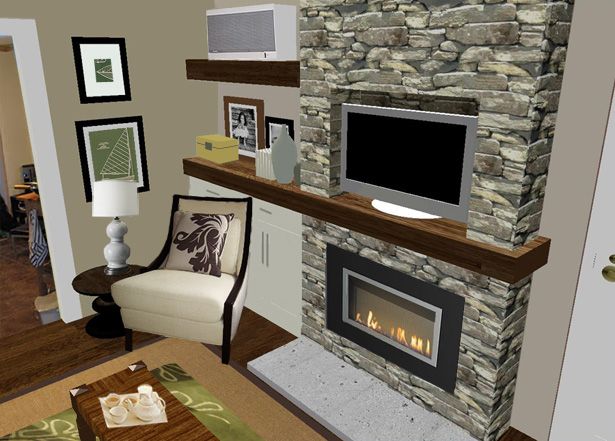 I suggested they build a shallow (12″-14″ deep) "false wall", and then clad it in some kind of groovy material like stone, paneling, or plastered drywall.
Then, they could hang a much flatter, direct vent, wall-mount gas fireplace to it and finally get to relax in front of the fire!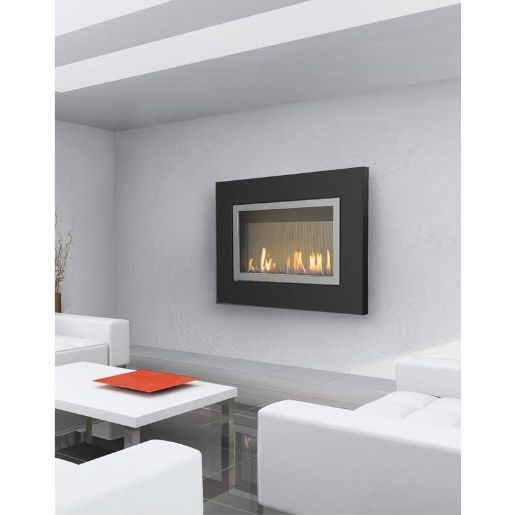 (Direct Vent, Wall Mount Fireplace. Click photo for details.)
They could also create a niche for their flat screen TV too.
That way, both the TV and fireplace are on the focal wall.
(The room is definitely too small to have competing focal points!)
And to really amp up the charm factor, I thought they might want to explore the option of using reclaimed timber to construct their mantel and chunky floating shelf under the (must-stay) air conditioner. If reclaimed wood is too hard to find, they could just as easily distress and stain some new lumber, like we did for our mantel: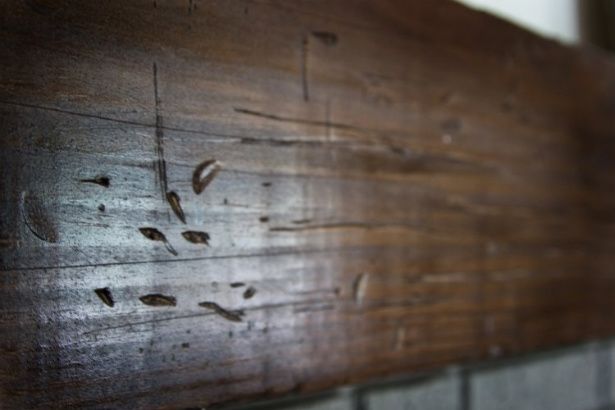 I suggested using a small bench in front of the sofa. One of these might work well…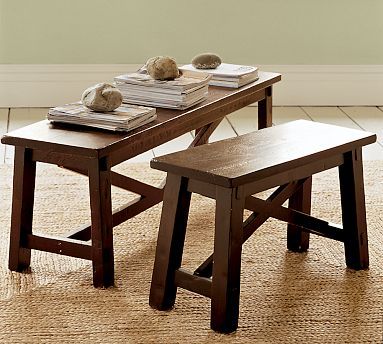 But, if they need more storage, a couple of these might do the trick…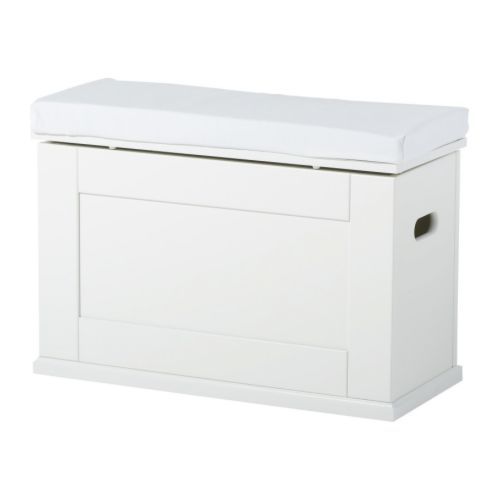 They look a little blah plain white, but you could really go crazy personalizing those things. Paint 'em and re-cover the pad on top in the fabric of your choice, and voila!
A pretty place to prop your feet and hide your stuff!
And speaking of storage, I also suggested using a couple of these bad boys behind their awesome chair…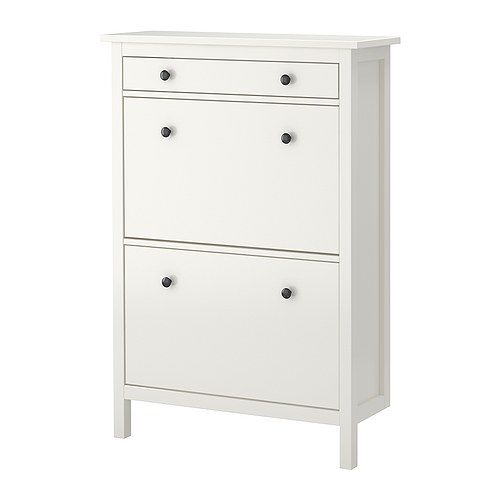 They're only 11-3/4″ deep, so they'd work perfectly with the newly-added false wall.
Here's a shot that shows just how shallow they are: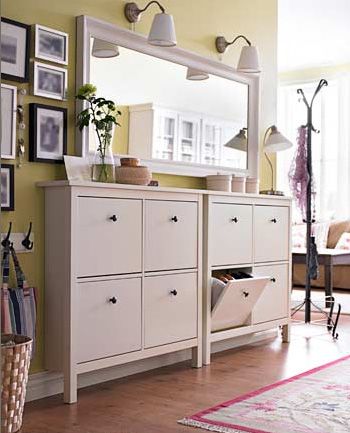 Here's a drawing I did that shows the view from the dining room into the living room…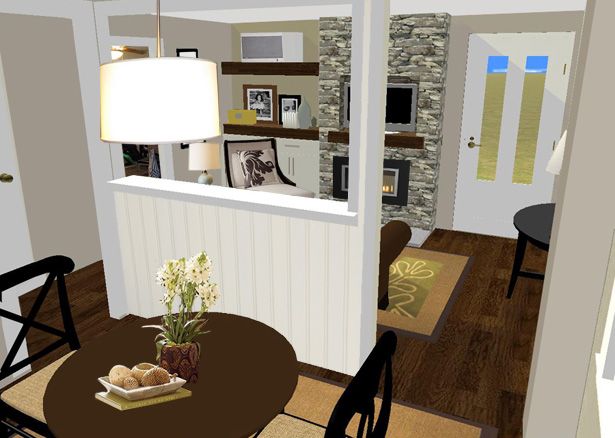 The ledge between the two spaces might actually work as a little buffet, when they're entertaining. And since Meredith is a fan of wainscoting, I snuck in a little paneling below the ledge too.
On the largest expanse of wall in the dining room, I came up with a few different options for them to choose from.
One idea was to use a shallow sideboard and a large mirror, like I showed in the floorplan drawing up above.
Another idea was to draw inspiration from the floating shelves and the custom-built counter in Jennifer's dining room…
Another idea was to draw inspiration from the "Something's Gotta Give" dining room: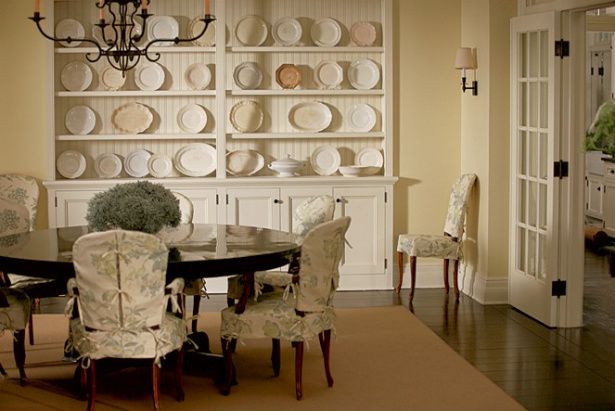 Since Meredith said she loved built-ins, I just had to suggest it!
And if they reeeeally wanna open up the space, they could back the shelves with mirror…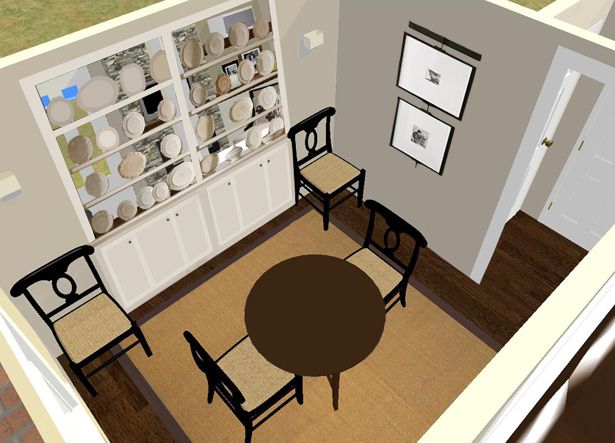 The sky's the limit on that wall. As long as it's shallow, they'll be good to go!
And one last item I thought was important to mention was the piece of furniture near the front door.
I suggested using a demi lune table that had some storage in it. Something like this would be great: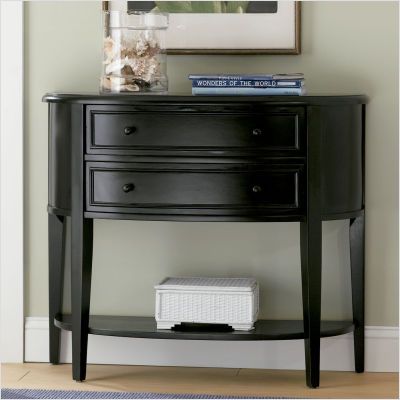 Using something with curved edges in that spot will really soften the transition into and out of the doorways in that area, and free up a few extra inches of floor space too.
Always a plus in a super small space!
Finally, just for fun, I thought I'd include a rough Presto Chango photo drawing of what once was, and what could be.
(Just move your cursor back and forth over the image below to see the room "magically" transform!)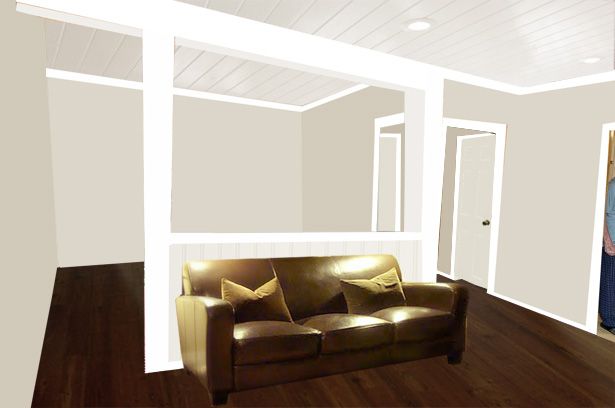 This space was so much fun to work on!
I find that the more difficult the design dilemma is, the more I enjoy the challenge!
I knew they were a handy family, and not afraid of construction, but I didn't know if they'd be up for making all the changes I suggested in my consultation or not.
So I was quite relieved when I got this letter back from Meredith…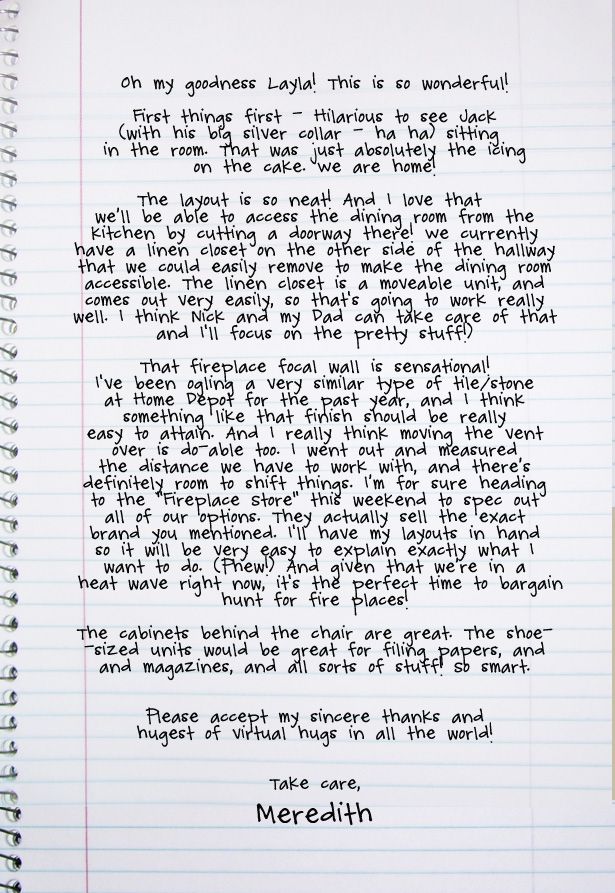 Woo Hoo!
They're gonna do it!

Need space planning help?
Check out my e-book!