My name is Layla Palmer and I love cottages. This is the story of the one that got away…
One day, back in 2005, Kevin was doing some work out in the country. While he was out and about, he discovered a quaint rural neighborhood, chock full of colorful cottage-style homes of all shapes and sizes. Later that same day, he came home and said, "Get in the car! I want to take you somewhere and you're going to LOVE IT!". About 20 minutes later, we pulled into the community Kevin had already dubbed "Mayberry", and I was smitten from the start! It truly felt like we had taken a step back in time, and we must have driven around staring at the water and all the happy-looking houses for two hours that afternoon.
As we slowly strolled from street to skinny street, we pointed out which houses were our favorites and dreamed about what they all might look like inside. This pretty, blue (2 bdrm/2 bath) house had me at hello, and even though we weren't in the market to move, I couldn't help but get a little giddy when I saw the "for sale" sign in the front yard…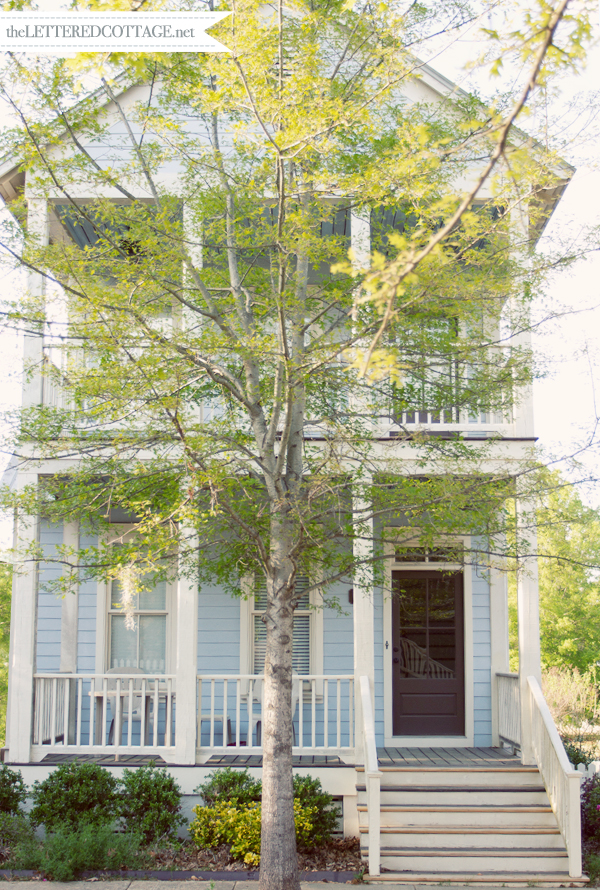 I named it "Two-Story Blue", and I couldn't get over how much it reminded me of my favorite Cottage Living magazine Idea House:
That gorgeous green shotgun-style house took my breath away when I first saw it in print in 2007, and I promptly pinned a photo of it to the bulletin board hanging above my desk at the time. I looked at it every day for years, up until I packed it into a moving box last Fall.
Which brings me to last Fall…
We didn't think we were in the market to move then either. But last July, our BFF's (who moved to "Mayberry" five years ago) really started encouraging us to meet with a mortgage loan officer so that we could "see where we were at". They knew we were still working hard to repair our credit, and that we still had a house to finish fixing up, but they kept insisting that we "just go and see" because so many of the houses around their house had dropped in price so significantly over the past few years.
So we did.
And long story short, we found out that we could actually qualify for an FHA loan (MASSIVE surprise! #ThereWasLotsOfHuggingAndSmilingThatDay), but that we could only buy a house in Mayberry IF, and only IF, we sold our current home….a.k.a- the home we had planned to take our time fixing up over the next couple of years while we repaired our credit. Hence, the quick decision to not worry about the rooms we hadn't started working on yet, and the mad dash to finish up some unfinished projects in lightning speed so that we could stick a "for sale by owner" sign in our yard last August.
Now this is where the story gets really wacky. We listed our house two weeks after we found out we could get approved for a home loan, and much to our surprise, we sold it four days after we put it up for sale.
We immediately made an offer on Two-Story Blue, and excitedly began planning how we could best use the 1,632 square feet of space. (The house we had just sold was 1,910 square feet and had three bedrooms and two baths, but we both loved the idea of downsizing and moving less "stuff"!)
We heard through the grapevine that a few previous bidders had made offers a little less than what we had just sold our house for ($142K), so we made an offer a bit above that, in hopes that the bank (who had foreclosed on it) would just be happy to finally have someone take it off their hands. Now, keep in mind, this house had been sitting there vacant for several years after the housing market crash. And like I said, a few other offers had been made, but none recently, and the neighborhood's agent assured us that there was no need to rush because, to his knowledge, no one had been interested in the house in a good while.
Until the weekend we made our offer, that is.
No joke, another house hunter just happened to make an offer similar to ours (lower, actually) that same weekend. But unlike our offer, his offer wasn't contingent on the successful closing of his current home. He was ready to move in right away, and we weren't scheduled to close on the house we had just sold for a few weeks. In a nutshell, the bank accepted his offer, and we ended up buying the Two-Story TAN, 2 bedroom/2.5 bath (1728 square-foot foreclosure) house across the street. Ha!
It occurred to me shortly after we moved in though, that maybe this is the way it was supposed to be all along. That photo of the Cottage Living Idea House brought a smile to my face for so many years on my inspiration board, and now, I get to smile at Two-Story Blue outside my kitchen window every day…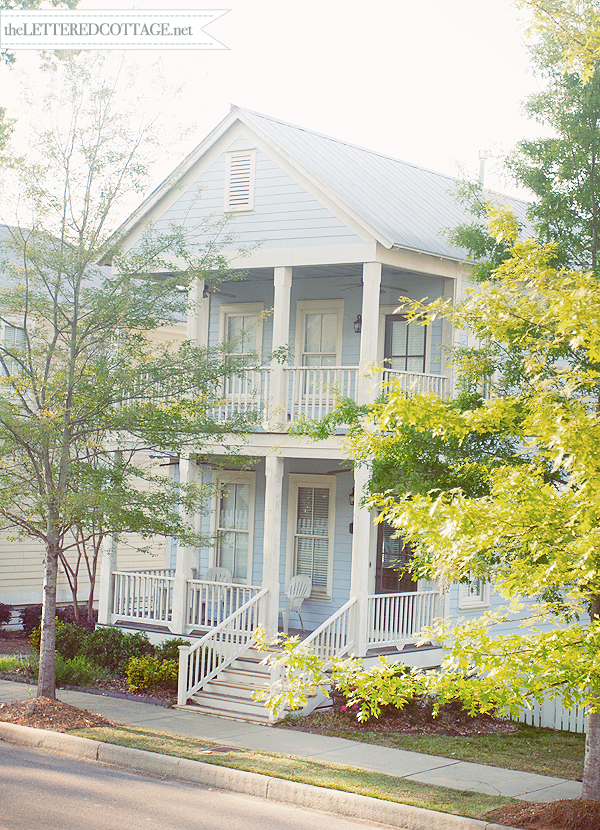 (Two-Story Blue, through our kitchen window)
Funny how things work out like that sometimes, huh? In the end, I think we bought the right house for us, long-term…
It may not have been our first choice (room layout-wise), but there's room to add on behind this house too, and even though we're only planning to become a family of three in the next couple of years…who knows if we'll need more than 2 bedrooms in the future, right?