"Lately I've been replacing my "I'm sorry"s with "thank you"s, like instead of 'sorry I'm late', I'll say 'thanks for waiting for me', or instead of saying, 'sorry for being such a mess', I'll say 'thank you for loving me and caring about me unconditionally'."
-Unknown
My friend Lucy posted that quote to her Instagram feed last night, and I just had to share it here for Thought-Full Thursday. What a neat perspective! Don't get me wrong, I'm all for apologizing when I've done something wrong, but like Lucy said in her Insta-caption, doesn't being intentional about adding the phrase 'thank you for waiting for me' feel so much more meaning-full and more respectful to a person who had been waiting on you? I dig it. 🙂
Happy Thursday!
Layla
PS- Remember those boots I mentioned yesterday? The ones that looked like this on the Super Shoes website:
…but then looked like this when they arrived on my doorstep (darker and curved at the top) …
…so I sent them back yesterday? (Note: the company has since agreed to refund the $18 I spent on shipping since they didn't look like the ones in the picture- whew!)
Well, I don't know why it didn't occur to me to check and see if they were on Amazon before I ordered them (Duh! I *always* use Amazon!!), but I thought to check yesterday and THEY ARE ON AMAZON!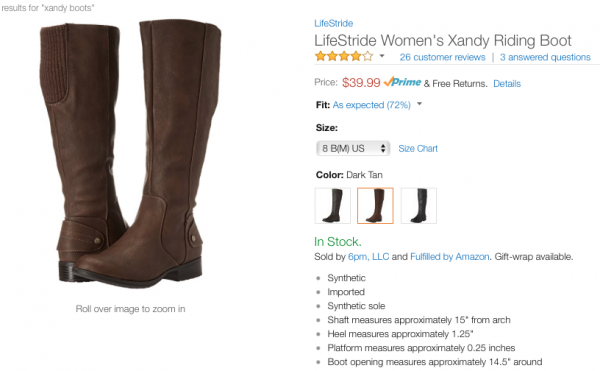 AND they're $30 less on Amazon!!! AND, as you can see, they're pictured in the actual color on Amazon. Lesson learned. :-/ Stick with Amazon!