I think I may have it figured out…the kitchen island color, I mean.
Remember when I blogged about all those samples colors I was checking out? Well, after I published that post, I pulled a Reese's and mixed my chocolate with my peanut butter Rosemary with my Gallery Green.  😀
I poured equals parts of each into a punch cup and dubbed it Rosemary Gallery.
I slapped some of it onto one of the drawer fronts, and some of it smack dab in the middle of all the other colors I sampled last week:
I think I sorta love it.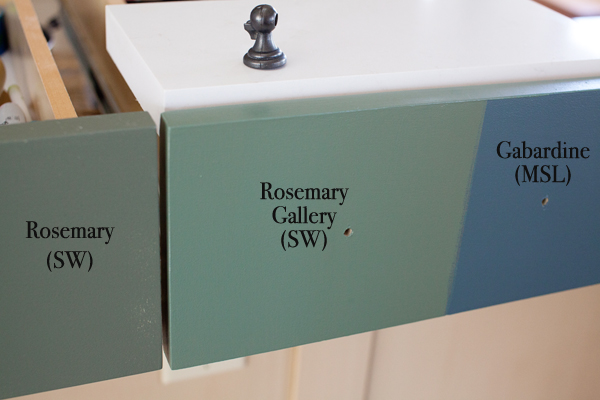 Especially paired with white. So farmhouse fresh, right?! 😀
We've had our hearts set on (eventually) installing some kind of ming green and thassos white mosaic tile on our backsplash, so I snapped this next pic (with my cell phone) just to see what my Rosemary Gallery looked like with that kind of tile:
(ming green/thassos white flower tile
)
I received that sample from a vendor a couple of years ago, and even though we probably won't use that particular tile, I reeeeeeally love how all of those colors/elements play together! (The Frosty Carrina quartz countertop sample included!)
Another kind vendor is sending me some more ming/thassos tile samples next week, so hopefully they'll get along just as nicely with my Rosemary Gallery as the flower tile above does. If not, I'll just pull out another punch cup- LOL! That's what they're for, right? 😉 #I'mAPainter #NotAPuncher

PS- For pics between posts, join me over on Twitter, Facebook and/or Instagram!

*Tile link is an affiliate link.