Well, I was excused from jury duty within 5 minutes of arriving at the courthouse yesterday, and boy was I relieved. Turns out it was actually going to be a grand jury situation- zoinks!
Anywho, now that I'm back in the land of the blogging- I couldn't resist putting together another quick post about another awesome area next to Mrs. Rizzo's nifty new kitchen.
She created a cute, little breakfast nook in the room next door, and I'm cuckoo for cocoa puffs over every little element she used in it!
From the X-back chairs, to the curvy-framed mirror, to the patterns on the bench cushions- that little nook would definitely be a fun place to pull up a bowl of cereal!
Jennifer said she salvaged the breakfast nook bench from one of those old breakfast nook kits. The "beadboard" on the wall behind it is actually wallpaper, and she picked up the candle-lier at a gift store for $20.
I asked Jennifer about the nook's creation and she said, "We live in a petite house, (1100 sq ft) so it's important that every space serves a purpose. Before we moved in, the previous owners had their table in the middle of the room next to the kitchen, so that's where I put mine."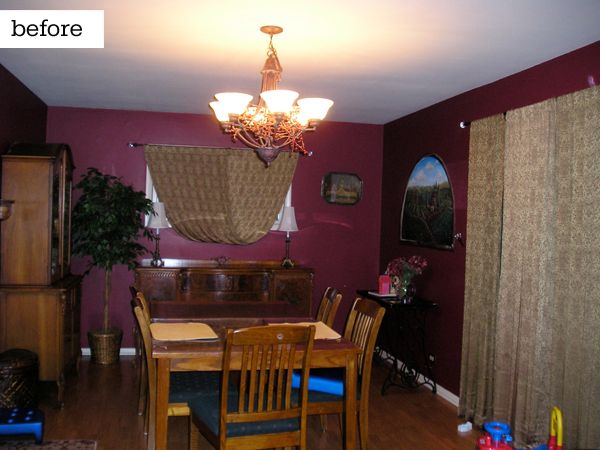 "Then one day, (about 7 years in) it just kind of dawned on me what a waste of space it was to have it there. I mean, there aren't any rules on where you have to put a table, so on a whim, I scooted it into the corner. All of  a sudden, it opened up an extra 108 square feet of floor space we couldn't use before."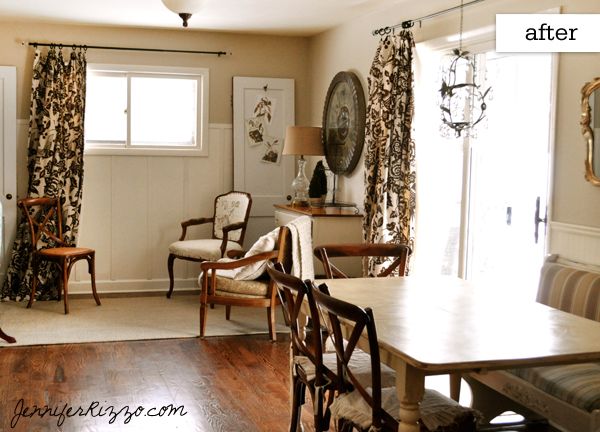 Since the photo above was taken, Jennifer and her hubby have made even more use of the space by building a bookcase divider wall, that conceals a studio for Jennifer behind it…
How cool is that!?
Who knew putting up walls could be as fun as tearing them down- ha!