Kev and I had a truly gut-busting time at Brookwood Village Mall yesterday. We ate waaaay too much food court food, and hung out with folks that made us laugh until our cheeks hurt!
Ree and I had talked about getting together at 5:45, and since we got to the mall at 4:45, we had some time to kill…and some pretzels to eat.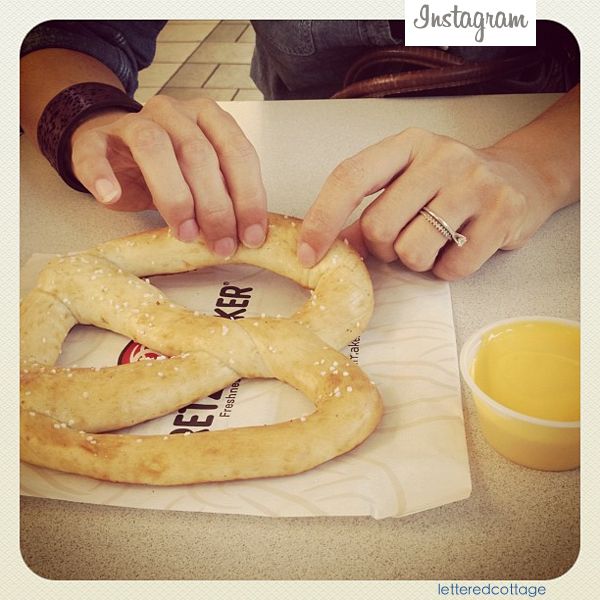 When it came time to find Ree, we walked over to Books-A-Million, and met up with her in a cave-like room below the store. I started to tell her how many people were waiting for her upstairs, but since she mentioned she was already nervous, I figured I probably shouldn't go there. It was packed! Like, seriously, over-300-people-and-do-we-all-know-where-the-emergency-exits-are-in-case-of-emergency packed! (Large crowds make me nervous, so that's always where my brain goes first- ha!)
Her presentation started at 6pm, so we were about to head out the door when Ree and one of the store managers (Hi Christine!) said, "why don't you just come up the elevator with us?"
Well, in addition to my fear of large crowds, I'm also a little shy when it comes to riding in elevators- but it was just one floor, and like I said, it was reeeeally crowded the other way- so riding up the elevator seemed like a pretty good choice. That was until we stepped out of the elevator and realized it opened up right where Ree was going to speak! (insert anxiety here)
(photos by Mary Kathryn Mathews)
The crowd looked even bigger from Ree's side of the ropes, and boy were we surprised when she took the mic and said, "I'm here with my friends Kevin and Layla from The Lettered Cottage". I'm positive we both turned eight shades of red and I immediately clung to Kev with all my might!
Thankfully, that heart-racing moment only lasted a few seconds though, and listening to Ree's presentation from the safety of my hubby's back was so fun!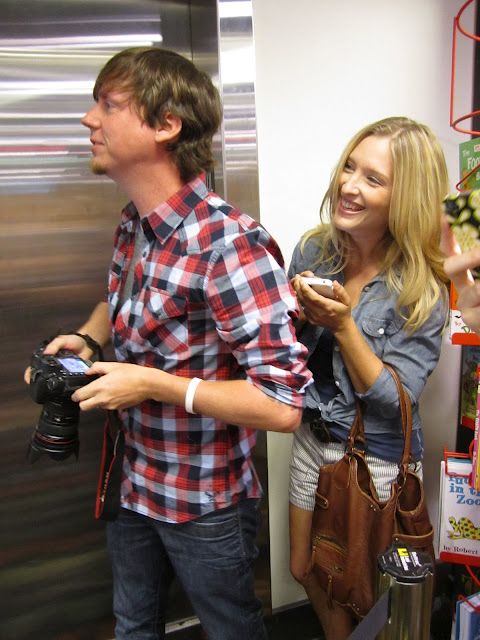 (photo by Mary Kathryn Mathews)
Her talk was entertaining and informative, and she even sang a song!
I think Kevin took that last pic of her right after she showed this slide on the screen behind her and said, "Oops! How did that one get in there?"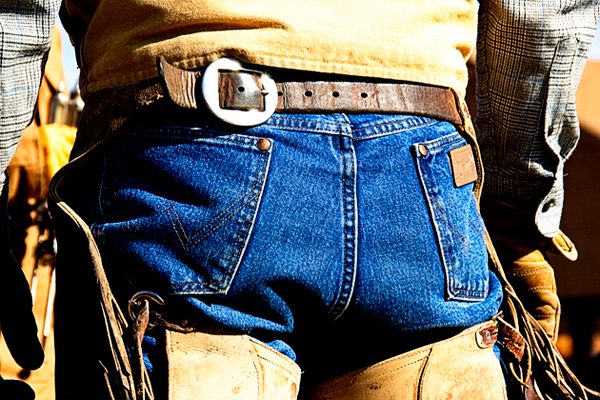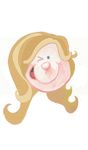 After her presentation, Ree went on to sign books….lots and lots of books…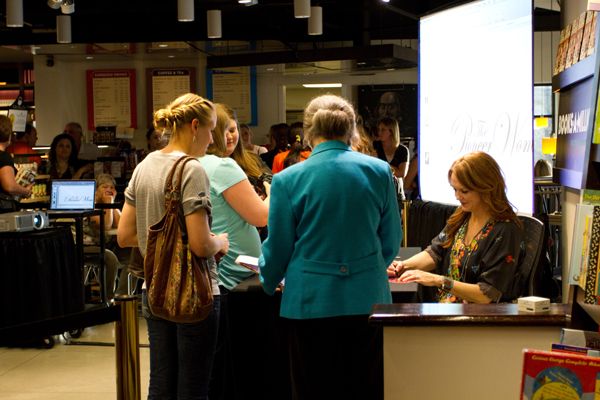 …and we had waaaay too much fun hanging out some fellow bloggers and blog readers that were there. This was one of my favorite moments of the day…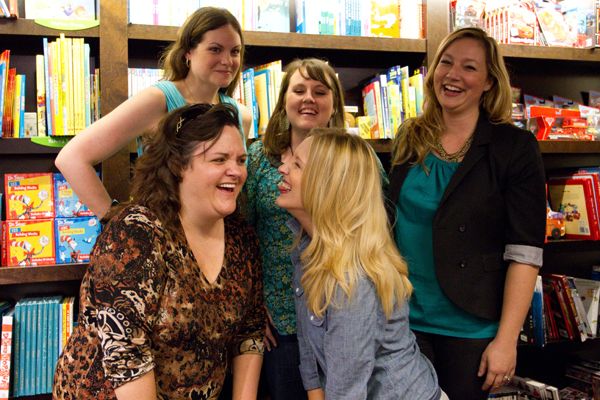 Those gals (and so many other precious peeps we met there yesterday) were absolute day-makers, and spending time and sharing stories with them was like sunshine for my soul. I kept thinking, I really need to get out of the house more often- ha!
Towards the end of the night, Ree signed (Kevin's mom) Katie's cookbooks…
…and there was more giggling. At me…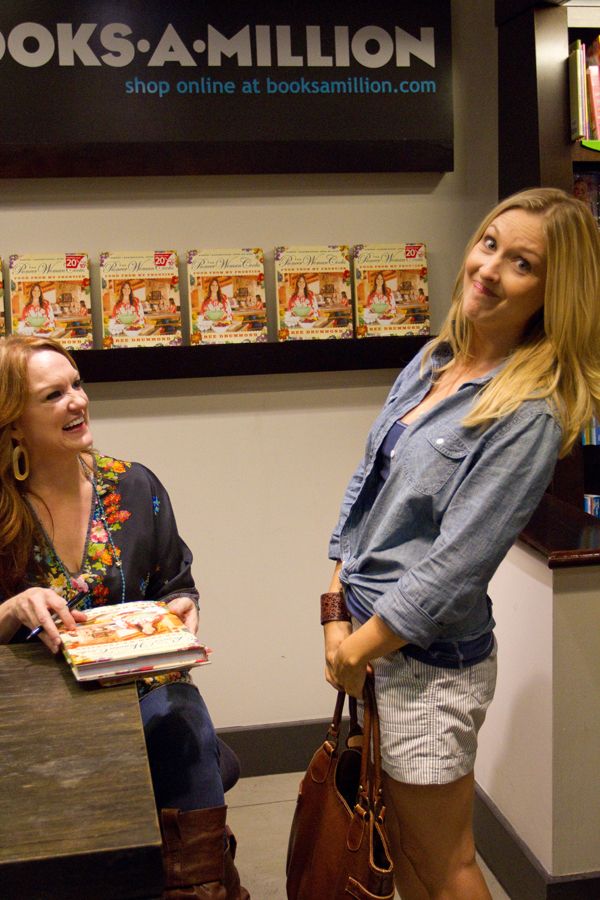 At her…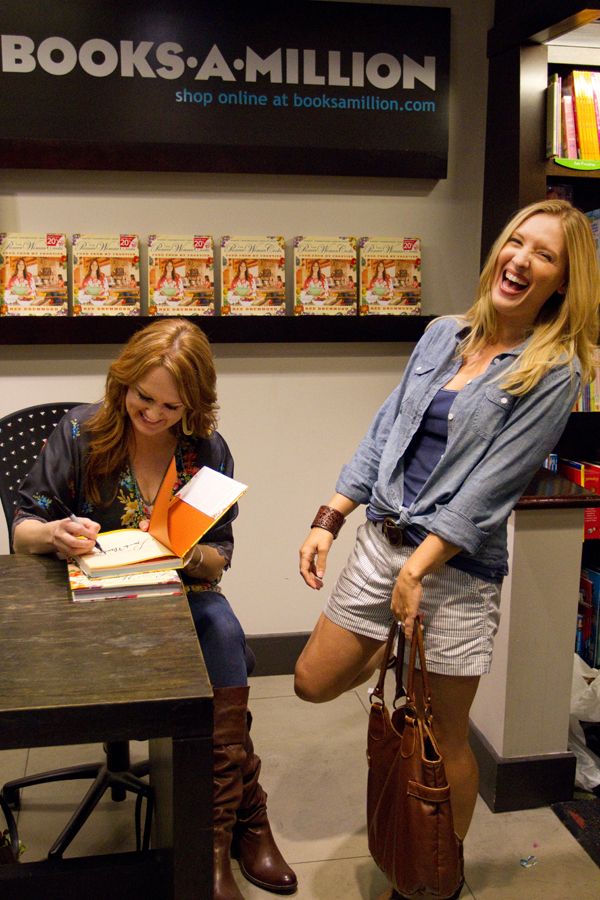 …and then we really got had a good laugh when we realized she had started to sign Katie's book , "Love to Miss Feature" because she was saying, "I love it when you feature Miss Katie on your blog"…