Kevin and I stopped by Ashley's house yesterday to see how the renovation was coming along. She and her family are still planning to move in in a couple of weeks, so they're racing towards the finish line now!  Here's what the front of the house looked like a week ago…
…and here's what (part of) it looked like yesterday: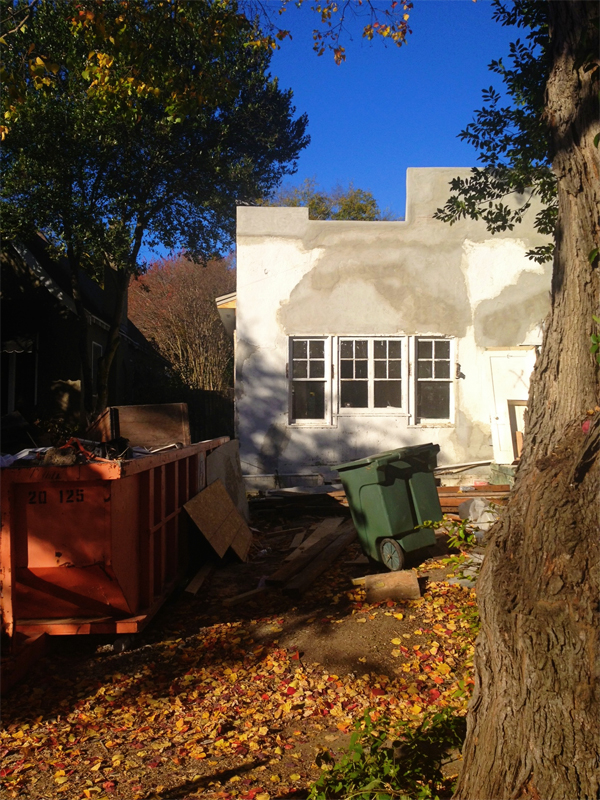 The parapet (the tall, wood extension on the front of the house) is really starting to look like it was always there now, isn't it? 😀
Here's another look at the back of the house last week…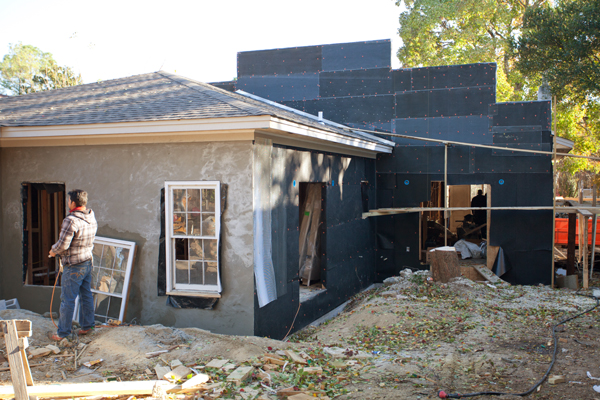 …and here's how it looked as of yesterday:
That's going to be the master bedroom on the left, and there will be a courtyard off that and the breakfast room where those french doors are. Here's a shot of the breakfast room (and kitchen) from inside the house now:
Remember what it looked like last week?
Over in the living room, things have changed quite a bit too. Last week:
This week!
I love that Ashley is re-using that old wood on the ceiling. It was salvaged from underneath the old roof and they just gave it a good brushing off before they tacked it back up.
Here's a peek at the master bedroom…
…and here's a look down the hallway outside that door:
Quite a change from last week's view from the other direction:
The laundry room is coming along great, too:
Don't you just love that door? Ashley is using salvaged doors on every room in the house. They're all just hanging in place right now, and they'll eventually be refinished with fresh coats of paint. I can't wait to see how those turn out!
We're heading back over there on Thursday, and I look forward to posting another "Ashley update" next week. She said that cabinetry, fixtures and other "fun stuff" is coming in this week, and I know she's really looking forward to moving in on the 6th.
I know she's looking forward to shooing that big Cat out of her backyard, too. 😉

For more pics between posts, join me over on Twitter, Facebook and/or Instagram!